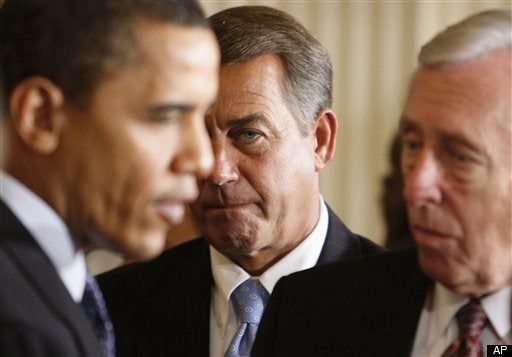 After last week's CNN poll highlighting President Obama's "all-time" lowest job approval the public was bombarded with stories and headlines about how poorly the president was performing.
Since then, many polls have shown the President's approval rating as anywhere from 3% to 6% points higher; all in less than a week. This shows why it's dangerous to position poll numbers as leading indicators of something. Indeed, they are snapshots of the past.
This week's Wall Street Journal/NBC News Survey of 1,000 adults (margin of error +-3.1%) supports much of what I argued before. Take for instance how the public feels about various public figures and groups like the President, the Republicans, and their elected leaders and non-elected spokespersons.
The WSJ/NBC poll found that Obama has a 47% positive rating ("very positive" or "somewhat positive"). This number dominates the Republican Party and its Congressional leaders: the Republican Party (31%), Senator Minority Leader Mitch McConnell (12%), and House Minority Leader John Boehner (14%). It also dominates all of the non-elected Republican politicos: Mike Huckabee (26%), Mitt Romney (21%), Newt Gingrich (24%), and Sarah Palin (30%). Even "the Tea Party Movement" garners only a 30% positive sentiment rating.
Some have argued, "It's the 'unfavorable' ratings that really matter!" Even on this opposite dimension, Obama's total negative ("very negative" or "somewhat negative") rating is 41%. Contrast this with the 43% negative rating of the Republican Party, and the 48% negative rating of Sarah Palin. The latter is important because she has the highest positive rating of any Republican figure in the list.
Thus, Obama dominates Republicans in the Polls.
That said, I can agree that my headline might be a bit misleading--Bill Clinton actually has a 55% positive sentiment rating--so, I should have probably said, "Democratic Presidents Dominate Republicans." But, I think the point is again clear: Poll results are all relative.
BTW: The Wall Street Journal wrote a story about these positivity ratings but didn't even mention the president's numbers; Bill Clinton got the headlines, along with Sarah Palin. It raises a basic question, "what kind of news are the media providing about this President?"

Calling all HuffPost superfans!
Sign up for membership to become a founding member and help shape HuffPost's next chapter