WASHINGTON -- As lawsuits and congressional Republicans aim to take down President Barack Obama's programs to aid young undocumented immigrants who have been in the U.S. for years, he told six of them at the White House Wednesday that he wouldn't let that happen.
"I want to be as clear as possible: I will veto any legislation that got to my desk that took away the chance of these young people who grew up here and who are prepared to contribute to this country that would prevent them from doing so," Obama said after meeting with the Dreamers, echoing previous veto threats.
The meeting was part of a broader strategy by Obama and his allies to bolster his immigration executive actions, which may help up to 5 million people gain work authorization and the ability to stay in the U.S.
The president and immigration advocates said they're confident the programs will withstand lawsuits and congressional action to undo them. But they need to be sure people aren't afraid to sign up.
Yannick Diouf, a 22-year-old originally from Senegal, said that was one of Obama's points in the meeting with Dreamers, the term for undocumented immigrants who came to the U.S. as children. Diouf has been in the country since he was 8 and applied successfully 2 1/2 years ago for the Deferred Action for Childhood Arrivals policy, or DACA, which allows him to stay and work legally.
Obama "said the more people sign up for DACA, the harder it will be justify them defunding it or trying to take it away," said Diouf, a leader of the Maryland Dream Youth Committee and who does outreach encouraging people to apply for the policy.
"That was his main argument: The more people who sign up for it, the better off we'll be in the long run," Diouf continued. "But if not that many people sign up for it, it will be a lot easier for them to try to take it away."
Congress is debating funding for the Department of Homeland Security, with many Republicans insisting any bill that does so should also block Obama's deportation-reprieve policies. The House voted last month on a DHS funding bill that would gut Obama's immigration programs and put Dreamers back at risk for deportation. Senate Republicans have attempted twice this week to move forward with that legislation. Senate Democrats filibustered both efforts.
The two most contentious policies are DACA and a similar program called DAPA, or Deferred Action for Parents of Americans, that provides the same three years of work authorization to parents of U.S. citizens and legal permanent residents. DACA started in 2012. As of Feb. 18, it will expand to include people of all ages who came to the U.S. as children. A start date for DAPA hasn't been set, but is expected in the next few months.
During Wednesday's meeting, Obama reassured Dreamers that his executive actions would withstand legal challenges. Twenty-six states have signed on to a lawsuit contending Obama acted unconstitutionally. House Republicans plan legal action of their own soon.
The meeting was comforting for Steven Arteaga-Rodriguez, another Dreamer who attended. He is 19 and came to the U.S. from Mexico when he was 4 months old. Now, he looks forward to going to college at the University of Houston.
Arteaga-Rodriguez, who was previously recognized as one of the White House "Champions of Change," spoke to reporters on a White House call Tuesday to discuss the impact of Obama's executive actions in Texas. Afterward, he got the invitation to come to Washington to meet with the president. Within 24 hours, he was nervously standing outside the Oval Office.
Arteaga-Rodriguez said he thanked the president for DACA and DAPA, which may benefit his mother because his sister is a U.S. citizen. He said the policy has changed his life, and he wants others to apply so they can do the same.
"It will open up a lot of doors for you, and not only that, you'll feel more secure," said Arteaga-Rodriguez, who works with the advocacy group Mi Familia Vota. "I know I do after applying for DACA."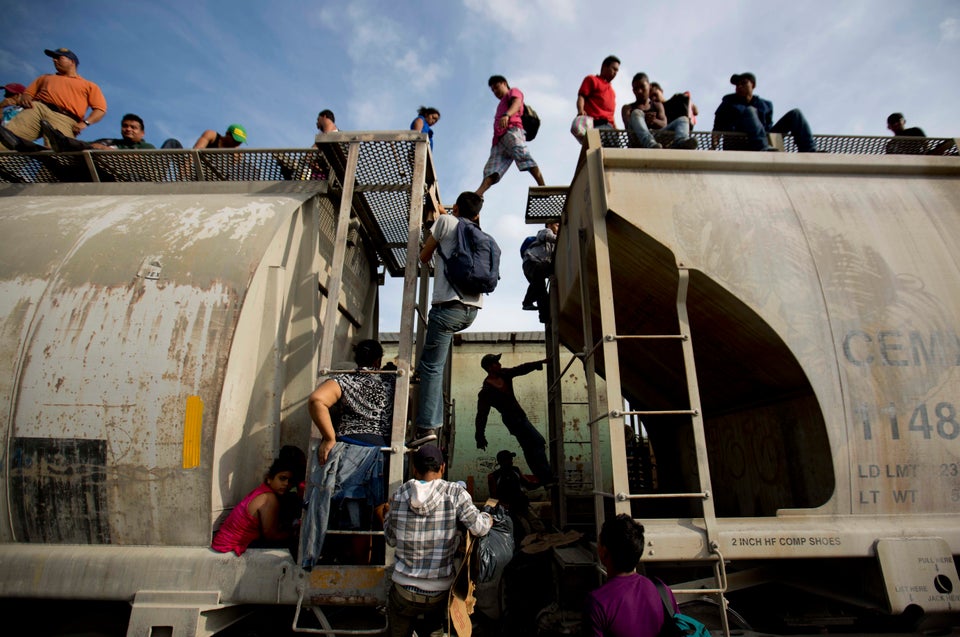 Why Latin Americans Really Come To The U.S.
Popular in the Community