WASHINGTON -- In October 2011, Scott Shane, a national security reporter for The New York Times, sent an email to a branch of the Department of Justice that deals with Freedom of Information Act requests, to check on one of his FOIA filings.
Sixteen months earlier, Shane had asked that DOJ's Office of Legal Counsel -- which advises the White House on the legality of government actions -- release any memoranda it had relating to the president's top-secret program of targeted killing of suspected terrorists, much of which was understood to be conducted by drones.
President Barack Obama's drone and targeted killing program, which has remained highly obscure despite expanding rapidly under his watch, burst into the public discourse again on Monday after a DOJ briefing paper, outlining the executive branch's interpretation of its powers to kill extrajudicially, was published by NBC News.
But back in late 2011, the program, and its possible reach, was just starting to receive attention. That September, an American citizen named Anwar al-Awlaki, who had become a significant figure in al Qaeda in the Arab Peninsula, was killed in a CIA drone strike in Yemen. President Obama hailed the killing in a public address (see the video below).
A week later, Charles Savage, another national security reporter at the Times, wrote that Awlaki's killing -- and the killing, more broadly, of any American with close ties to al Qaeda -- had been authorized by a secret memo from the Office of Legal Counsel.
Shane pushed the Justice Department about his aging FOIA request. In June 2010, his request had been immediately accepted and granted "expedited processing," but now Shane wanted, as the OLC's FOIA officer later wrote to a colleague, "an explanation of why it had taken a year and a half to respond."
"We are almost finished processing his request," the colleague, OLC lawyer Peter Finn, wrote back.
A few days later, a response finally arrived in Shane's mailbox: Not only was the OLC denying his request, but it refused to acknowledge if the documents he'd requested even existed. "The very fact of the existence or nonexistence of such documents," the letter said, "is itself classified."
For the past three years, delays and convoluted explanations of this sort have been the response of the Obama administration to any effort to learn anything about the targeted killing program. For years, the government described any such program, and particularly the CIA's role in it, as so sensitive that it couldn't even be discussed. But long after the practice of targeted killing became a matter of widespread discussion -- and the president himself addressed targeting decisions in an informal Google hangout -- the administration has continued to use elaborate legal rationales and the blanket assertion of national security needs, to prevent any releases.
"To say that there is little transparency about the CIA's role in this is a real understatement," said Jameel Jaffer, a lawyer for the American Civil Liberties Union, which has had several FOIA requests denied on similar grounds. "We really have nothing at all, from the CIA itself, about its role, about the standards, about the process used to add people to kill lists, about number killed, about anything."
Every administration guards its secrets, but on his first day in the Oval Office, Obama promised to deliver a new era of government openness and ordered that FOIA requests be met quickly and generously.
Instead, the administration has thrown up roadblocks at every effort to learn about the targeted killing program. Court filings have been greeted with assertions of executive privilege or national security exemptions. Human rights researchers have been ignored. And at least a dozen formal inquiries from Congress have been met with silence.
FOIA experts have explored every avenue to squeeze out information. Jason Leopold, an investigative reporter with Truthout, has even asked for the emails behind the government's decisions to deny other FOIA filings. (It was one of Leopold's requests, shared with The Huffington Post, that revealed the OLC exchange about Shane.)
The administration's effort not to answer has been so convoluted and shrouded in obfuscation that one federal judge recently decried its "Alice-in-Wonderland nature," even as she concluded there was no way around the administration's arguments.
The lack of information affects not just legal watchdogs and government oversight; it also limits outside attempts to measure the efficacy of the program.
James Cavallaro, a human rights researcher at Stanford, recently spent six months attempting to meet with members of Obama's national security team before publishing a study that revealed the deadly consequences of the U.S. drone program in Pakistan. He never received a reply.
"It's disconcerting that there's not greater transparency and really unacceptable," Cavallaro said.
In his research on human rights violations around the world, Cavallaro noted that it's not uncommon for host countries to rebuff his requests for access and interviews (although he's had luck in some unlikely places, like Panama and Cambodia).
"But here's the kicker," he said. "Is that the standard that should apply in the United States? The standards of the many abusive governments that commit rights violations? If that's the standard the U.S. should hold itself to, then they're doing a fine job."
The ACLU had no better luck when it brought a lawsuit in mid-2010 against the government to prevent the killing of Awlaki, with his father as the plaintiff. The government responded in part that the case should be dismissed on the grounds that defending itself would require acknowledging a classified program. The case died a few months later.
But with every new speech by an administration official discussing the program, the blanket claim that the government cannot respond to FOIA requests or defend itself in court "becomes substantially less plausible," said Micah Zenko, an expert on targeted killing at the Council on Foreign Relations who has closely followed the secrecy debate.
"Every administration wants maximum power and minimum oversight," Zenko said. "Nobody wants to have their homework graded. But the whole point of the Constitution is that the president has his homework graded."
The Awlaki killing was the first known time an American citizen was deliberately killed by a U.S.-controlled drone strike. Two weeks later, his 16-year-old son, Abdulrahman al-Awlaki, was killed in a separate attack in Yemen. As Zenko has noted, administration officials initially claimed the boy was "in his mid-twenties" and "of military age," before being confronted with his true date of birth. The State Department still refuses to address the killing, saying that it has yet to receive proof of his death from Yemeni authorities.
The DOJ briefing paper published on Monday offers yet another twist in the saga. It is not the OLC memo on which Savage had reported in 2011, but is instead an unclassified summary of the memo that was given to Congress last summer.
This story has been updated to note Truthout reporter Jason Leopold's work on uncovering the targeted killing program, including information he obtained from FOIA filings and shared with HuffPost.
Before You Go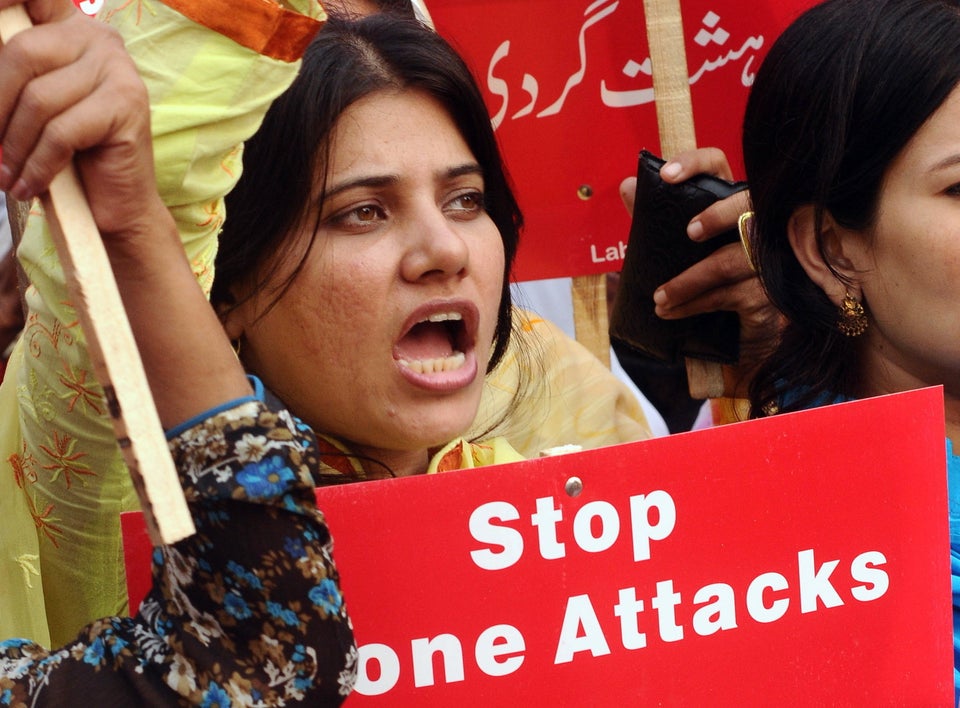 Protests Against Drones
Popular in the Community