 WASHINGTON -- On Wednesday morning, as many Americans sifted through the voter data and exit poll numbers of President Barack Obama's reelection the night before, the Twitter feeds of close watchers of Yemen lit up with reports of another sort of presidential event: an apparent U.S. drone strike had killed several individuals in that country.
There was no way of being certain if the strike was indeed American, or for that matter if it was a drone strike at all, although it had all the markings of one.
"All signs (after dark, suspicions of locals, target) point to Sanhan strike being a US drone," Yemen-based freelance journalist Adam Baron wrote on Twitter.
Whatever its provenance, the strike served as a macabre reminder of the burdens that Obama faces as he turns his attention away from the campaign and back to the business of being commander in chief.
Obama faces any number of perilous foreign policy and national security challenges with the potential to wreak havoc perhaps greater than any of the domestic issues he must navigate.
The Iranian nuclear standoff looms; China is rising as an economic threat; Israel remains an elusive -- and sometimes combative -- ally.
In Afghanistan, the president faces a struggling war effort, where tens of thousands of American troops remain in harm's way and must be extracted in a way that limits their risk while doing the least damage to the country's solvency. The moment when all U.S. combat troops are scheduled to come home, at the end of 2014, remains a long way off, and there is reason to suspect Obama may attempt to speed up that process.
And in Syria, a civil war that the U.S. has largely watched from the sidelines continues to spiral out of control. Obama has so far shown little interest in plunging head-on into the conflict, but if unrest spreads significantly into other countries in the region, especially in the direction of Israel, the U.S. may find intervention unavoidable.
But every president faces international threats and conflicts. Instead, the issue that may prove most nettlesome and perilous to Obama and his legacy is the persistent threat of radical terrorism, and his preferred tactic for combatting it: targeted assassinations, often by drone.
As it stands now, the Obama administration, which vastly stepped up the use of drones and targeted killings over the past four years, has done little to assuage the concerns of outsiders about the program's legality or utility. Indeed, the drone program's components are so secret that the administration routinely refuses to acknowledge that it even exists.
In a second term, that stonewalling may no longer be possible, particularly as new questions are raised about whether the program is legal, or if it even works. The fact that administration officials have offered justifications for the program in narrow speeches and interviews only adds to that sense of inevitability.
"It's very unclear what the United States is actually doing in Yemen other than they carry out bombings and people on the ground are dying," said Gregory Johnsen, an expert on Al Qaeda in Yemen and the author of a new book on the subject. "Who's dying, whether or not they're actually Al Qaeda -- we just don't know."
Johnsen, who was among those who identified the Wednesday attack as likely being an American drone strike, says the White House has a long way to go to prove to the American public the efficacy of the counter-terrorism drone policy.
"We've had nearly three years of strikes, and in those three years, Al Qaeda in the Arabian Peninsula went from a group of 200-300 individuals to a group that most estimate is over 1,000," he said. "So the organization has at least tripled in size."
Johnsen noted that while the U.S. has consistently said they were targeting just a dozen or so specific individuals in Yemen, in the past year alone they have carried out upwards of 50 strikes.
This same idea has been a sore spot in Pakistan as well, where the U.S. also has an expanded drone-based counterterrorism policy.
According to a recent article in the Washington Post, when Admiral Mike Mullen, then the chairman of the Joint Chiefs of Staff, travelled to Pakistan, he found himself in a heated exchange with his counterpart, Pakistani General Ashfaq Kayani, who wanted to know how the U.S. could still be working through a "top 20" list after hundreds of strikes.
Another problem for the second term frequently cited by many critics of the program, including those who support the limited use of drones, is that the Obama administration has so far failed to create a coherent and transparent legal framework for the use of the technique.
The Washington Post article, written by Greg Miller, described at length what the White House had done instead, creating an internal bureaucratic process called a "disposition matrix," which reportedly lays out the various legal and diplomatic steps that must be undertaken before a suspected militant can be targeted for assassination by drone or other strike.
But, as Micah Zenko, an expert on drone killings at the Council on Foreign Relations, has noted, where accountability is concerned, even this practice essentially boils down to, "Trust us."
They "do institutionalize or cement the framework for government bureaucracy," Zenko told The Huffington Post. "But they don't add anything new in terms of checks. Other than what's said in closed committee hearings, there's literally no checks and balances on any of this by other branches of government."
"Both the George W. Bush and Obama administration have really dropped the ball on creating a legal and ethical framework," Johnsen added. "That's going to be a real problem for future administrations for years to come."
In a recent appearance on HuffPost Live, the Post's Greg Miller said that while there had been some discussion about the scope of the program within the White House, there has so far been limited room for dissent among high-level decision makers.
"There were a couple dissenters who had a seat at the table," Miller said. "They lost those seats at the table."
Instead, he said discussions early in the Obama administration about what might be the long-term endgame of the drone and targeted killing practice tended to be "dead-end conversations."
"The trouble is, there is no easy alternative," Miller said.
It's a trouble that now burdens Obama for four more years.
Before You Go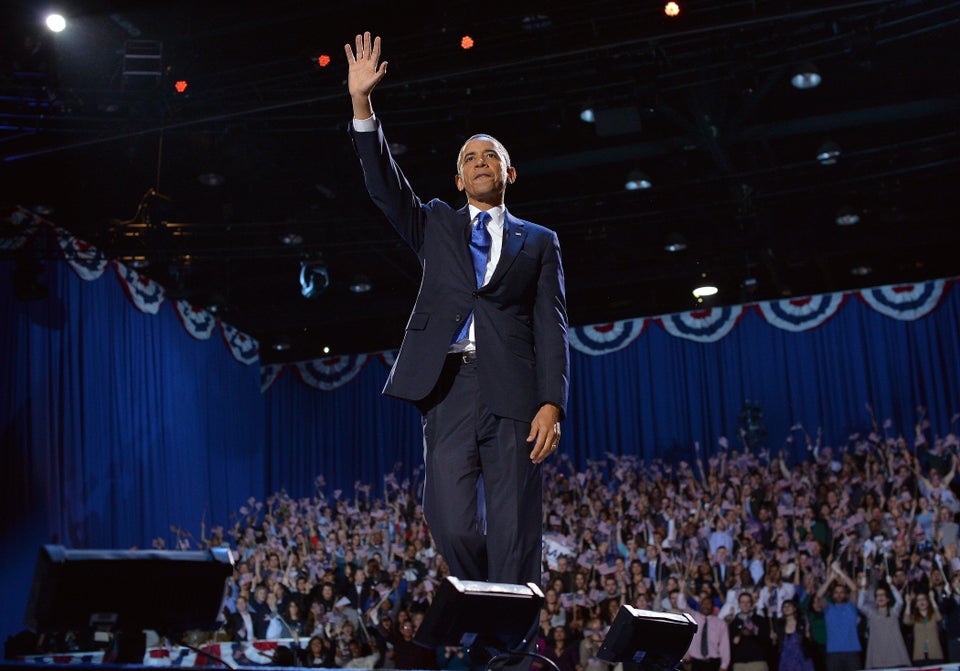 100 Years Of Election Night Winners
Popular in the Community