WASHINGTON ― A relatively innocuous interview with President Barack Obama's drug czar, Michael Botticelli, has been suddenly removed from a federal agency's website for reasons unexplained to staffers familiar with the matter.
The interview had been conducted with the Substance Abuse and Mental Health Services Administration and was posted last week. In it, Botticelli talked about how drug treatment has changed during the course of his long career in the field, and he listed his accomplishments while running the White House's Office of National Drug Control Policy. The most controversial aspect seemed to be that Botticelli came from the Obama administration.
The agency had heavily promoted the interview on social media. But now links to it go to an error page, and all traces of it appear to have been removed from SAMHSA's website, sparking concern that the new administration is trying to wipe away its predecessor's record.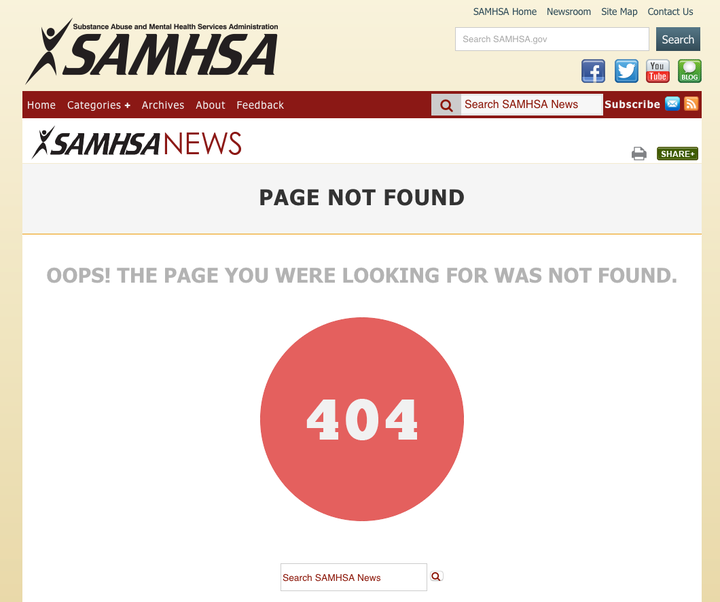 "It's so wrong," one SAMHSA staffer told The Huffington Post. "You can't just delete a past administration's work. It's part of our history."
Said another source within the administration: "I don't know what happened to it, but the interview did happen."
When asked about the interview, SAMHSA's press office first emailed a PDF copy of it, underscoring that no live link currently exists. When asked why it had disappeared from the website, the office said only that it would be placing it back into its archive system.
Though the interview may be put back online, its initial deletion comes amid what appears to be a pattern of Obama administration records being removed from public view during the early days of the Trump administration. The White House's climate change page, for example, was taken down this week. And multiple federal agencies have been told to cease communication with Congress and the public on policies and regulations.
Botticelli's interview is far more benign, politically, than either of those. He is a well-liked figure on both sides of the aisle, praised for his approach to treatment and for his own story: He is the first drug czar to be in recovery. In February 2015, the Senate unanimously confirmed him, and, on his way out, he was able to help secure a billion dollars in funding for drug treatment through the 21st Century Cures Act.
In the interview, Botticelli reflected on the state of drug treatment and offered advice to others in recovery.
"Part of what is important is for anyone who is in recovery and does advocacy to be grounded and secure in their own recovery before venturing out in other, more public ways," Botticelli said. "Sometimes I've worried when I've seen people who are very early in recovery playing a public and prominent role. I'm not saying they shouldn't talk about it at all, but early recovery is stressful enough." 
Do you work in a federal agency? Email us at scoops@huffingtonpost.com and let us know what you're seeing and hearing. To email us on an encrypted channel, create a protonmail.com account and use it to write to huffpostscoops@protonmail.com. It is only as secure as it can be if you are using the same encrypted email network on your end. It's not secure to do so on your work computer. Beware that no email network, no matter how sophisticated, is 100% secure all the time. Read more on Protonmail here.
How will Trump's first 100 days impact you? Sign up for our weekly newsletter and get breaking updates on Trump's presidency by messaging us here. 
Calling all HuffPost superfans!
Sign up for membership to become a founding member and help shape HuffPost's next chapter
BEFORE YOU GO
PHOTO GALLERY
Donald Trump Over The Years