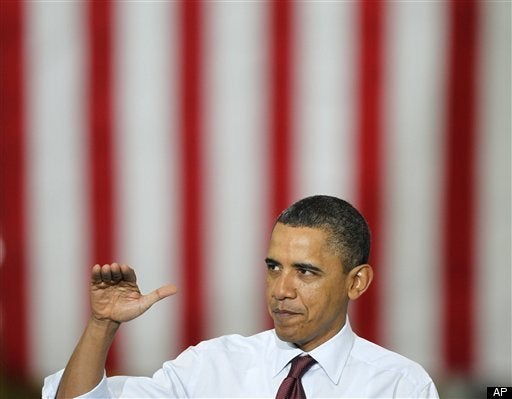 WASHINGTON -- Drug legalization is an "entirely legitimate topic for debate," President Barack Obama said Thursday during his online YouTube town hall, in response to a question from a former deputy sheriff who has turned sour on the drug war.
In endorsing such a debate, Obama went further than any president has since the start of the war on drugs, which can be traced back at least to President Richard Nixon, but more realistically to the early 20th century, when the federal government began criminalizing drugs that had long been legal.
Obama, who said again toward the end of his answer that drug legalization is "worth a serious debate," lent legitimacy to a policy area that has long been relegated to the "unserious" corner of American political discourse.
His answer indicates an evolution in his administration's approach to the question of legalization. In the past, Obama has not treated the issue with the same respect.
In 2009, during a similar online event, the president paused to address the hundreds of questions that had been submitted regarding marijuana and drug policy. "Can I just interrupt, Jared, before you ask the next question, just to say that we -- we took votes about which questions were going to be asked and I think 3 million people voted," he said to aide Jared Bernstein. "I have to say that there was one question that was voted on that ranked fairly high, and that was whether legalizing marijuana would improve the economy -- (laughter) -- and job creation. And I don't know what this says about the online audience -- (laughter) -- but I just want -- I don't want people to think that -- this was a fairly popular question, we want to make sure that it was answered. The answer is no, I don't think that is a good strategy -- (laughter) -- to grow our economy in 2009."
His answer Thursday was hardly an endorsement of legalization, but it was nonetheless a marked turnaround. "I think this is a entirely legitimate topic for debate," he said. "I am not in favor of legalization. I am a strong believer that we need to think more about drugs as a public health problem."
The president's comments came in response to a question from MacKenzie Allen, a member of Law Enforcement Against Prohibition and a retired deputy sheriff with law-enforcement experience in Los Angeles and King County, Washington. In this year's YouTube poll, Allen's question garnered twice as many votes as the second-most popular question online.
LEAP head Neill Franklin, a retired Baltimore narcotics cop, applauded Obama's comment but called for him to turn the words into action. The White House is preparing a budget to submit to Congress in the coming weeks, and how much priority it gives to drug treatment versus incarceration will be an indication of the direction the administration plans to take.
"The president talks a good game about shifting resources and having a balanced, public health-oriented approach, but it doesn't square with the budgets he's submitted to Congress," Franklin said in a statement. "The Obama administration has maintained the Bush-era two-to-one budget ratio in favor of prisons and prosecution over treatment and prevention. It doesn't add up. Still, it's historic that the president of the United States is finally saying that legalizing and regulating drugs is a topic worthy of discussion. But since the president remains opposed to legalization, it's clear that the people are going to have to lead the way. Police officers and innocent civilians are dying every single day in this drug war; it's not a back-burner issue."
Obama's response to Franklin's question appears below:
Popular in the Community