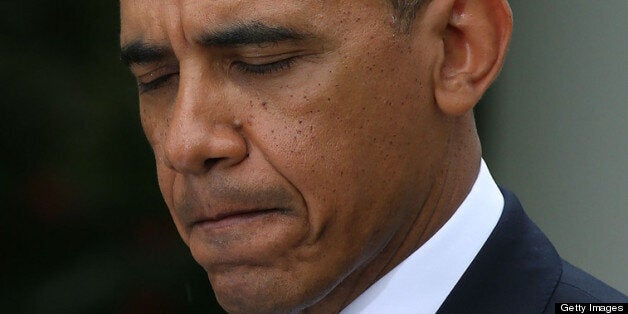 As pressures mount in Washington for a more aggressive American involvement on behalf of at least some rebel groups in Syria, President Obama has seemed intent on proving the Nobel committee was farsighted in awarding him its peace prize four years ago.
He sent Secretary of State John Kerry to Moscow this month with an initiative to re-engage diplomatically with Russia to end the war, through an international conference in June. It could not come soon enough. The Syrian government has, by all accounts, begun to win back some of its lost ground, worries are mounting about an increasing dominance of rebel militias by Islamic extremists, and a United Nations vote yesterday shows eroding support for the rebel side in notable quarters of the international community.
Today, after meeting with Turkish prime minister Recep Tayyip Erdoğan in the White House, Obama turned aside calls for arming Syrian rebels, noting, "There is no magic formula for dealing with an extraordinary violent and difficult situation like Syria's." His view was echoed during the day by Canadian prime minister Stephen Harper, normally a conservative darling. "I would urge on the president extraordinary caution," Harper told a New York audience at the Council on Foreign Relations. "Arming unnamed people is extremely risky."
The high tide of international sympathy for the rebels appears to be receding as the violence mounts in Syria. Countries supporting yesterday's General Assembly resolution dropped to 107, from 133 for the last resolution critical of Damascus in August 2012. Notably among the defectors were four supposedly rising powers in the Group of 20, as Brazil, Argentina, Indonesia, and South Africa joined India in abstaining.
American diplomats with long experience in the region, including Christopher Hill and Ryan Crocker, have become increasingly vocal in rebutting the interventionists in Washington. Hill, in an article in the New York Times today, took issue with the Obama administration's "ill-advised decision, in August 2011, to preclude the possibility of a diplomatic resolution involving all sides," when the president bluntly declared that "Assad must go." The insistence that Bashar Assad leave Syria's presidency, Hill says, "was not carefully arrived at" and "has boxed us in." Today, Obama subtly softened the implied implacability of that stance, affirming simply, "We would've preferred Assad go two years ago, last year, two months ago, a month ago."
One might add another administration misstep last year, in pressing a bit too enthusiastically for the withdrawal of the U.N. monitoring force that had been sent to bolster the April 2012 ceasefire brokered by U.N. mediator Kofi Annan. That ceasefire dissolved within days, but for three more months the U.N. monitors did provide the one shred of independent, on-the-ground international presence and verification. The pace of the war has escalated exponentially since their withdrawal, made clear in the spiraling death toll, and negotiating their re-entry is now far more complicated.
Ryan Crocker, who has served as U.S. ambassador in Syria, Iraq, Afghanistan, and Pakistan, startled an intervention-minded panel at Princeton's Woodrow Wilson School recently by observing, "You all seem to have taken for granted [that] Bashar's going to go. What if he doesn't go, which I think is a better than even chance?"
Foreign-policy commentators have looked to other conflicts for guidance on the terms of intervention in Syria. Brookings scholar Michael O'Hanlon, who warns that Assad's overthrow will leave Syria in as much chaos as Iraq's after the U.S. invasion, sees Bosnia as the most apt analogy, and proposes Syria's division into ethnic and sectarian enclaves with U.S. peacekeepers on the ground.
Bosnia surely does provide useful clues, but probably not so much in terms of the final settlement -- most Syrians still affirm the essential unity of their country -- as in the international community's involvement. The United Nations had a frustrating peacekeeper mission on the ground in Bosnia for three years, cordoning off the conflict from outsiders' intervention, and as the parties exhausted themselves in a stalemate, the negotiating track stirred to life, accompanied by brief U.N.-assented action post-Srebrenica by U.S. air power and Franco-British forces on the ground.
The planned June conference will certainly not end the conflict, but it does resurrect the negotiating track to achieve that. Lakhdar Brahimi, who succeeded Annan last summer as the U.N. and Arab League special envoy, was about to quit when Kerry and Russian counterpart Sergey Lavrov announced their conference plans. With representatives of both the Syrian government and the Syrian opposition expected to be in the same city, if not the same room, in June, the long-promised "Syrian-led political transition to a democratic, pluralistic political system" the United Nations has repeatedly affirmed can get underway.
"Syrian-led" does not minimize the urgency of pressure from the major countries most concerned about the Syrian outcome, and these go a bit beyond the United States and Russia. The Europeans need to be included, of course, and not just the intervention-minded French and British, whose interest in the region a century ago -- enshrined in the wartime Sykes-Picot pact -- still stirs Syrian suspicions about their intentions.
Other potential spoilers also need to be brought inside the negotiating tent. "Regional ownership of any proposed strategy is indispensable," observes the Carnegie Endowment's Sinan Ülgen, arguing that both Saudi Arabia and Iran must be included. "Otherwise, the external and destabilizing influences on Syria can be neither contained nor mitigated."
The Russians have quite unequivocally said they are "not interested in the fate of certain persons," meaning Assad's presidential authority. Their objection to the U.N. resolution Wednesday was not to its call for a "transitional governing body with full executive powers to which all functions of the presidency and Government are transferred, including those pertaining to military, security, and intelligence issues" -- a Brahimi formulation to which they agreed last year. They have been adamant mainly in resisting the Syrian opposition's insistence on Assad's ouster before the fragmented anti-Assad coalition talks with a decapitated Syrian government.
It is certainly true, as New York Times columnist Bill Keller argued two weeks ago, that Syria is not Iraq. The government Washington opposes has not been under Security Council sanctions imposed for invading its neighbors, and Americans do not have the searing pain of 9/11 stoking calls to go to war. Outside Washington, the country seems strongly opposed to deep involvement. Obama's caution is on the mark.
Related
Popular in the Community