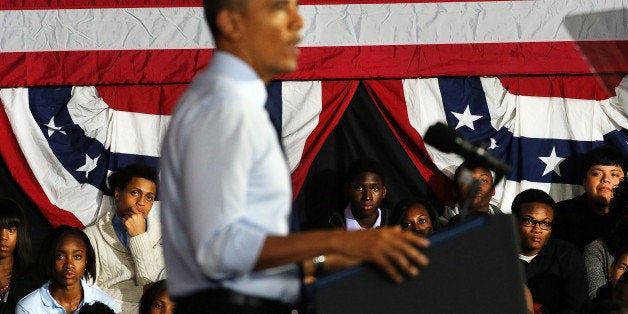 NEW YORK -- President Barack Obama spent Friday hanging out with students at Pathways in Technology Early College High School, before telling them they're "starting something across the country" in a speech in the Brooklyn school's auditorium.
P-Tech, a new vocational school run in collaboration with IBM, goes two years beyond traditional high school and lets students graduate with an associate's degree. New York Gov. Andrew Cuomo and Chicago Mayor Rahm Emanuel, both Democrats, have praised the effort and called for the creation of more schools in its image.
Obama first mentioned the school during his 2013 State of the Union address. "What's going on at P-Tech is outstanding, and I'm excited to see it for myself," Obama told the crowd in February.
On Friday, he used his visit to the school to push for investments in education in the upcoming federal budget conference. Sequestration cuts are expected to trim $1.2 trillion in funding for vocational schools like P-Tech over 10 years.
"If you think education's expensive, wait 'til you see how much ignorance costs," Obama said. "Don't tell me we can afford to shut down the government ... but we can't afford to invest in education."
Education investments are key, he said, because of an increasingly global economy. "Those countries are working every day to out-educate and outcompete us," he said, calling the days when a high school degree was sufficient for stable employment "over and … not coming back." He ran through the administration's education priorities: expanded pre-school, getting schools access to high-quality internet service, controlling costs and boosting teacher quality.
Before the event started, New York politicians squeezed into small plastic chairs, vying for a good spot. Education officials, such as New York City schools chancellor Dennis Walcott and academic director Shael Polakow-Suransky, were in attendance, as was New York State schools commissioner John King. American Federation of Teachers President Randi Weingarten appeared as well. Michael Mulgrew, president of the United Federation of Teachers, rubbed shoulders -- and even appeared to hug -- New York City Democratic mayoral candidate Bill de Blasio, despite the barbs they traded during the primary campaign.
Before his speech, Obama visited a P-Tech Algebra 2 class with U.S. Secretary of Education Arne Duncan. According to a pool report, he quipped that a student in the class should tutor his daughters, Sasha and Malia since he's no longer the best homework helper. "I liked math, but then it started to get harder," Obama said. "And so that can be frustrating."
In his speech, Obama said he was impressed by the math class. So much so, he said, that it got him thinking "whether its too late to send Congress here."
"You guys have opportunities here that you don't find in most high schools yet," he told the P-Tech assembly. "You'll be in demand."
P-Tech took root as part of the larger Paul Robeson High School, which the Bloomberg administration chose to shut down. The school stopped accepting ninth-grade students in 2011, the year P-Tech opened with about 100 students. While Robeson is now winding down with only a few students and teachers left, P-Tech is growing and expects as many as 450 students next year.
Outgoing Mayor Michael Bloomberg gave a brief speech Friday, in which he thanked Obama for making schools like P-Tech possible.
"This was once a large high school that had been failing its students for much too long," he said. "The Obama administration stood by us as we worked to transform failing schools across the city."