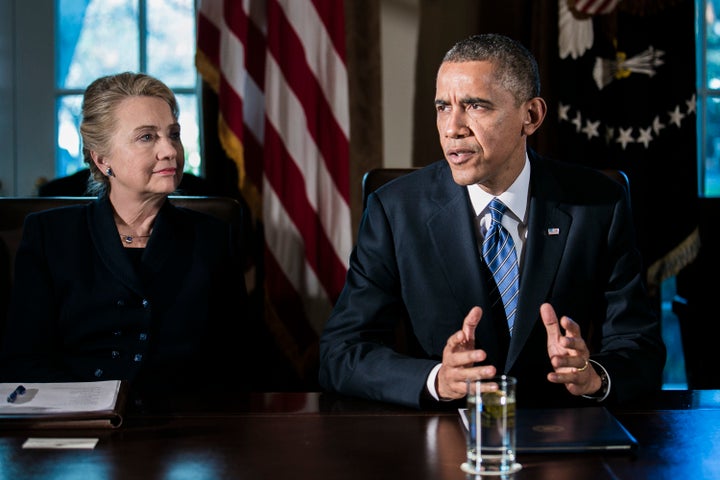 History indicates that the president's high approval ratings should help Democrats in the fall. The American public seems to want change, but Hillary Clinton is a status quo candidate. And it's not yet clear how gender will affect the presidential race. This is HuffPollster for Friday, June 10, 2016.
OBAMA'S POPULARITY COULD BOOST CLINTON - HuffPollster: "Not all presidents choose to play an active role in electing a successor. But President Barack Obama, who endorsed Hillary Clinton on Thursday, is making his pitch at the height of his popularity in recent years. HuffPost Pollster, which aggregates all publicly available polling, puts Obama's approval at a solid 50 percent, the highest it's been since the beginning of his second term….Gallup's own tracking poll puts Obama's approval during the first four months of this year at 49.5 percent on average. That makes him roughly as popular as Ronald Reagan was at this point during his presidency and far more popular than George W. Bush, who largely laid low during the 2008 election...An average of 81 percent of Democrats approve of Obama, according to HuffPost Pollster….That popularity largely extends to Democratic supporters of Sen. Bernie Sanders(I-Vt.), whom Clinton now needs to win over to unify the party. In the most recent YouGov/Economist survey, 71 percent of Sanders supporters approved of Obama, although they were less enthusiastic in their approval….Obama's ratings matters for another reason, too — this early in a general election, an incumbent's approval is often a better predictor of the outcome than horserace polls." [HuffPost]
Clinton camp hopes Obama can help her win battleground states - Michael Shear and Patrick Healy: "Now that Mr. Obama has endorsed Hillary Clinton, her advisers are eager to use his political touch in those and other battleground states and extend the Democratic streak there this fall….The president will reach out to independents and others in New Hampshire and Iowa, and rally young people, Hispanics and Asian-Americans in competitive states like Colorado, Florida and Nevada….Mrs. Clinton's advisers, citing Mr. Obama's solid approval ratings and popularity with Democrats and some independents, said they thought he would be a net asset in Colorado, Florida, Michigan, Ohio and other battleground states that he carried in 2008 and 2012 and where he is arguably more popular now. All those states are critical to Mrs. Clinton's electoral strategy….Some Democratic officials also think Mr. Obama can help Mrs. Clinton by directly appealing to supporters of Senator Bernie Sanders in states like Wisconsin that he carried this spring." [NYT]   
But Clinton is a status quo candidate at a time when people want change - Amy Walter: "Back in May, the NBC/Wall Street Journal poll posed a question that gets to the heart of the change versus stability choice voters will have this fall. They asked voters if they'd prefer a candidate who would 'bring major change to the way government operates, even if it's not possible to predict what that change might be' (i.e., Trump) or if they'd prefer a candidate who brings a 'steady approach to the way government operates, even if it means fewer changes to how things are now' (i.e. Clinton). A majority of Americans - 53 percent - picked change, even with the knowledge that it would be unpredictable, to a steadier, but more conventional approach. That's a bad sign for Clinton, who is counting on making Trump's unpredictability and his temperament a major theme of her campaign.  But if you dig a little deeper into the numbers, you find some voters more comfortable with unpredictable change than others. Those who are most comfortable with the 'change but unpredictable' are independents (+38), older voters (+13), those who wait until the general election to vote (+21) and Latinos (+14). Those who are least comfortable are moderates (+5), suburban women (+2), and white voters with post-graduate degrees (-1). The Latino number is the most surprising. However, I'd be curious to see how those voters responded to the question if the candidate names are included in the question. I'd argue that they would be less likely to support the 'change' if it came dressed as Trump." [Cook Political Report]
Desire for change could be driven by negativity about the direction of the nation - Frank Newport: "Nearly three in 10 Americans (29%) are satisfied with the way things are going in the U.S., continuing the trend of low satisfaction levels since 2007. Americans' satisfaction has averaged 24% across the 89 months of the Obama administration to date, well below the average 37% satisfaction level since Gallup began measuring it in 1979….All of these recent yearly averages are low on an absolute basis, with a clear majority of Americans in each year since 2002 saying they are dissatisfied with the way things are going in the nation….As is always the case, satisfaction differs sharply by party identification, with Republicans' current 10% satisfaction versus Democrats' 51% reflecting how each relates to the party occupying the White House….Democrats' current satisfaction level is sharply higher than it has been in previous months, and much higher than the Democratic average of 39% since President Barack Obama took office in 2009." [Gallup]  
AMERICANS HAVE GROWN TO ACCEPT THE IDEA OF A FEMALE PRESIDENT - Clare Malone: "In January of 1937, the Gallup Poll, then in its second year of existence, posed this question: 'Would you vote for a woman for president if she was qualified in every other respect?' Sixty-four percent of Americans said no, 33 percent said yes, and 3 percent had no opinion on the matter….In 1940, three years after Gallup's initial survey, the question was asked again, this time by People's Research Center. Respondents were less inclined to vote for a woman — 73 percent said no….By 1945, Americans were more amenable to the idea, although Gallup had changed the question slightly: 'If the party whose candidate you most often support nominated a woman for president of the United States, would you vote for her if she seemed best qualified for the job?' Fifty-five percent of Americans still said 'no,' but the idea of a party's approval seemed to make them feel better about a woman….The question wasn't asked much in the 1950s and 1960s, but in the 1970s, during the women's movement, it appeared with regularity in surveys. A majority of Americans came around to the idea: 66 percent in 1971, 76 percent in 1978, 82 percent in 1987 and 92 percent in 1999….A February 2007 Gallup poll showed that 88 percent of Americans would vote for a woman if their party nominated one." [538]
Will the 'woman card' make a difference? - Kelly Dittmar and Melissa Deckman: "What happens when women's experiences with gender discrimination are made more salient by both campaign messages and her groundbreaking run? Will tapping into perceptions of gender inequity help Hillary Clinton? And if so, among which voters? ….These findings raise doubts that (1) simply seeing gender discrimination would make citizens (read: Sanders supporters) more likely to vote for a woman candidate and (2) people are voting for Hillary Clinton to right a wrong against women….Lynn Vavreck and John Geer recently found that campaign advertisements detailing Donald Trump's sexist comments had little impact on whether viewers favored Hillary Clinton, but made women view Trump less favorably. In this case, perceptions of gender bias don't lead to feelings of solidarity with the woman running, but they do arouse opposition to the candidate perceived as opposing gender equity. As Clinton moves toward the nomination, it is important to remember that her supporters in the primary weren't necessarily motivated by perceptions of gender discrimination or hopes of busting gender norms." [WashPost]
HUFFPOLLSTER VIA EMAIL! - You can receive this daily update every weekday morning via email! Just click here, enter your email address, and click "sign up." That's all there is to it (and you can unsubscribe anytime).
FRIDAY'S 'OUTLIERS' - Links to the best of news at the intersection of polling, politics and political data:
-Alexander Burns lays out Hillary Clinton's next steps. [NYT]
-Mark Blumenthal suggests Elizabeth Warren would be a popular running mate for Clinton. [SurveyMonkey]
-John Kasich's supporters continued voting for him at unusually high rates after he dropped out. [HuffPost]
-Max Ehrenfreund presents data showing that Obama's 2013 tax plan helped slow the growth of inequality. [WashPost]  
-More than 40 percent of Americans say it's a good time to find a job. [Gallup]
-Seth Masket doubts either party will go extinct in 2016. [Politico]
-A new Morning Consult poll finds support for Bernie Sanders' campaign dropping. [Morning Consult]
REAL LIFE. REAL NEWS. REAL VOICES.
Help us tell more of the stories that matter from voices that too often remain unheard.