By his signing today of the $410 billion bill which, will keep the federal government in business until September 30, 2009, President Barack Obama also ended one of the Bush Administration's most blatant attempts at union-busting, a plan which was already endangering our country and all our people.
The "cross-border trucking program," which would have eventually allowed almost all Mexican trucks and drivers full access to U.S. highways, was one of the most contentious issues to arise out of the 1993 North American Free Trade Agreement (NAFTA).
Before 2007, Mexican trucks had been limited to a narrow zone, about 25 miles, north of the border, where they transferred their cargo to American big rigs.
For many American unions, drivers and big-rig truck owner/operators, the true purpose of the program was to allow American trucking companies access to the Mexican drivers, who often are paid less than half of prevailing U.S. wages, and allow them access to trucks maintained to much more lax safety standards than those in the U.S., further reducing costs for American trucking companies hiring Mexican trucks and their drivers.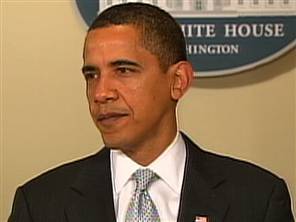 (President Obama at today's $410 billion bill signing)
Another major safety question concerning the program was if non-U.S. drivers would have to keep the same types of logbooks and be mandated the same amount of rest periods of U.S. drivers between driving stints, safety regulations which had already been weakened for U.S. drivers during the Bush presidency.
Last year I interviewed an over-worked California Highway Patrol truck inspector working the border area who told me, "If this program becomes reality, the only Mexican trucks we're going to be able to inspect are the ones which have already been involved in accidents on the U.S. side of the border."
The safety of the Mexican trucks, their drivers' training and record-keeping, questions about their insurance coverage and many other factors had the Teamsters and other unions and lawmakers from both sides of the aisle opposing the program since its inception as a demonstration project under Bush (the name "Teamsters" originally referred to those who drove teams of horses when moving freight).
But in spite of those questions, the Bush administration granted many Mexican trucking firms wider access to U.S. roads under a "demonstration program."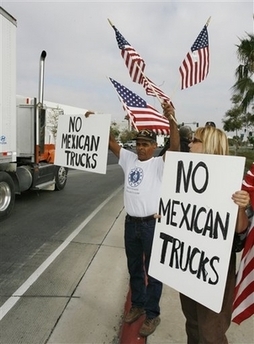 (Union drivers protest the Bush/NAFTA project at a border crossing in 2007)
When he was a senator, President Obama had voted to block Mexican freight haulers from operating throughout the U.S., and as a presidential candidate he called for renegotiating NAFTA.
Those of us who live in close proximity to the U.S./Mexico border know well that that both countries are involved in a near all-out war between drug cartels and factions of the Mexican government. Americans were recently warned by the State Department to avoid travel to Mexico and U.S. armed forces members have been forbidden to take leave in Mexico.
The border is less than an hour from where we live. The main north-south route here, California State Highway 86, is one of the country's major hubs of drug- and human-smuggling in and out of Southern California's southeast deserts, offering easy, smooth, fast and often lightly-patrolled access to San Diego and Los Angeles counties and all areas nationally, north and east from the Coachella Valley/Palm Springs area.
California's Coachella Valley is where Highway 86 meets one of the country's major east/west routes, Interstate 10, also known as the Christopher Columbus Transcontinental Highway, which stretches from Santa Monica, CA to Phoenix, Tucson, El Paso, San Antonio, Houston, Baton Rouge, Biloxi, Mobile, Tallahassee and ending in Jacksonville, FL. It's America's own drug- and human-runner freeway.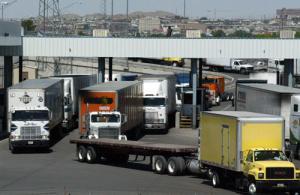 (Trucks negotiating a US/Mexico border crossing)
The Coachella Valley, which is in Riverside County and San Bernardino County, just north of Riverside, are major methamphetamine-producing areas. They offer "meth cookers" tens of thousands of square miles of sparsely-populated desert with trailers, shacks, abandoned mines and old, vacant desert homes perfect for their activities. Drugs and drug-making ingredients are easily and quickly driven in and out of the area and the flat desert landscape offers smuggler's airplanes take-off and landing strips, whether marked or not.
Several small and not heavily-patrolled border crossings in California, Arizona, New Mexico and Texas also feed into Highway 86 and I-10; waits for travelers at some of these border stations can be as short as 10 or 15 minutes, as opposed to the typical two-hour-or-longer delays at the major crossing of Tijuana/San Ysidro south of San Diego.
Apart from all the public safety dangers of allowing thousands of Mexican trucks complete access to the entire continental U.S., the easily predictable increases in human- and drug-smuggling which would also arise make plain what a bad plan this was to begin with.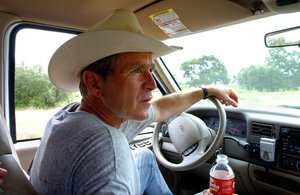 (This particular border-area truck driver was in favor of allowing Mexican trucks and drivers unfettered access to the continental US - and where's his seat belt?)
Bush had resisted Congress' efforts to end the cross-border trucking program.

But Sen. Byron L. Dorgan (D-N.D.), a longtime critic, predicted that it would "finally come to an end" under Obama.

Transportation Department spokesman Bill Adams said the administration recognized congressional concerns about the program and would work "to propose legislation creating a new trucking project that will meet the legitimate concerns of Congress and our NAFTA commitments."

But the U.S. Chamber of Commerce warned in a letter to lawmakers that ending the trucking program "would likely prompt costly retaliation" from Mexico.

Ricardo Alday, a spokesman for the Mexican Embassy in the U.S., assailed the congressional action Tuesday as "protectionism, plain and simple."

"Mexico would expect that at a time of global recession and economic distress, the U.S. would play by the rules, fulfill its international treaty obligations and ensure that bilateral trade is a level playing field, rather than erect trade barriers that undermine much-needed incentives to foster growth," he said, predicting the action would increase consumer costs.


He said the decision has never been about safety.

"During the cross-border trucking demonstration program's 18 months of operation, 26 carriers from Mexico -- with 103 trucks -- and 10 from the U.S. -- with 61 trucks -- crossed the border over 45,000 times without a significant incident," Alday said.

Sean Spicer, assistant U.S. trade representative in the Bush administration, also predicted that the congressional action would have consequences.

"If we're not going to fulfill our obligations, I think the Mexican government will look for opportunities to take back some of their obligations under the treaty.

"At the end of the day, this could easily affect jobs."

But Teamsters spokesman Bret Caldwell said, "Look, we've lost the trade war with Mexico.

"We sent one million jobs to Mexico. There's nothing that Mexico could do to us that is worse than what they've already done."
Related
Popular in the Community