PITTSBURGH, June 17 (Reuters) - President Barack Obama on Tuesday cast his administration's push to reduce pay disparities between men and women in personal terms and said such wage gaps are something that could hypothetically affect his life as well as those of other men.
"This is not a women's issue, this is a family issue. Women now bring in close to half of all income, and there are a whole lot of families out there where the woman is the primary breadwinner," Obama said during a townhall-type event in Pittsburgh, before referring to his wife, Michelle.
"And if Michelle is not being paid fairly, then that's not helping me. I want her to get what she rightfully deserves. I want her being paid the same as a man doing the same job, because that is helping our family."
Michelle Obama earned more money than her husband at times during their marriage but does not draw a salary as first lady. The president noted that, as well.
"I will say, the first lady is kind of a bad example, because the first lady doesn't get paid. And she works pretty hard," he said, before adding quickly: "Obviously, we're OK."
Obama has made millions in dollars from the sale of his books. As president he earns $400,000 a year.
Obama's quick catch about his financial position came a Hillary Clinton, his former secretary of state and a potential 2016 presidential candidate, takes heat for saying in her new book, "Hard Choices," that she and her husband, President Bill Clinton, were broke when he left the White House.
The Clintons are now multi-millionaires.
Obama was in Pittsburgh to tour a do-it-yourself workshop where entrepreneurs share equipment and technology. The trip was part of a push to promote manufacturing.
Obama said he wants to spur U.S. manufacturing as a central part of his economic development agenda for the rest of his presidency, and said a "Maker Faire" planned for the White House on Wednesday was a good way to promote entrepreneurship.
He announced his administration would make it easier for people starting or expanding manufacturing businesses to make use of government equipment and research. Five government agencies will spend $150 million to produce sophisticated materials that have promising commercial applications, he added. (Writing by Jeff Mason; Editing by Steve Orlofsky)

Support HuffPost
The Stakes Have Never Been Higher
Before You Go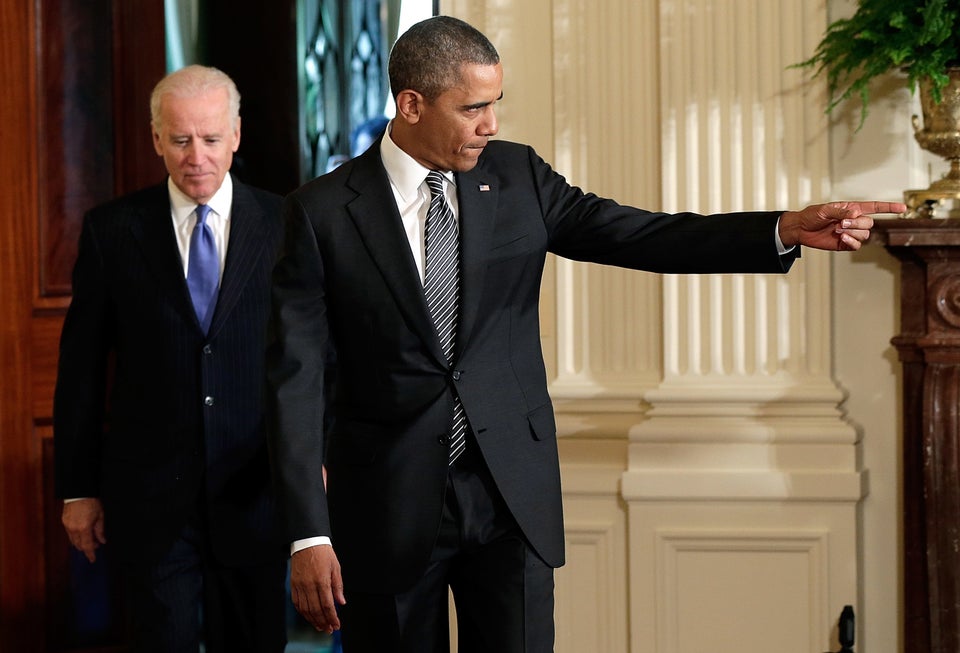 Obama Pointing Fingers
Popular in the Community