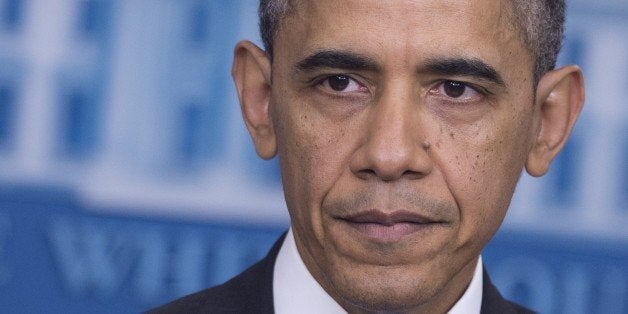 WASHINGTON -- Congress may be in a state of paralysis when it comes to dealing with gun violence, but the White House inched forward Friday with two new executive actions aimed at boosting the federal background-check system.
According to materials provided by the White House, some states have raised concerns about ambiguous wording that makes it difficult to determine who should be barred from purchasing a gun. The first proposed rule change, by the Department of Justice, expands the definition of the statutory term "committed to a mental institution" to clarify that the prohibition on firearms purchases applies to people subjected to involuntary outpatient as well as inpatient commitments.
The rule also clarifies that "adjudicated as a mental defective" and "committed to a mental institution" include persons who are found incompetent to stand trial or not guilty by reason of mental disease or defect; persons lacking mental responsibility or deemed insane; and persons found guilty but mentally ill, regardless of whether these determinations are made by a state, local, federal or military court.
"We are taking an important, commonsense step to clarify the federal firearms regulations, which will strengthen our ability to keep dangerous weapons out of the wrong hands," Attorney General Eric Holder said in a statement. "This step will provide clear guidance on who is prohibited from possessing firearms under federal law for reasons related to mental health, enabling America's brave law enforcement and public safety officials to better protect the American people and ensure the safety of our homes and communities."
It's unclear what the repercussions of the proposed rule will be for those states that have, until now, allowed for some people who have been "committed" to obtain guns after they leave commitment. DOJ plans to make its rule public later Friday afternoon.

The second proposed rule change, by the Department of Health and Human Services, allows certain entities covered by patient privacy protections to submit additional information to the background-check system. The administration notes that nothing in this rule would require reporting on general mental health visits or legally prevent someone from having a firearm just because he or she sought treatment.
"There is a strong public safety need for this information to be accessible to the [National Instant Criminal Background Check System], and some states are currently under-reporting or not reporting certain information to the NICS at all," HHS Secretary Kathleen Sebelius said in a statement. "This proposed rulemaking is carefully balanced to protect and preserve individuals' privacy interests, the patient-provider relationship, and the public's health and safety."
A White House official told The Huffington Post that Friday's action is just one of a series of actions the administration has been taking to move the ball forward in addressing gun violence, and pointed to a recent move to spend $100 million on mental health services.
An entire year passed without any action in Congress in response to the mass shooting at Sandy Hook Elementary School in December 2012. While President Barack Obama is limited in what he can do through executive power, he has announced a spate of actions over the last year to address mental health and gun violence.
Vice President Joe Biden, who led the president's failed effort to pressure Congress to act, tweeted Friday that the fight isn't over.
Before You Go

15 Things The U.S. Gun Industry Wants To Hide
Popular in the Community