President Barack Obama has asserted executive privilege in response to requests made by Rep. Darrell Issa (R-Calif.), chairman of the Committee on Oversight and Government Reform, who has embarked on a controversial investigation into the Department of Justice's Operation Fast and Furious gun-running program.
The invocation of executive privilege allows the president to defy requests and subpoenas by members of the legislative and judicial branches for information the White House deems sensitive. Obama's decision will allow him to refuse to provide certain documents pertaining to the Fast and Furious program.
The Oversight Committee has threatened to hold Attorney General Eric Holder in contempt, and Issa had scheduled a vote on the matter for Wednesday morning. A committee aide told Reuters that Issa would proceed with the contempt vote even after Obama's action. Issa later declared that the decision to assert executive privilege "falls short of any reason to delay today's proceedings."
Deputy Attorney General James M. Cole addressed Issa in a letter on Wednesday morning.
"We regret that we have arrived at this point, after the many steps we have taken to address the Committee's concerns and to accommodate the Committee's legitimate oversight interests regarding Operation Fast and Furious," he wrote. "Although we are deeply disappointed that the Committee appears intent on proceeding with a contempt vote, the Department remains willing to work with the Committee to reach a mutually satisfactory resolution of the outstanding issues."
Holder, who met with Issa Tuesday in an attempt to reach an agreement on how many and which documents related to Fast and Furious he would turn over, had formally written Obama requesting that he exercise executive privilege. A copy of that letter is below.
The Department of Justice has released over 7,600 documents detailing the Fast and Furious program over the course of the House committee's lengthy investigation, which was launched in the wake of reports that Border Patrol Agent Brian Terry had been killed by one of the firearms involved in the operation. Those documents described a controversial practice carried out by agents of the U.S. Bureau of Alcohol, Tobacco, Firearms and Explosives that was designed to allow firearms to "walk" into Mexico in hopes of tracing them back to higher-level gun traffickers.
The gun-walking technique, which had roots in previous operations carried out by federal agents in Arizona during the administration of President George W. Bush, eventually led to a number of weapons being lost in the flow. Some of the guns were recovered at crime scenes on both sides of the U.S.-Mexico border.
Issa's latest push pertains to documents that would shed light into how the Justice Department handled the congressional probe into the failed program. Issa contends that Holder has engaged in a "cover-up" and attempted to "obstruct [the] investigation and deceive the public," a charge that hinges on the Justice Department's initial denial that the gun-walking had been officially sanctioned or previously known about.
In his letter, Cole wrote that the Justice Department had already sufficiently proven that those statements had not been part of a deliberate effort to obstruct, and that the requests for more recent documents don't mesh with the probe's stated purpose of reforming the failed practices used in Operation Fast and Furious.
This is the first time Obama has asserted executive privilege. In an email to The Huffington Post, an administration official noted that Bush exercised the authority six times, while former President Bill Clinton did it 14 times. As the Republican National Committee was quick to point out Wednesday, then-candidate Obama criticized Bush for using the practice in 2007.
Michael Steel, a spokesman for House Speaker John Boehner (R-Ohio), questioned the White House's move Wednesday in a statement.
"Until now, everyone believed that the decisions regarding 'Fast and Furious' were confined to the Department of Justice," Steel said. "The White House decision to invoke executive privilege implies that White House officials were either involved in the 'Fast and Furious' operation or the cover-up that followed. The Administration has always insisted that wasn't the case. Were they lying, or are they now bending the law to hide the truth?"
Andrea Saul, a spokeswoman for presumptive GOP presidential nominee Mitt Romney, weighed in later Wednesday, portraying the president's action as evidence of a failed campaign promise.
"President Obama's pledge to run the most open and transparent administration in history has turned out to be just another broken promise," she said.
White House Communications Director Dan Pfeiffer shot back, accusing Republicans of pursuing a politically motivated and misguided attack on the administration.
"With millions of Americans still struggling to pay the bills, Republicans announced at the beginning of this year that one of their top priorities was to investigate the Administration and damage the President politically," he said.
"We are ten days away from the expiration of federal transportation funding which guarantees jobs for almost a million construction workers because Congress hasn't passed a transportation bill. We are eleven days away from nearly seven and a half million students seeing their loan rates double because Congress hasn't acted to stop it. But instead of creating jobs or strengthening the middle-class, Congressional Republicans are spending their time on a politically-motivated, taxpayer-funded election-year fishing expedition."
This is a developing story. Check back for more updates.
Below, photos from the Fast and Furious investigation: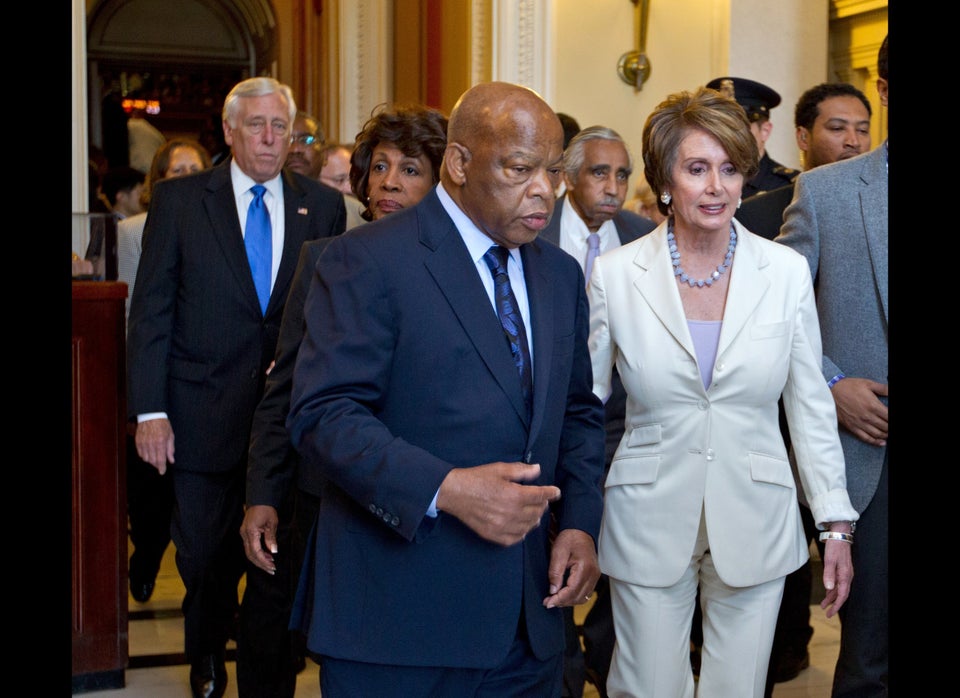 Photos From The Operation Fast And Furious Investigation
Popular in the Community