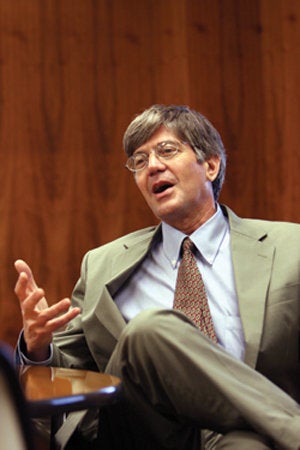 Barack Obama is leaning towards appointing former deputy national security adviser Jim Steinberg as his Deputy Secretary of State, a well-connected Democratic source tells the Huffington Post.
The potential appointment of Steinberg -- an Obama adviser during the campaign, respected voice on international affairs, and Clinton-era national security official -- is significant for a variety of reasons, none more so than what it could mean for the department as a whole.
With Sen. Hillary Clinton reportedly set to accept the job of Secretary of State, questions have surrounded which other figures would fill out the staff. Steinberg is not a Clinton loyalist -- like, say, Richard Holbrooke -- having counseled Obama during the primary. He is well regarded throughout the party, known, as his former Brookings Institute colleague Michael O'Hanlon put it, as "an incredible networker, but someone who masters the substance as well." According to the New York Times, Clinton had been "reassured" by Obama that she "could select her own staff" as Secretary of State.
Steinberg has been rumored to be in the running for the post of national security adviser. Should he end up at State, that would almost certainly clear the NSA path for retired four-star general and former Marine commandant Jim Jones, who has been discussed as the frontrunner for the spot regardless.
Two other names that were once floated for that post no longer appear to be in the running. Greg Craig has taken the job of counsel to the president. Susan Rice, one of Obama's chief foreign policy aides on the campaign trail, has been thought to being heading towards an advisory role, a deputy position at the National Security Council, or the post of ambassador to the United Nations.
A former Clinton aide, discussing the construct of an Obama cabinet, noted that Craig and Rice were two of the most vocal critics of Sen. Clinton's foreign policy capacity and gravitas during the Democratic primary. It didn't seem coincidental, the source said, that they would not be working alongside Clinton in the future administration.
There are still many questions that surround Clinton's appointment to State, not least of which include when she will formally accept the appointment. On Sunday, the New York Times filled in some of the blanks, reporting that Clinton would be given direct access to the president if she went to Foggy Bottom -- a vital sticking point for the New York Democrat. What type of agreements Bill Clinton had to make during the vetting process still remain hazy, as does the question of what role (if any) he would play with his wife as the nation's chief diplomat.
Calling all HuffPost superfans!
Sign up for membership to become a founding member and help shape HuffPost's next chapter