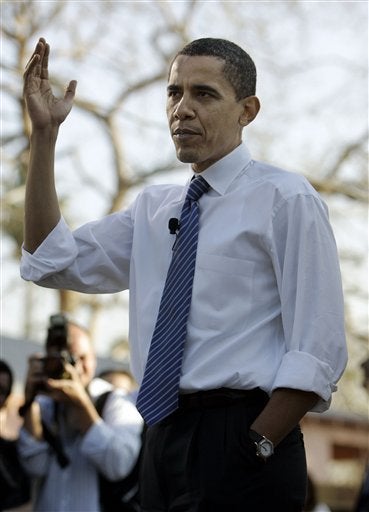 After losing this week's Nevada caucuses to Hillary Clinton in part because of an overwhelming Latino vote on her behalf, rival Barack Obama is struggling to avoid a repeat scenario in the all-important Feb. 5 primary in California.
Latino voters are expected to account for as much as a quarter of all voters in the upcoming Golden State primary and, according to numerous political observers, Obama faces a steep, uphill climb in winning their support.
"He has to become better known," said Jamie Regalado, director of the Pat Brown Institute for Public Affairs at California State University Los Angeles, pointing to Obama's weak name recognition within Latino communities. "It's a tough deal," Regalado said.
Even with a budget stretched by the demands of campaigning in more than 20 different states for the Feb. 5 Super Tuesday vote, Regalado said, Obama must spare no effort in explaining who he is to Latino voters in California if he is to make any significant dent in Clinton's nearly year-long advantage in this crucial voting bloc.
Early on in the campaign, Clinton locked in the support of key Latino elected officials in the state, including Los Angeles Mayor Antonio Villaraigosa, State Assembly Speaker Fabian Nunez and a host of members of congress. Clinton also snagged the nod of veteran union official Dolores Huerta as well as that of the United Farm Workers which she co-founded with Cesar Chavez four decades ago.
At a clamorous rally Tuesday in Salinas, Calif., Clinton accepted the endorsement of the legendary union while her campaign announced the endorsement of another Latino elected official, U.S. Rep. Joe Baca, head of the Congressional Latino Caucus.
But in a move that observers say could help move the needle in Obama's direction among the state's estimated 2.8 million Latino voters, the Illinois Democrat's campaign last week announced that Maria-Elena Durazo, the powerful leader of the Los Angeles County Federation of Labor, would be joining the campaign until the California primary.
Durazo is widely regarded as one of the most dynamic and influential Latina leader of her generation, and the move was seen as a coup for the Obama camp.
"Maria Elena is the living example of a very powerful Latina with a very powerful voice," Regalado said. While lesser known than Huerta, Durazo commands 800,000 predominantly Latino workers in her federation and has a long record of helping elect favored candidates. Huerta's UFW, by contrast, has long been in decline and currently has less than 6,000 active members and scant ability to turn out voters.
Latino voters helped propel Clinton to victory in last week's Nevada Caucus by giving her a greater than 2 to 1 preference over Obama.
The latest Field Poll released in California on Tuesday shows that Clinton still enjoys a solid lead among likely Latino voters in the state who prefer her 59 percent to 19 percent over Obama. But the same poll also found that 18 percent of likely Latino voters were still undecided in the race.
Television advertising is key in a state the size of a small country, and both of the Democratic frontrunners are running TV spots in the Golden State. But neither candidate has launched Spanish-language ads, a key plank of any Latino outreach program in the state.
Spanish-language media in California is more entrenched than in other parts of the country, and the major Spanish-language networks and newspapers cover politics extremely closely said Fernando Guerra, director of the Center for the Study of Los Angeles at Loyola Marymount University
Pilar Marrero a veteran political columnist at La Opinion, the largest Spanish-language daily in the U.S., said that the Clinton campaign has demonstrated much more media savvy towards the state's Spanish-language media.
Marrero said that from her perch she has seen a much more thoroughly developed Spanish media campaign on the Clinton side, something that doesn't help Obama's lack of name recognition in the Latino community.
"The Clinton name is known among Latinos," Marrero said. "It is very well known and it has become something like the Kennedy name in the past."
Alberto Retana, an organizer with the Community Coalition, a grass-roots group doing precinct canvassing for Obama in Los Angeles agreed that his group is initially met with skepticism when they go out knocking on doors in Latino communities.
"People have not heard his name and don't know enough about who he is," Retana said.
But Retana added that they become much more receptive to Obama's message once they learn more about his issues on positions of importance to Latino voters, such as education and the economy.
California state Sen. Gilbert Cedillo, a prominent Obama supporter from Los Angeles, said that while Latinos in the Golden State may be nostalgic for the Clinton years of the 1990s, they may not be completely familiar with Hillary Clinton's record.
As more Latino voters become aware of Obama's support for key issues, such as drivers' licenses for undocumented motorists and greater financial aid for immigrant students at California institutions, Cedillo said they would move into the Obama camp.
"He knows our experience," Cedillo said.