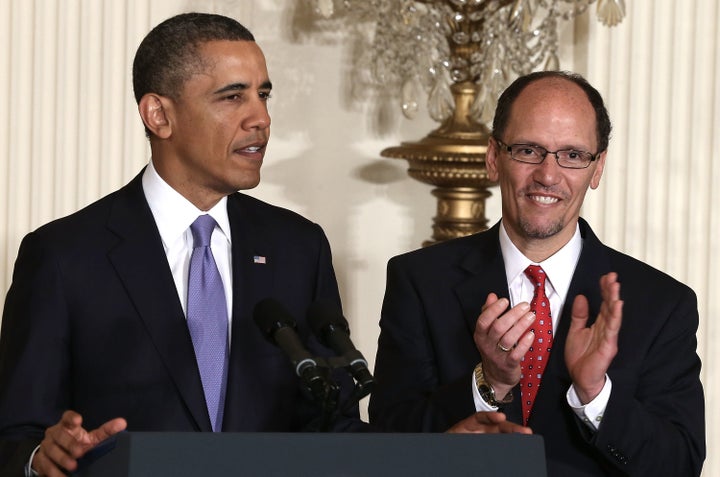 With its time in the White House winding down, the Obama administration plans to add yet another executive order to its list on Wednesday ― one that will bar companies from receiving federal contracts if they recently violated labor laws.
Known as the Fair Pay and Safe Workplaces executive order, the new regulation is meant to reward good actors and punish bad ones, encouraging employers to take the high road if they want government money. It's part of the White House's broader strategy, pushed by labor groups, to use federal contracting power in order to improve workplaces in the broader economy.
"This rule affirms the notion that contracting with the federal government is a privilege, not an entitlement," said Labor Secretary Tom Perez. "The contractors who are doing the right thing should not have to compete for contracts with those who don't."
The rule has been in the works since 2014 and has just now been finalized by the Labor Department and the Federal Acquisition Regulatory Council. On a call with reporters, administration officials said different provisions of the rule will gradually be phased in, in order to give contractors time to adjust. They also said that they took feedback from contractors into account before crafting the final rule.
That will probably be little consolation to business groups, who vehemently opposed the regulation and lobbied to have it watered down or spiked. Along with Republicans in Congress, they have dubbed it the "blacklisting rule," claiming it would add more red tape and unfairly prevent firms from securing federal contracts.
Under the rule, companies that want to bid on contracts will have to disclose to the government whether they ran afoul of laws covering workplace safety, workplace discrimination, labor organizing rights, or minimum wage and overtime during the previous three years. The necessary disclosures would include an official finding by a federal agency, a judgment from a court or an award from an arbitrator.
Juanita Allen, who works inside a Pentagon cafeteria, said companies that skirt the law shouldn't be eligible for federal contracts. She said she had been interviewed as part of a Labor Department investigation into whether her contractor had illegally underpaid her. The agency confirmed the investigation but would not comment further.
"They shouldn't be able to get [contracts]," Allen, 33, said of companies that break the law.
Officials noted that the new regulations cover only "the most egregious" violations. For instance, if an employer had been cited by the Occupational Safety and Health Administration, it would have to disclose a violation deemed "serious" or "willful," but not the more common, run-of-the-mill violations that tend to pop up through inspections. The administration estimates that less than 10 percent of contractors will run into problems because of the provisions.
"Our primary goal is to do what's best for taxpayers," said Cecilia Muñoz, director of the White House's council on domestic policy. "Businesses that do the right thing are being underbid by companies that skirt the law."
Companies that benefit from taxpayer money have long been held to a higher standard than other private-sector actors ― or at least, they are supposed to be. There is a long history of presidents using contracting power to raise workplace standards, stretching back to when Franklin Delano Roosevelt outlawed racial discrimination among defense contractors.
The current president has used the tactic often ― from instituting a $10.10 minimum wage among contractors to requiring that contractors provide employees with basic paid sick leave, among other moves. Those reforms came at the behest of labor unions and low-wage workers, and the latest regulation is no different. One of the most prominent backers of the new rule is the Change to Win labor federation, which includes the Service Employees International Union, the driver behind the Fight for $15 campaign.
The president's previous rules impacted federal contract workers most directly. But the new disclosure rule could benefit workers throughout a particular company that seeks federal contracts, said Mary Kay Henry, SEIU's president.
"Companies are incentivized to play by the rules thanks to the way this is written," Henry said.
According to Congress, companies that have broken labor laws have continued to secure government contracts for years. Senate Democrats issued a report in 2013 showing that 49 contractors with serious labor violations enjoyed $81 billion in federal contracts in 2012 alone. "Almost 30 percent of companies receiving the highest penalties for violations of federal labor law are also federal contractors," the report found.
OSHA violations, in particular, tend to come with meager fines, which critics say leaves employers with little incentive to improve safety. Perez said he hopes the new rule gives contractors more motivation to make sure workplaces are safe and workers are always paid what they're owed.
"I don't think our existing laws provide a sufficient, credible deterrent," he said.
Republicans may well try to block the rule ― or portions of it ― from going into effect through the appropriations process, though Democrats likely would not go along with that. They could also try to invoke a rarely successful maneuver through the Congressional Review Act in the hopes of blocking it.
Rep. Bobby Scott (D-Va.), ranking Democrat on the House committee overseeing labor issues, said he thought the final rule was modest enough that it wouldn't draw objections.
"I think it's a reasonable order," Scott said. "It's hard to know what the other side of the argument would be."
Popular in the Community