 Turns out we might not be as popular as we thought.
Social media management company StatusPeople has created a new tool that shows how many of our oh-so-coveted Twitter followers are actually spam accounts. The simple interface quickly highlights what percentage of a tweeter's followers are "fake," "inactive" or "good" by using Twitter handles to gather data.
So how does this tool judge a follower as friend or foe?
"We take a sample of your follower data. Up to 500 records depending on how 'popular' you are and assess them against a number of simple spam criteria," the website reads. StatusPeople also notes that typical spammers tend to have few followers or tweets, but often follow hundreds of people.
We tested out the tool to see our percentages, as well as gathered the spam count of celebrities and politicians (which you can see below). Here were my scores: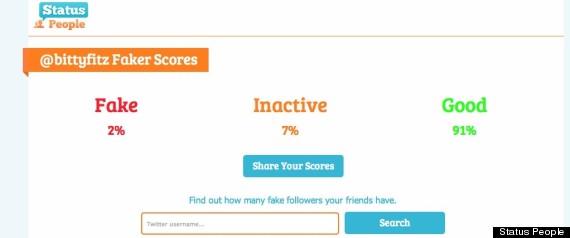 But why does a "Faker Score" even matter? Does one's clout on Twitter truly affect something other than ego? Some would argue that it does -- including the minds behind the StatusPeople tool, who don't appreciate users trying to "game the system."
Not only is social media becoming a mainstream form of communication, but it's also merging into a medium for news and information. Out of 600 journalists questioned from around the world in a 2012 study, 55 percent stated they use Twitter and Facebook to search for stories and sources, per Oriella. Who wants to sift through spammers' offerings of porn and marijuana to find legitimate facts?
Politicians also attempt to round up as many followers as possible. In fact, the social media race between President Obama and Mitt Romney took an interesting turn earlier this month, when CNET reported 15 percent of Romney's fans were allegedly accounts-for-hire, perhaps purchased from companies that inflate a Twitter user's follower count.
But you might find these results interesting, per StatusPeople: Romney's 855,287 followers appear to be 15 percent spam, 30 percent inactive and 58 percent legit. On the other hand, Obama's 18,537,830 followers are a whopping 41 percent spam, 29 percent inactive and 30 percent good.
That's a lot of spam Mr. President.
Still, Obama has over 20 times the amount of Twitter followers as Romney, meaning his spam count will inevitably be higher. And there is also some margin of error for both parties. According to StatusPeople's website, if you maintain a follower count of 10,000 or less, the tool is quite accurate. If you're a Twitter guru or celebrity, with 10K (or more) followers, the tool will "still provide good insight but may better reflect your current follower activity rather than your whole follower base."
Try out the StatusPeople tool (here) and let us know your scores in the comments section. Did any of the percentages surprise you? Then, check out the slideshow (below) to see how much spam has infiltrated celeb and politicians' Twitter followings.
PHOTO GALLERY
Fake Follower Count Of 11 Top Tweeters
Calling all HuffPost superfans!
Sign up for membership to become a founding member and help shape HuffPost's next chapter
BEFORE YOU GO