The Obama family is celebrating Easter Sunday at Nineteenth Street Baptist Church alongside 250 other congregants and led by the Rev. Dr. Derrick Harkins.
According to the White House pool, the president is rocking his head back and forth to the fabulous choir. On Friday Obama offered his Easter message saying: "We will reflect on the sacrifice that Jesus Christ made for us and rejoice in the triumph of the Resurrection."
The White House released the following statement:
This morning, the First Family is honored to celebrate Easter with the congregation of Nineteenth Street Baptist Church in Washington, D.C. The pastor of Nineteenth Street Baptist is Rev. Dr. Derrick Harkins.

The President and First Family have also enjoyed worshipping with a number of other D.C.-area congregations, including those at the Washington National Cathedral, Allen Chapel A.M.E. Church, Vermont Avenue Baptist Church, Metropolitan A.M.E. Church, Shiloh Baptist Church, Zion Baptist Church, St. John's Episcopal Church, and Evergreen Chapel at Camp David.
RealClearPolitics's Alexis Simendinger, who filed dispatches on the service as the White House pool reporter, elaborated in an account that was released by the White House.

Pastor Dr. Derrick Harkins of Nineteenth Street Baptist Church welcomed newcomers Sunday (grapevine apparently produced worshippers for Easter who are not regulars).

Harkins prompted standing applause in welcoming "the president of the United States." After calling on everyone to stand, turn and welcome their neighbors -- but remain in place -- Harkins watched with amusement some collective disobedience.

The Obamas greeted each other, and the president turned to shake hands behind him with one of a collection of Secret Service agents in the pews. Then 5 minutes of crowd crush took place in which every smart phone, iPad and baby came forth. The president and Mrs. Obama greeted everyone they could. Obama high-fived a baby boy, hugged and kissed women, and Michelle blew kisses from inside their pew.

Pastor Harkins got everyone back in their seats with "Amens" and a joke: "I didn't know we had as many people seated in this front section!"

"Isn't our first family gracious?" he added.

President Obama dropped a white paper or envelope into the silver contribution plate as ushers distributed them through the pews.

More rousing music from the chorus followed... (There are two keyboards, an organ, a saxophone, a harp, drums, and a guitar near the pulpit today, next to the 24-member chorus. The church interior is white and very simple, with six tall leaded windows, three large silver-colored crosses on the wall behind the pulpit, but minimal adornment. One large pot of Easter lilies behind the altar....)

At 11:05 am, an older gentleman stood up from his seat some distance from the president and raised his arm and yelled, "God Bless President Obama!" The worshippers applauded loudly. The president smiled.

Pastor Harkins' urged everyone to join in prayer and offered thanks to God for providing comfort to those in need, including the sick and struggling. He asked that God give Obama "every measure of encouragement" and "wisdom," and "tend to his spirit" under the weight of criticism. Loud "yes" responses from worshippers after each sentence.

Harkins also offered prayers for Malia and Sasha and the first lady.

During a Bible reading/excerpt at 11:25 am -- with the worshippers and first family standing -- Malia rested her head on her dad's left shoulder and he had his arm draped around his tall daughter.

After more terrific music and singing, at 11:35, Pastor Harkins moved into his Easter sermon. Dressed in a striking red robe with black accents, the pastor talked about supporting people "living in the shadows and the margins," including "LGBT" people.

On resurrection Sunday, he talked about how Easter is a time when people can pause, reflect and say "I can rise."

The president listened attentively from his seat, with his chin propped on his left hand at times, and his fingers entwined together as the sermon shifted toward a rousing finale. He joined in applause at the end.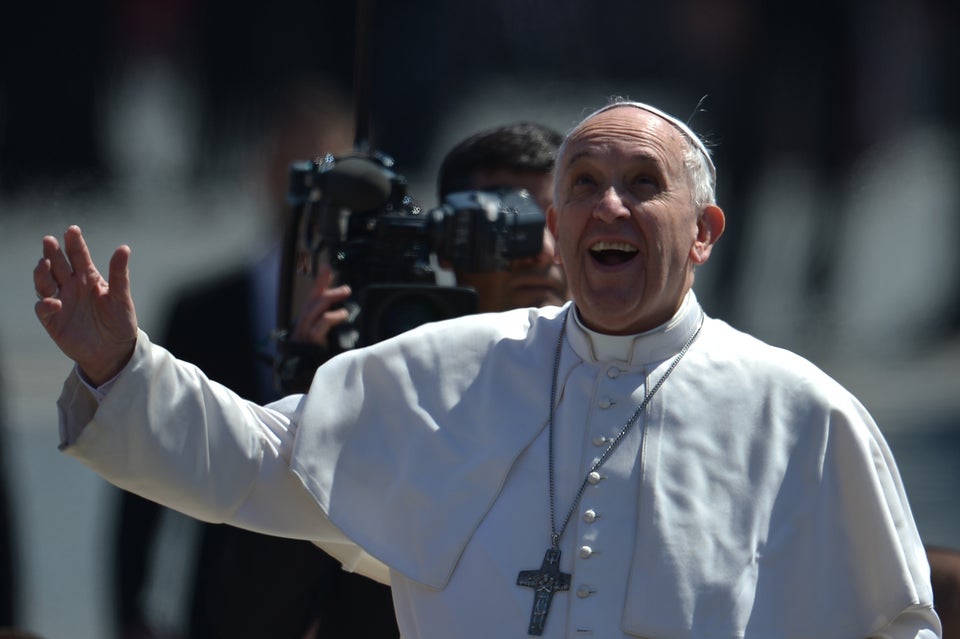 Easter Photos 2014
Popular in the Community