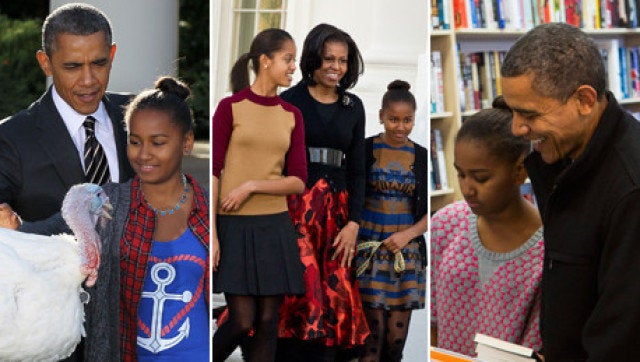 The tryptophan has finally cleared from our system and we've changed out of our special Thanksgiving yoga pants, so now you know how we spent our long holiday weekend. But while we were lolling on our couches helping ourselves to more pie, President Obama, Michelle and the girls had a busy weekend packed with live turkeys, Christmas trees and some holiday shopping.
Here's how their Thanksgiving holiday went down:
On Wednesday, the First Family handed out food at a local food bank after POTUS, Malia and Sasha met a feathered friend during the annual White House turkey pardoning.
Thursday: the Obamas celebrated a quiet Thanksgiving at the White House with staffers and guests, after the president phoned 10 soldiers in Afghanistan. (Their menu? Ham, oyster stuffing and mac and cheese along with turkey, sweet potatoes and green bean casserole, garnished by half a dozen pies.)
Friday: Michelle, the girls and First Dog Bo gathered on the South Lawn to welcome the White House Christmas tree, a 9-foot Fraser fir from Peak Farms in Jefferson, N.C. It arrived by horse-drawn carriage and will eventually make its way to the Blue Room of the White House. And of course, everyone looked fab, Bo included: Mrs. O wore a festive red skirt belted with a black cardi and black boots, while Sasha wore a cute printed dress and polka-dotted tights with flats and Malia went more understated in beige.
Saturday: POTUS did a little shopping on Small Business Saturday, picking up some children's books at One More Page Books, an independent bookstore in Arlington, Va. Accompanied by Sasha and Malia, the president thumbed through a shopping list on his Blackberry before picking out 15 tomes for tots. "Preparation," he told shop owner Eileen McGervey, according to the pool report. "That's how I shop. Michelle, she can go wandering around forever. I like knowing what I'm coming in here for."
Whew. It's almost enough to make us regret lazing around with pie stains on our yoga pants. Almost.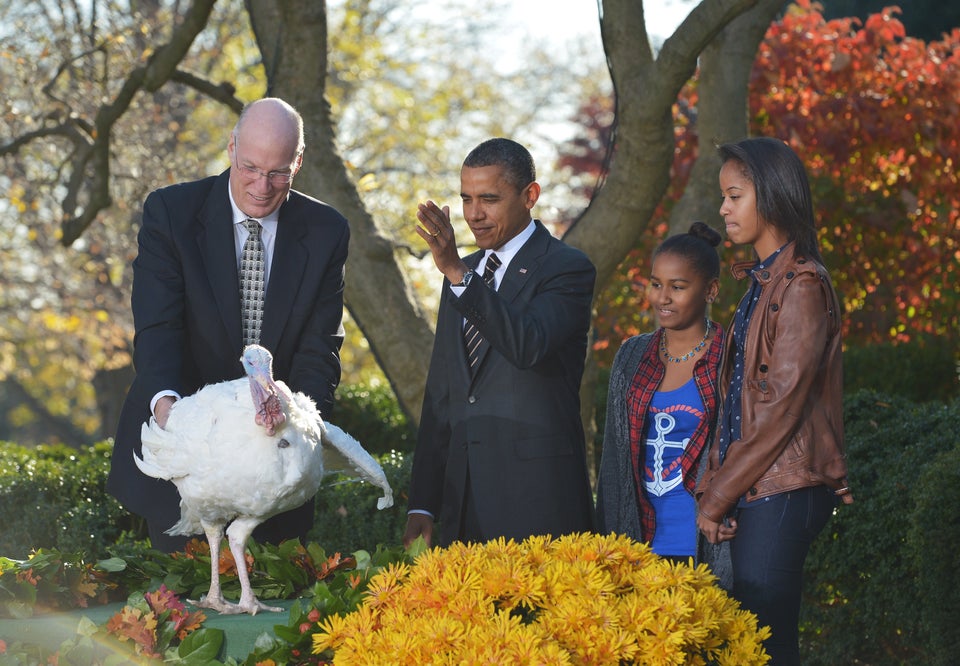 Obama Family Thanksgiving Weekend
Popular in the Community