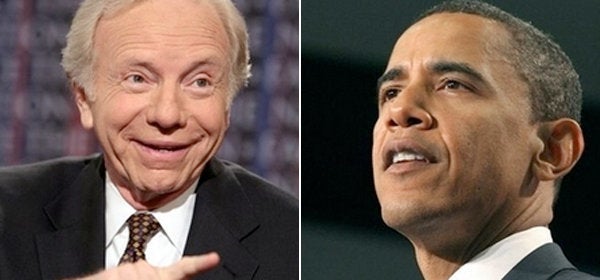 If Barack Obama has a problem among Jewish voters, then Sen. Joseph Lieberman is in monumental trouble.
Among the most high-profile Jews in Congress, Lieberman is viewed far more unfavorably than the presumptive Democratic nominee, according to a new poll. Only 37 percent of Jews view the Connecticut Independent in a favorable light compared to 48 percent who have a negative perception. As for Obama, 60 percent of Jews view him favorably while 34 percent view him unfavorably.
The findings were released as part of a recent survey of American Jews by the new progressive pro-Israel group J Street. They seem to upturn some of this year's conventional political wisdom.
Obama, who is set to travel to Israel this week, is often described in the press as facing significant obstacles to winning Jewish support, in part because of false claims that he is a Muslim. Lieberman, meanwhile, is regularly quoted disparaging Obama's credentials on topics considered dear to the Jewish voter's heart: toughness on Iran and support for the Jewish state. Asked recently whether he should be questioning Obama's commitment to Israel, the 2000 Democratic vice presidential nominee responded, "why wouldn't I do that?"
Lieberman does score better among the 900 Jewish voters polled than other major political and religious figures. President Bush is viewed unfavorably by 74 percent of Jews, compared to 22 percent who see him in a positive light. McCain, meanwhile, is viewed favorably by just 34 percent of Jews, while 57 said they had a negative perception. On the lowest end of the spectrum stood Obama's former pastor, Rev. Jeremiah Wright, who was viewed favorably by just five percent of Jews and unfavorably by 68 percent.
For Lieberman, however, the findings present another piece of dreary news in a month filled with controversy. In early July, Quinnipiac University found that the Connecticut Senator's approval rating among his constituents had dropped to 45 percent, with 43 percent expressing disapproval. One week later, the Senator watched as a petition, signed by 43,000 individuals, was sent to members of the Senate's steering committee urging them to boot him from the party.
Not that there is tremendous significance to these developments or numbers. Lieberman has eagerly taken to his role of McCain attack dog, in the process alienating large portions of the Democrats that make up both the Jewish community and his Connecticut constituency. Not to mention the relatively common misconception that Jews naturally are aligned with Lieberman's hard-line tilt on foreign affairs. According to J Street, 38 percent of respondents had a positive view of the conservative leaning AIPAC, compared to 44 percent who viewed the liberal MoveOn.org in a favorable light.
As for the rest of J Street's finding, they provide a mixed bag for Obama. The Illinois Democrat - who one percent of the population thinks is Jewish - has a substantial lead among Jews in the presidential race: 62 percent to 32 percent. But that margin is smaller than what both Al Gore and John Kerry earned in their perspective races.
On the flip side, the study suggests that there is room within the Jewish community for the presumptive Democratic nominee's support to grow. As Spencer Ackerman of the Washington Independent noted in a review of the J Street poll, Jews are "liberal as hell."
"Seventy-four percent of us view Bush unfavorably and 83 percent of us disapprove of his job performance," Ackerman wrote. "While 76 percent of the country as a whole says the U.S. is on the wrong track, an astonishing 90 percent of American Jews say the same. Only 21 percent of us approve of the Iraq war and only 29 percent think Bush is good for Israel, and those are clearly the shmucks that kissed ass in Hebrew school and snitched when the rest of us used the synagogue phone booth and cloakroom to make out."
Popular in the Community