 President Obama needs to cut back on the fattening photo ops, according to a Washington-based group of doctors.
The Physicians Committee for Responsible Medicine plans to file a petition urging the president to stop being photographed "with unhealthful foods including processed meats that can cause cancer and obesity," USA Today reports.
"The White House would never set up a photo op of a president with a cigarette, so why show him eating foods that cause cancer?" said Susan Levin, one of the group's directors.
Obama was criticized for being out of touch in 2007 when he asked an Iowa crowd, "Anybody gone into Whole Foods lately and see what they charge for arugula?" Drudge recently splashed a photo of the president under the headline "SHOCK PHOTOS: Obama, Thin And Wasting Away."
Below, see photos of Obama eating, and read the group's statement on all the bad things he has posed with on the campaign trail and while president.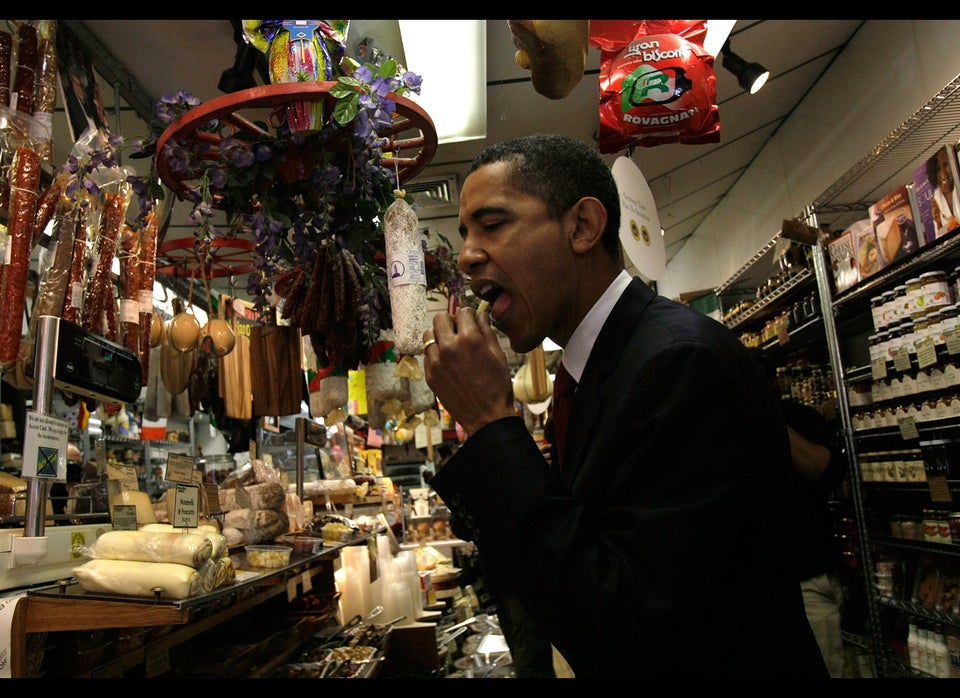 President Obama Eats Fatty Food Too
USA Today has the full statement from the Physicians Committee for Responsible Medicine:
Since taking office, President Obama has posed for the cameras in staged events eating hot dogs at a basketball game with British Prime Minister David Cameron; serving sausages with Mr. Cameron; taking a motorcade with the vice president to Ray's Hell Burger in Virginia; eating cheeseburgers with Russian President Dmitry Medvedev; and stopping at a D.C. burger restaurant with a reporter, among other similar instances, with healthful foods largely neglected.

His predecessors, including George W. Bush, Bill Clinton, and Ronald Reagan have also posed with unhealthful foods at official photo-ops.

The Petition for Executive Action argues that White House food-oriented photo ops receive massive publicity, akin to product placement in movies, and drown out the government's health messages, such as the USDA's Dietary Guidelines for Americans, contributing to ignorance about health and nutrition. President Obama gave the Five Guys Burger and Fries chain a publicity boost when he stopped at one of its Washington outlets in 2009 with NBC news anchor Brian Williams.

Widely publicized photographs of President Franklin Delano Roosevelt eating a hot dog are credited with pushing a generally unpopular product into national prominence. Now Americans consume 7 billion hot dogs between Memorial Day and Labor Day each year.
Popular in the Community