DES MOINES, Iowa -- President Barack Obama hopped on Secretary of Education Arne Duncan's annual back-to-school bus tour in Iowa, but this time, he wasn't working to score caucus votes. Instead he was arguing for Democratic priorities, promoting his new higher-education policies. 
During a town hall event at North High School in Des Moines, the administration unveiled a change to the college financial aid system that would allow students to apply three months earlier. Beginning in fall 2016, students can fill out the Free Application for Federal Student Aid, or FAFSA, using their families' tax information from two years earlier. This should significantly ease the process, as students previously were required to fill out the application in January using tax information from the year that had just passed.
"The bottom line is that no young person in America should be priced out of college," Obama said as the audience erupted in applause.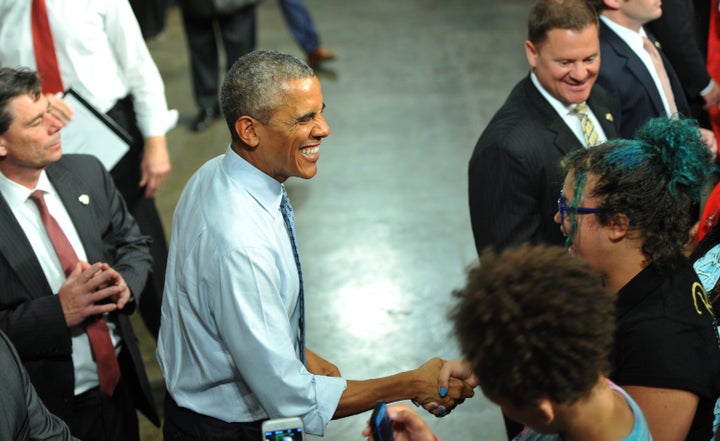 The president took questions from the crowd, and from the beginning, it was clear that many people were focused on 2016. For about an hour, Obama sidestepped a series of questions about the race for the White House.
"Right now, I am going to stay out of the campaign season," Obama told a man who asked which candidate had the best education plan. "Partly because I can't keep track of all of the candidates. So I'll wait until it's winnowed down a bit before I have an opinion."
A Hillary Clinton intern asked if Obama thought free college tuition is realistic in the U.S. (a policy that Vermont Sen. Bernie Sanders has suggested). The president did not directly answer the question, and instead touted his plan for two years of free community college.
Obama indirectly criticized GOP hopeful Ben Carson. When asked about Carson's suggestion that institutions of higher education should be monitored for political bias, Obama said he was unsure which candidate said that or what the candidate was talking about.  
"The idea that you'd have somebody in government making a decision about what you should think … runs contrary to what we believe about education," the president said.
The president also took aim at congressional Republicans who have delayed the federal budget, which must pass in a little over two weeks to avoid a government shutdown. He claiming a sequester would cause significant cuts in federal funding for education.
"A society's values are reflected in where we put our time, our effort, our money. It is not sufficient to say we care about education, if we aren't actually putting resources into education," he said.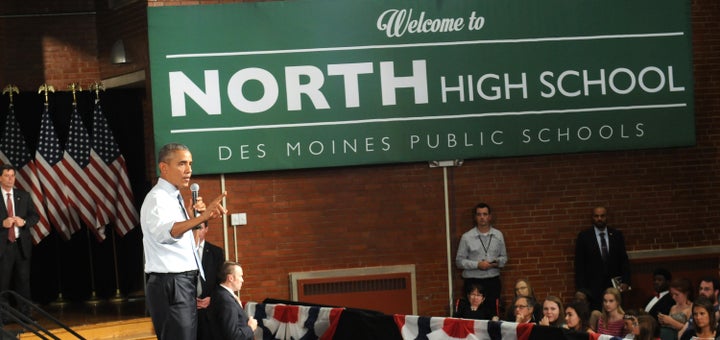 The president closed his remarks by focusing on immigration, commenting on the debate on the 2016 campaign trail.
"This whole anti-immigrant sentiment that's out there in our politics right now is contrary to who we are. Because unless you are a Native American, your family came from someplace else," Obama said. "Don't pretend that somehow 100 years ago the immigration process was all smooth and strict. That's not how it worked."
The majority of students at North High School are minorities. The school, which has 1,196 students, is 31 percent white, 27 percent Latino, 25 percent black, 10 percent Asian and 6 percent multiracial. (The percentages don't equal 100 because of rounding.) 
"Sometimes I felt like Obama was making eye contact with me," said senior Emily Acosta, the child of immigrants from El Salvador. The 17-year-old is one of four children; she says the president's comments on immigration hit close to home.
"Not that we're the problem; he viewed us like we are a good people. ... I just thought how he viewed that was pretty awesome," she said.
Student body president Russhaun Johnson had the opportunity to introduce the president to more than 1,400 in the audience. Johnson, 17, said he's overcome many obstacles, from growing up in poverty, to watching as his mother served time at Iowa Correctional Institute for Women in Mitchellville. 
"Know that it's not always about you," Johnson said. "It's about community … and that's how I surpassed a lot of those hardships."
Johnson, graduating this upcoming spring, is choosing between four Iowa universities. The high school senior, who wants to be an English major, says the change to the college financial aid system will help many at North High School.
"I feel like it's going to get a lot more students' foot in the door for college … it will help students and parents be more prepared for that mission."
PHOTO GALLERY
Obama Visits The 50 States
Calling all HuffPost superfans!
Sign up for membership to become a founding member and help shape HuffPost's next chapter