 WASHINGTON -- With the tax-hiking proposal President Barack Obama sent to Congress on Thursday, it seems the president is finally heeding a lesson he learned in the first month of his first term.
At a press conference in February 2009, shortly before Congress passed his landmark stimulus bill with very few Republican votes, a reporter asked Obama how he would get more bipartisan agreement for future legislation.
"Are you going to need a new legislative model, bringing in Republicans from the very beginning," asked NPR's Mara Liasson, "getting more involved in the details yourself from the beginning, or using bipartisan commissions?
Obama responded that he had, in fact, sought GOP input from the beginning of the stimulus bill's creation. And he said the Republicans really liked all the nice tax cuts the White House had included in its initial framework.
"I suppose what I could have done is started off with no tax cuts, knowing that I was going to want some, and then let them take credit for all of them," Obama said. "And maybe that's the lesson I learned."
It's a lesson he put to use Thursday. For weeks, congressional Republicans have complained that the president hadn't offered a plan to avert the so-called "fiscal cliff," but on Thursday the Obama administration finally offered a detailed proposal. Republicans are now upset: It includes $1.6 trillion in taxes on the rich, $400 billion worth of unspecified cuts to social insurance programs, and effectively unilateral authority for the president to increase the government's borrowing limit.
"The White House spends three weeks trying to develop a proposal and they send one up here that calls for $1.6 trillion in new taxes, calls for a little, not even $400 billion in cuts, and they want to have this extra spending that's actually greater than the amount they're willing to cut," House Speaker John Boehner (R-Ohio) said on Friday. "It was not a serious proposal. And so right now we're almost nowhere."
If they find middle ground, Boehner will be able to take credit for helping to make it happen. Though it's a lesson Obama said he learned a long time ago, it's not a strategy he's used much before in his constant quest for a grand bargain.
Rather than champion a government takeover of the health care system, for instance, and let Republicans sign on to an eventual compromise, Obama sought market-based reforms and solicited GOP input from the start. During the summer of 2009, Sen. Max Baucus (D-Mont.), one of the administration's top lieutenants in the Senate, spent months in bipartisan "Gang of Six" talks, to the bafflement of many observers. Shortly before the negotiations fell apart, one of the gang members revealed his true intentions.
"If I hadn't been involved in this process as long as I have and to the depth as I have, you would already have national health care," Sen. Mike Enzi (R-Wy.) said during a town hall that August. "Someone has to be at the table asking questions ... If you're not at the table, you're on the menu."
Even though the final product included many things potentially appetizing to Republicans -- the high-risk insurance pools that were the centerpiece of their alternative proposal at the time, the framework based on what Republican Gov. Mitt Romney had done in Massachusetts -- Republicans called it a government takeover and voted no anyway.
Near the end of 2010, when Bush-era tax cuts would soon expire, and Democrats looked to Obama to keep his promise to ditch the cuts that benefited rich people, the White House waved a white flag before negotiations even started.
"We have to deal with the world as we find it," Obama adviser David Axelrod told The Huffington Post that November. "The world of what it takes to get this done."
As Politico's Mike Allen wrote in Politico Playbook, while the outcome was to be expected, many were shocked by how fast Obama retreated from his tough tax talk. "We had told you this was the end game," Allen wrote, "but we're surprised there wasn't a dance first."
And last year, Obama and Boehner sought a "Grand Bargain" that would have cut spending on social insurance programs in return for a promise of later tax hikes. Republicans fled from the deal rather than be seen as cooperating with higher taxes, but it was a better deal for tax-haters than what Obama's offering today. (Neither deal is good for people who might rely on programs like Medicare, Medicaid, and Social Security.)
"There is going to be some prolonged negotiations," Obama said Friday. "And all of us are going to have to get out of our comfort zones to make that happen. I'm willing to do that."
Before You Go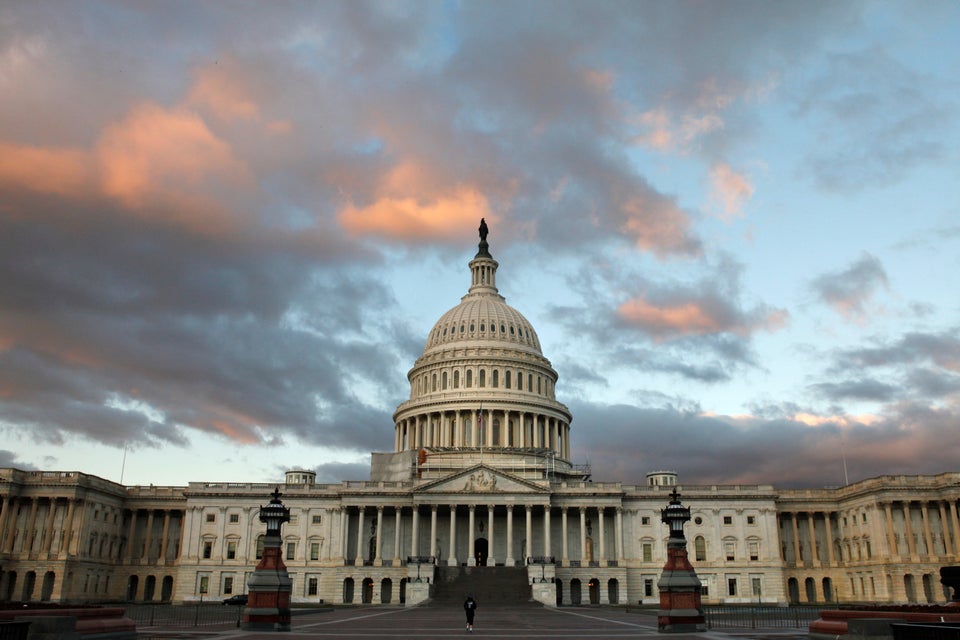 Do These Things, Don't Cut Entitlements
Popular in the Community