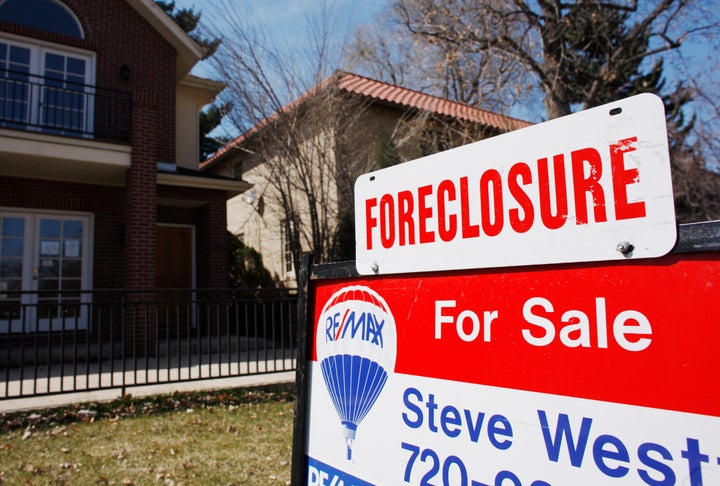 WASHINGTON -- The Obama administration is pushing for the creation of a federal account funded by the nation's 14 largest mortgage firms to help distressed borrowers avoid foreclosure and settle ongoing probes into faulty mortgage practices, according to a confidential term sheet reviewed by The Huffington Post.
The fund is one of three proposed by a coalition of state attorneys general and administration officials, which were discussed Tuesday with representatives of the nation's five largest mortgage firms. A second account would be funded by civil penalties and fines and used by states as they see fit. The third would be designated for homeowners directly harmed by bank abuses, like illegal home seizures and wrongful foreclosures.
While state officials are pushing for actual monetary damages, administration officials are looking to do something completely different: Rather than have banks shell out cash to settle claims or in admitting wrongdoing, the administration wants to create spending targets for each firm's efforts to help troubled homeowners. And for every dollar the firms spend, their accounts would be credited.
The probes are focused on improper home repossessions and flawed -- and sometimes illegal -- foreclosure practices. Investigations were launched last fall after the nation's largest lenders voluntarily halted home seizures when defective document practices -- like so-called "robo-signing" -- came to light, erupting into a national scandal. State officials, Obama administration policy makers and bankers are discussing possible settlements this week in a hotel outside Washington, D.C.
One reason why the administration is pushing for a program that does not call for levying fines has to do with how that money could be used. Monetary penalties would go to the Treasury, as opposed to helping homeowners, and could only be appropriated for other purposes by Congress, one official involved in the negotiations said. The administration's approach is based on its goal of helping the souring housing market heal.
But to others involved in the talks, who asked not to be named, the administration's approach resembles one long-criticized by Republicans in Congress as "HAMP 2.0" -- a second version of the Home Affordable Modification Program, the White House's now-discredited $50 billion signature foreclosure-prevention initiative. Federal auditors have said the administration will be lucky if it spends even a quarter of that amount helping homeowners. In March, the Republican-led House of Representatives voted to kill the program.
Federal officials involved in the discussions defended their approach Wednesday, arguing that the administration has long favored using the investigations to help distressed borrowers. The homeowner fund outlined in the term sheet could be used for housing counseling, short sales, reductions in mortgage principal or slashing borrowers' mortgage interest rates.
Representatives of the Treasury Department, Justice Department, and the Department of Housing and Urban Development declined to comment on the record.
The administration's approach also raises questions over whether federal officials will credit firms for new actions taken as part of the proposed settlement agreement, or whether firms will get credit for simply doing what they've been doing since the housing crisis began. Some speculated that the latter scenario could very well happen.
For example, the nation's nine largest mortgage handlers have reduced loan balances for more than 72,000 borrowers since the beginning of 2009, according to data from the Office of the Comptroller of the Currency and the Office of Thrift Supervision. Last year, those firms initiated more than 2.1 million trial and permanent modifications, as well as payment plans, data show.
Officials argued that the administration's fund for troubled borrowers would be greater in volume than what's been allocated in the past and would require firms to act much quicker in modifying mortgages -- a positive for homeowners long beset by unnecessary delays and the paperwork snafus of their mortgage servicers.
Targets for each firm would be partly based on their current record at modifying mortgages. Firms that don't meet these targets in the specified time frames would be penalized.
However, those involved in the discussions said they were mindful of the potential for banks to game the process by simply claiming credit for initiatives they had already planned to undertake.
Some also wondered why federal officials weren't taking a harder line with the banks. If federal officials have evidence that the targeted firms indeed seized homes illegally and broke federal rules when dealing with delinquent borrowers, why isn't the administration pushing for steep penalties and forcing the firms to admit they abused homeowners?
But federal lawsuits against the banks are still on the table, officials stressed, arguing that any proposed settlement agreement or conclusions drawn from them remain premature. Last week, the Justice Department sued Deutsche Bank AG, one of the world's 10 biggest banks by assets, for at least $1 billion for defrauding taxpayers by "repeatedly" lying to a federal agency when securing taxpayer-backed insurance for thousands of shoddy mortgages.
To help the market recover, the administration is seeking to use the ongoing probes and the loan modifications that would result to stanch the flood of foreclosures depressing prices and confidence. Levying penalties can't accomplish that goal, an official argued.
It's either punish the banks or help homeowners.
Home prices have fallen over the past year, reversing gains made early in the economic recovery, according to data providers Zillow.com and CoreLogic. Sales of new homes remain depressed, according to the Commerce Department. More than a quarter of homeowners with a mortgage owe more on that debt than their home is worth, according to Zillow.com. And more than 2 million homes are in foreclosure, according to Lender Processing Services.
A review of about 2,800 loans that experienced foreclosure last year serviced by the nation's 14 largest mortgage firms found that at least two of them illegally foreclosed on the homes of "almost 50" active-duty military service members, a violation of federal law, according to a report last week by the Government Accountability Office.
Those violations are likely only a small fraction of the number committed by home loan companies. Federal bank supervisors "could not provide a reliable estimate of the number of foreclosures that should not have proceeded," they said in an April report on flawed mortgage servicing practices.
The April review led the OCC and the Federal Reserve to sanction 10 of the 14 targeted mortgage firms for their sloppy practices. The regulators also demanded that the institutions review past foreclosures and submit plans detailing new procedures.
Bankers and lawyers representing the five largest mortgage firms -- JPMorgan Chase, Bank of America, Wells Fargo, Citigroup and Ally Financial -- have told officials in the discussions this week that they do not want to pay civil penalties. Rather, they want the money they'd shell out to go towards helping homeowners, according to sources involved in the discussions who spoke on the condition of anonymity.
The bankers asked state and federal officials to include the nation's 14 largest firms in any proposed settlement, as opposed to just the top five, because they feared falling behind competitors who would not be forced to play by the same rules when dealing with distressed borrowers, according to an official involved in the discussions. However, only the top five banks were represented in talks on Tuesday.
By taking shortcuts in processing troubled borrowers' home loans, the nation's five largest mortgage firms have saved more than $20 billion since the housing crisis began in 2007, according to a confidential presentation prepared for state attorneys general by the nascent Bureau of Consumer Financial Protection and obtained by The Huffington Post in March.
Some of the banks have already begun making arrangements in anticipation of federal and state action.
JPMorgan Chase recently wrote down $1.1 billion off the value of its mortgage servicing operation because it expects increased costs to come from complying with officials' demands.
Bank of America said it wrote down $450 million off the value of its mortgage servicing operations in each of the "last couple of quarters" because it anticipates rising costs when dealing with delinquent borrowers, chief executive Brian Moynihan told analysts last month.
Calling all HuffPost superfans!
Sign up for membership to become a founding member and help shape HuffPost's next chapter