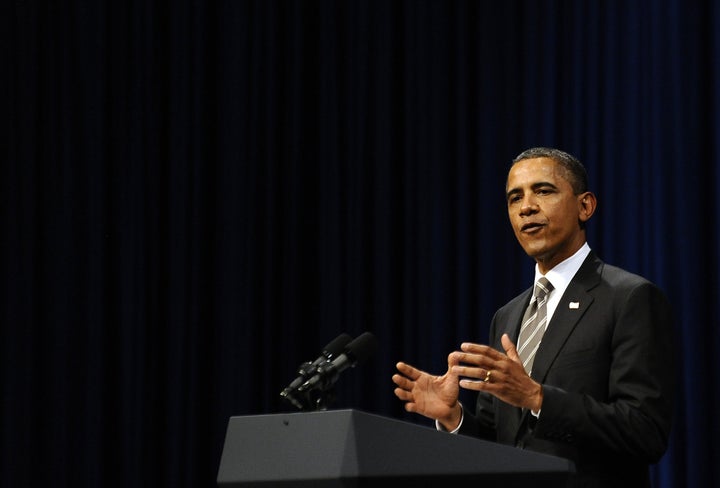 WASHINGTON -- Seeking to circumvent congressional opposition, President Barack Obama is promoting a series of executive branch steps aimed at jumpstarting the economy this week, beginning with new rules to make it easier for homeowners to refinance their mortgages.
The White House said changes to the two-year-old Home Affordable Refinance Program will help homeowners with little or no equity in their houses refinance by cutting the cost of doing so and removing caps to give deeply underwater borrowers access to the program. The new rules apply to homeowners with federally guaranteed mortgages who are current on their payments.
Obama discussed the initiative during a meeting with homeowners Monday in Las Vegas, a city hard hit by foreclosures and sagging home prices. One in every 118 homes in the state of Nevada received a foreclosure filing in September, according to the foreclosure listing firm RealtyTrac.
With the president's jobs bill struggling in Congress, the White House is refocusing its efforts on steps Obama can take to address the nation's economic woes without getting lawmakers' approval. In addition to the refinancing program, the White House said Obama will also announce executive action later this week to help students better manage their student loan payments.
The new push comes with a fresh catchphrase as the White House tries to push Republicans into action: "We can't wait." It's Obama's latest in a string of slogans aimed at blaming GOP lawmakers for lack of action on the economy.
White House communications director Dan Pfeiffer said that while executive actions are no substitute for Congress passing elements of the jobs bill, the economy requires action now.
"When Congress won't act, this president will," he said. GOP leaders counter that the sluggish economy and stubbornly high unemployment rate are the result of Obama administration policies that have failed, including the 2009 stimulus package and financial regulation bill.
"They got everything they wanted from Congress the first two years. Their policies are in place. And they are demonstrably not working," Senate Minority Leader Mitch McConnell, R-Ky., said Sunday.
Last month, Obama announced a $447 billion jobs plan, filled with tax increases on the wealthy and new spending on education, infrastructure and aid to state and local governments. Efforts to pass the full measure were blocked by Senate Republicans, who see the president's proposal as a second stimulus.
That's left Obama and his Democratic allies pushing lawmakers to pass the bill in individual pieces, though the fate of most of the measures remains unclear.
White House economic adviser Gene Sperling said the president considered including an expansion of mortgage refinancing in his jobs bill, but felt the changes could be implemented more quickly through executive action.
The changes to the so-called HARP program will be implemented by the independent Federal Housing Finance Agency. At its core, the initiative will relax eligibility standards, allowing those who are 25 percent of more underwater on their mortgages to take advantage of loans with lower interest rates.
The administration is also extending the program through the end of 2013. The program was originally slated to end in June 2012.
The federal refinancing program only covers mortgages created before June 2009 and owned or backed by government-controlled mortgage buyers Fannie Mae and Freddie Mac. Borrowers also must be current on their payments.
When the program began in 2009, administration officials hoped at least 4 million Americans would take advantage. But as of August, about 894,000 homeowners had refinanced their mortgages through the program.
White House officials said they had no estimates for how many homeowners would be eligible for refinancing under the new rules or how many might take advantage of the program.
"However many homeowners are going to be helped by this, they will be very grateful for the assistance that will allow them to refinance at today's low rates," White House spokesman Jay Carney told reporters aboard Air Force One. He indicated the president would take additional executive actions this year if Congress fails to act on elements of his jobs bill.
Following his events in Nevada, the president will travel to Los Angeles for two fundraisers for his re-election campaign, including one at the home of movie stars Melanie Griffith and Antonio Banderas. Obama will also make stops this week in San Francisco and Denver.
Republicans were quick to criticize Obama's Western swing, accusing him of working harder to save his job than to help residents in the states he's visiting. "It's another day in the campaign life of President Obama, and he's bringing his re-election tour to Nevada, ground zero for the damaging effects of his failed economic policies," said Republican National Committee Chairman Reince Priebus.
Popular in the Community