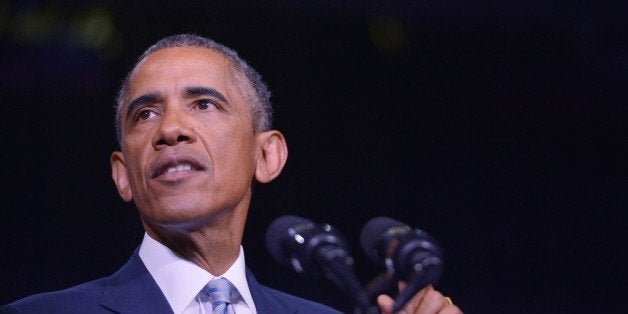 Some 9 million Americans could attend community college tuition-free under a proposal President Barack Obama announced Friday.
His plan, which is subject to approval by Congress and depends on the participation of state governments, would dedicate some $60 billion over the next decade to defray tuition and fees for anyone who attends school at least half-time, maintains a roughly C+ average, and is on track to complete their program or transfer to a four-year school. The federal government would kick in about 75 percent of the cost, while participating states would pick up the rest. For the neediest students, Pell grants would help pay for transportation, room and board, and other costs associated with attending college.
Student advocates said the plan could boost college enrollment, slow the growth of student debt, put dodgy for-profit colleges out of business, and force schools, state governments and local governments to dedicate more resources to helping students attain a college degree.
"Think about it: Students who started at community colleges during those two years, and then go on to a four-year institution -- they essentially get the first half of their bachelor's degree for free," Obama told an audience at Pellissippi State Community College in Knoxville, Tennessee. "People who enroll for skills training will graduate already ready to work, and they won't have a pile of student debt."
For an administration that has struggled to help student loan borrowers or crack down on wayward colleges and student loan contractors that waste taxpayer funds, student advocates said that the mere fact that Obama was proposing free higher education represented progress in their fight for reduced debt burdens and lower tuition costs. Even if Obama leaves the White House in January 2017 without having seen his proposal passed into law, they said, future Democratic leaders likely would have to embrace it as part of their own plan to aid students and families.
"Two years of college will become as free and universal as high school is today," Obama said. His education secretary, Arne Duncan, said on Twitter: "Just as free K-12 education is an educational and civil right, #FreeCommunityCollege should be as well."
It faces an uphill climb. Influential Washington Republicans immediately pounced on the idea, dismissing it as federal overreach. Congress has declined to approve previous community college-oriented proposals from the Obama administration.
And even though the plan is similar to one adopted by Tennessee -- the site of Obama's address Friday -- the state's senior U.S. senator, Lamar Alexander, said he wouldn't support it because the federal government shouldn't get involved. Alexander, a Republican, this week became the new chair of the Senate education committee.
With Republicans in control of both chambers of Congress, political analysts said the measure has little chance of being enacted into law.
The plan does nothing for existing students. As a result of reduced state funding for higher education and recent moves by Washington to reduce federal spending, those students have had to contend with a shrinking pot of money to aid them as they complete their degrees. It also fails to help borrowers with student loans, of which there are 40 million who collectively carry more than $1.3 trillion in unpaid education debts.
"As a borrower with student loan debt, I am still awaiting the proposal that will help existing borrowers like me," said Natalia Abrams, executive director of the activist group Student Debt Crisis.
The White House declined to provide more details about the proposal, which Obama said he'll highlight again during his upcoming State of the Union address. The administration said it will reveal more details of the plan, and how it plans to pay for it, in the coming weeks as part of its budget for the next fiscal year.
Students paid community colleges $16.7 billion in tuition and fees in 2012, comprising nearly 30 percent, or the largest portion, of their total revenue during the most recent year for which data is available, according to the American Association of Community Colleges.
The average community college is charging students about $3,347 in tuition and fees this academic year, the trade group said. That represents about 21 percent of the typical student's cost to attend community college, or about $16,325.
For-profit colleges, which compete with community colleges for non-traditional and vocational students, and generally charge much higher rates, would be among the losers if Obama's plan became law.
Investors in publicly-traded for-profit colleges reacted by sending shares of the biggest for-profit education companies down by as much as 6 percent on Friday, far exceeding the slight drops in U.S. equity benchmarks. The Association of Private Sector Colleges and Universities, the trade group representing for-profit schools, did not return a request for comment.
Sen. Dick Durbin (D-Ill.), a frequent critic of proprietary schools, praised Obama's plan for steering students toward community colleges, which he said are "a more affordable, higher quality alternative to for-profit colleges."
Students would benefit beyond the promise of free tuition. For example, improved coordination between community colleges and public four-year schools as a result of Obama's plan could help transfer students avoid having to spend unnecessary money to repeat coursework. House Democrats said last year that some 15 percent of transfer students lost at least 90 percent of their community college credits when moving to their new school.
Obama's plan could benefit the broader American economy thanks to a better-educated workforce, which he said was key to the nation's ability to compete in the global economy.
"In the new economy, jobs and businesses will go wherever the most skilled, best-educated workforce resides. Because businesses are mobile now. Technology means they can locate anywhere. And where they have the most educated, most adaptable, most nimble workforce, that's where they're going to locate. And I want them to look no further than the United States of America," Obama said.
Experts said his plan could also help lower-income students overcome the perception that college was out of reach.
"This sends a clear message that community college is an affordable option for all students. Even though tuition and fees make up a small portion of the total cost of attendance -- and it is unclear if all students will see additional savings from this plan -- telling students early on that tuition will be free may induce more to prepare for college and eventually enroll," said Robert Kelchen, a professor at Seton Hall University who specializes in higher education finance.
To Ben Miller, a former adviser to Arne Duncan, one of the plan's best features lies in the message it sends to states, namely that they can't keep cutting funding for higher education.
"It's not the free part that stands out. It's the formal financial requirement for states to fund their higher education institutions," said Miller, a senior policy analyst at the Washington-based New America Foundation who previously worked at the Education Department. "It's the first time from the federal government, this stated notion that states have an actual obligation in a formal sense for supporting their higher education. States been free for decades to cut or fund higher education on their whims."
The Government Accountability Office in a report last month said that in the decade ending in 2012 tuition and fees from students overtook state funds as the larger source of revenue for public colleges.
Obama's plan, if enacted, risks subsidizing students from higher-income families who may not need help from taxpayers. Debbie Cochrane, research director for the California-based Institute for College Access & Success, said making tuition free for all students represents "a missed opportunity to focus resources on the students who need aid the most."
Cochrane pointed to California's community colleges, which she said offer the lowest tuition rates in the nation and fee waivers for low-income students, as an example of why a free tuition plan may not help the neediest students. Few low-income students apply for federal student aid at California's community colleges, and part-time enrollment is high.
"Obama probably won't get this done in the next couple years, but he's laying the groundwork with his message," said Sara Goldrick-Rab, an education policy expert at the University of Wisconsin-Madison who for years has advocated for free tuition during students' first two years in college. "We didn't get free high school overnight."
Before You Go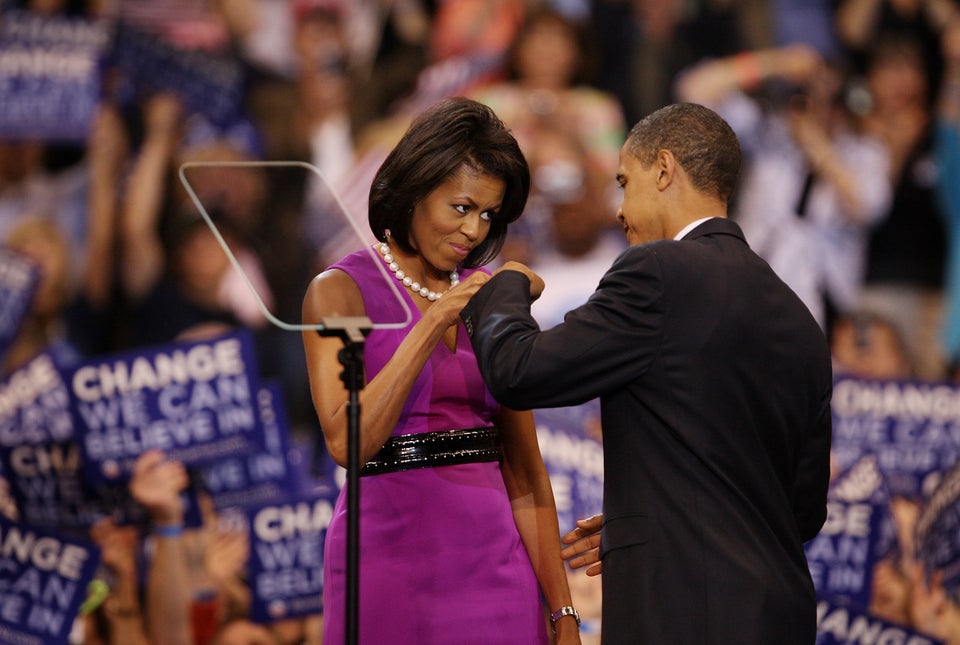 Obama's Fist Bumps
Popular in the Community