We are blessed and grateful for the opportunity to cook for President Obama when he comes to New York City on the 14th of May. Any chef who gets the call to cook for the President of the United States drops everything to do it and we are excited at the opportunity. Since this dinner is going to be hosted by Shelley and Donald Rubin, we decided to feature Himalayan comfort food. We also wanted to celebrate the Spring season and these dishes represent some of the most unusual and wonderful foods of this deeply spiritual region. We are pleased to be producing this event with our good friend and supremely talented cook, Chef Ali Loukzada.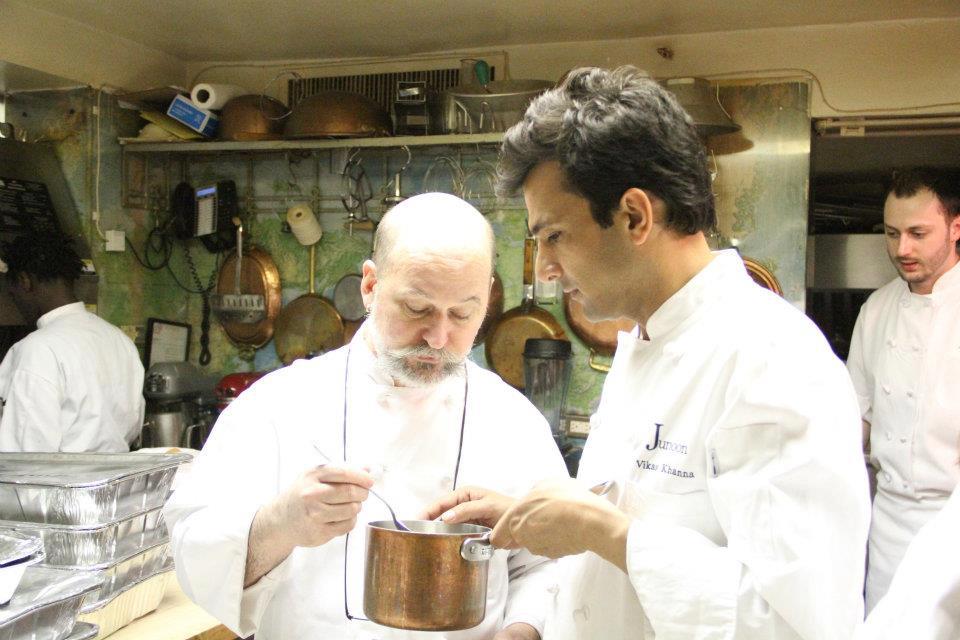 Vikas Khanna and Andrew Blackmore-Dobbyn
photo by Ronnie Bhardwaj
Our first choice for a main course was Mushroom Ema Datshi, a variation of the beloved national dish of Bhutan. This is similar to a dish we made for the Queen of Bhutan a few years ago. This version is made with chanterelles which are a forager's delight. The second dish is called Nakey, which is a dish of fiddlehead ferns which are another Himalayan delicacy little known in the west. Nakey would be right at home on the tables of any fine dining restaurant in New York City. We do a lot of these gala fundraiser dinners and it is on these occasions that we rely on comfort foods that make people smile to ensure a successful evening. The hors d'oeuvres can be wild, crazy and inventive but the main courses need to be time-tested and reliable dishes that please the palate and showcase what you do best.
When you're cooking for your most special guests, whether it's for your mother or a head of state, we always advise doing what you do best with an eye toward reliable classics. It's not the time to take risks and show off. Chanterelles are plentiful in Bhutan during the season and are considered more as a healthful meal than an extravagance like they are here. This Ema Datshi could be made with half chanterelles and half cultivated mushrooms such as creminis to lessen the expense of the dish. Fiddlehead ferns are available at gourmet markets and farmer's markets in the early spring. The recipes featured here is from our forthcoming cookbook, Return to the Rivers, from Lake Isle Press.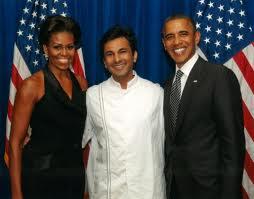 Vikas Khanna with President Barack Obama and Michelle Obama
Featured dishes from the meal to be served to President Obama:
Mushroom Ema Datshi
Serves 4
Ingredients:
3 tablespoons vegetable oil
1 pound chanterelle mushrooms, cleaned and coarsely chopped
½ cup fresh hot green chilies such as Thai bird or serranos, stemmed and coarsely chopped
3 cloves garlic, minced
1 cup water
16 ounces blue cheese, preferably Maytag blue, crumbled
½ teaspoon salt, or more, to taste
Procedure:
In a medium, heavy bottom skillet, heat the oil over medium heat. Add the mushrooms, chilies, and garlic, and cook, stirring until the mixture is well combined and the mushrooms are cooked through, about 5 to 8 minutes. Add 1 cup water, bring it to a boil. Reduce the heat to low and add the blue cheese and salt, stirring continuously until the flavors are well combined, about 2 to 3 minutes.
Serve the ema datshi warm or at room temperature.
Nakey -- Wild ferns with garlic butter
Serves 4
Ingredients:
1 pound fiddlehead ferns
1 teaspoon lemon juice
2 tablespoons butter
4 cloves garlic, minced
1 medium red onion, sliced
1 medium tomato, seeded and coarsely chopped
½ teaspoon of salt, or more to taste
½ teaspoon of freshly ground black pepper
Procedure:
Remove the papery particles from the fiddleheads and slit the ferns in half before thoroughly washing them in cold running water. Transfer them to salted boiling water and let blanch 2 to 3 minutes, until cooked but still firm. Drain and reserve.
Heat the butter in a large skillet over medium heat. Add the garlic and sauté, stirring until golden brown around the edges, about 2 minutes. Add the onion and cook until golden brown, about 3 to 4 minutes. Add a few tablespoons of water if needed.
Add the tomato and cook until the mixture begins to dry, about 3 to 4 minutes. Add the fiddleheads, and salt and cook 1 to 2 minutes more, until warm and well coated. Season with freshly ground black pepper and serve.
REAL LIFE. REAL NEWS. REAL VOICES.
Help us tell more of the stories that matter from voices that too often remain unheard.