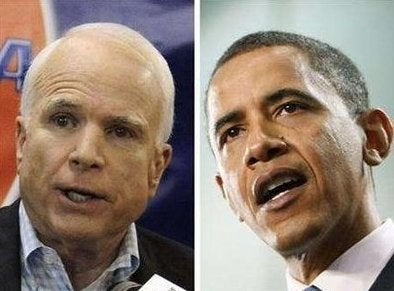 Two reports today from the LA Times and the New York Times suggest that the momentum in the 2008 campaign has shifted to Obama. McCain has struggled to recover from his comment that fundamentally the economy is strong. The gaffe came at the worst possible time as the crisis on Wall St. deepened with the government bailout of insurance giant AIG and further declines in the stock market. The LA Times reports:
Under fire for his assertion that the American economy is fundamentally sound, John McCain moved Tuesday to assure voters of his empathy and accused Barack Obama of attempting to take political advantage of the roiling Wall Street crisis...

...The Arizona senator spent seven national TV interviews and two campaign events seeking to make it clear that he understood the depth of concern about the rocky economy...

...The economy and the fate of financial institutions took control of the campaign for the second consecutive day Tuesday, with both tickets trying to assert dominance. Dual ads aired in key states. Obama's asked: "How can John McCain fix our economy if he doesn't understand it's broken?" McCain's said: "Your savings, your jobs. I'll keep them safe."

But McCain was operating from a defensive posture, after his expression of confidence in the economy at a rally Monday in Jacksonville, Fla., on the same day the stock market slid more than 500 points.
The McCain campaign has sought to co-opt the theme of change from Obama and hoped that the vice presidential choice of Sarah Palin would further the effort to distance McCain from President Bush. A new poll by the New York Times indicates that this effort is faltering, as McCain is widely viewed by voters as a "typical Republican," and that the "Palin effect" has produced, so far, only a limited burst of interest.
Despite an intense effort to distance himself from the way his party has done business in Washington, Senator John McCain is seen by voters as far less likely to bring change to Washington than Senator Barack Obama. Mr. McCain is widely viewed as a "typical Republican" who would continue or expand President Bush's policies, according to the latest New York Times/CBS News Poll.

Polls taken after the Republican convention suggested that Mr. McCain had enjoyed a surge of support -- particularly among white women after his selection of Gov. Sarah Palin of Alaska as his running mate -- but the latest poll indicates "the Palin effect" was, at least so far, a limited burst of interest.

The contest appears to be roughly where it was before the two conventions and before the vice presidential selections: Mr. Obama has the support of 48 percent of registered voters, compared with 43 percent for Mr. McCain, a difference within the poll's margin of sampling error, and statistically unchanged from the tally in the last New York Times/CBS News Poll in mid-August.
Calling all HuffPost superfans!
Sign up for membership to become a founding member and help shape HuffPost's next chapter