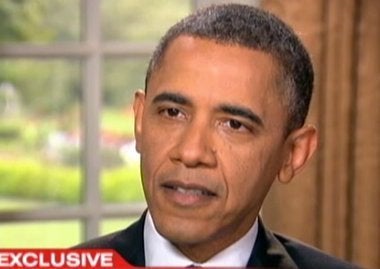 I woke up very cranky on Wednesday, May 8. For the past few months, I'd been helping my friend, Pam Spaulding, and others in North Carolina work against the viciously anti-gay Amendment 1. And we lost. Badly. It was another ugly example of that modern American tradition of voters taking rights away from gay people. Moreover, I was convinced that a lot of professional Democrats would use the North Carolina results as a sledgehammer to shut down further discussion about gay issues until after the election.
But as the morning wore on, it started to change. I began to see reports of an upcoming interview by ABC's Robin Roberts with President Obama and speculation that Obama was finally going to "evolve" on the issue of same-sex marriage.
I had a bit part in the arc of this evolution. During the 2008 elections, I was a strong supporter of candidate Barack Obama. But later, from my perch at AMERICAblog, I became a critic of his presidency, particularly on LGBT issues. Then, on Oct. 27, 2010, I was presented with the rare opportunity to pose questions directly to the president of the United States.
Meeting with the president is intimidating, and I had been hard on people who had had the opportunity to meet with the president or his top aides but hadn't spoken truth to power. Now it was my turn, and it was going to be on the record. I was also the first person from LGBT media to sit face-to-face with the president and ask him questions. I really felt an obligation to our community to get some answers from him.
I have to admit, I was very nervous. Before I left for the White House, I opened up an email containing a link to the "It Gets Better" video from the L.A. Gay Men's Chorus. Not to sound corny, but watching them sing really helped me focus and reinforced my resolve to deliver for our community.
So on that day the president and I had a pretty intense back-and-forth about marriage equality. Unlike journalists, who are required to be objective, I, as a blogger, could make it personal -- and I did, telling him that if our relationships aren't treated like everyone else's, then we're not equal. In response to my marriage question, the president said:
As you say, I have been, to this point, unwilling to sign on to same-sex marriage, primarily because of my understandings of the traditional definitions of marriage.

But I also think you're right that attitudes evolve, including mine. And I think that it is an issue that I wrestle with and think about because I have a whole host of friends who are in gay partnerships. I have staff members who are in committed, monogamous relationships, who are raising children, who are wonderful parents. And I care about them deeply.

And so while I'm not prepared to reverse myself here, sitting in the Roosevelt Room at 3:30 in the afternoon, I think it's fair to say that it's something that I think a lot about. That's probably the best you'll do out of me today.
While the president told me that he had no intention of making news during our now-infamous interview, by saying that his attitudes about marriage were evolving, the president did make news. That's where it all began.
For the next 560 days, at every opportunity, many of us pushed the president to fully evolve. At AMERICAblog we started the #evolvealready campaign and even sold "Evolve Already" T-shirts. I made the same arguments on Michelangelo Signorile's radio show and here on The Huffington Post. Along the way we were met with fierce resistance and the usual "inside-the-beltway" mindset that it would never happen. Not only that, but I heard more than once that we were trying to destroy his chances for reelection by even suggesting the idea that Obama should "evolve." Over the past 18 months that "evolving" talking point was often repeated by the White House and, over time, increasingly mocked. The conventional wisdom in D.C. was that Obama would never support marriage before the reelection.
But, as we all know, the president told ABC News, "I think same-sex couples should be able to get married." I'm not going to lie: As I watched, I actually wept. Obama became the first sitting president of the United States to support marriage equality. While I always thought it would be big news, it was even bigger than I could ever have imagined. Who would have thought that ABC would break into daytime programming to give us the breaking news that Obama supports same-sex marriage? There has been wall-to-wall coverage. Now, this doesn't change any law or overrule any constitutional amendment. It's symbolic. But it certainly feels different to know that, for the first time, our president thinks our relationships are equal.
As the president and I finished our exchanged, he said, "The one thing I will say today is I think it's pretty clear where the trend lines are going." That's true. In response, I sort of mangled the "arc of the moral universe" quotation attributed to Martin Luther King, Jr., asking, "The arc of history?" And the president responded, "The arc of history." Yes, that arc of history bent a little more toward justice on Wednesday.
Now Barack Obama's evolution on marriage equality is complete. It's also pretty clear that the news injected some much-needed enthusiasm into the president's campaign. On Thursday afternoon, Dan Eggen from The Washington Post reported, "The Obama campaign is enjoying a massive surge of contributions in the wake of his gay marriage announcement." I was one of them. After repeatedly telling Obama fundraisers that I wouldn't give if the president didn't think I'm equal, I donated to the campaign. This development also sets up a sharp contrast with Mitt Romney, who has aligned himself with the haters. Of all people, Shep Smith from FOX News drew the contrast best when he said that Obama was "now in the 21st century." Mitt Romney is in the dark ages -- and he'll stay there with his allies from the National Organization for Marriage.
Obama's announcement also guarantees that the most important thing in many of our lives -- the relationship with the people we love -- is going to be fought over in the political campaign. And the politics of our relationships will be subject to inane political analysis like this and this from The Washington Post's "The Fix."
I have to admit, even though no laws were changed or policies adjusted, I woke up feeling a little more equal. There's a psychological component to Obama's announcement that's hard to quantify or even explain, but it's real. Marriage and other issues affecting the LGBT community are often used as political fodder, but, these issues aren't politics to us; they're our lives, the very core of who we are. And, until Wednesday, I've lived in a country where my leaders didn't think I was equal.
So, yes, this is change I can believe in, and we need to see more of it on other issues that matter to the president's base and the country, like signing the ENDA executive order and saving the DREAMers from deportation.
Wednesday afternoon, my mother called from Maine to tell me that my dad wanted to make sure I thanked Obama (as if I have some kind of direct line). So I'm going to take this opportunity to do what my dad told told me to do: Thank you, Mr. President.
REAL LIFE. REAL NEWS. REAL VOICES.
Help us tell more of the stories that matter from voices that too often remain unheard.