WASHINGTON -- President Barack Obama felt a sense of relief after coming out in favor of gay marriage, according to "Double Down," a new book about the 2012 campaign.
"I feel so good about that," he reportedly told adviser David Plouffe, after declaring his support in an interview with ABC's Robin Roberts.
But the Obama team didn't feel "so good" several days before, when Vice President Joe Biden went off script in a "Meet The Press" interview, expressing his support for gay marriage and getting out in front of the president.
The anecdote is one of many in the richly reported book, set to be released Tuesday, by "Game Change" authors Mark Halperin and John Heilemann. It also details how Obama advisers considered replacing Biden with then-Secretary of State Hillary Clinton on the 2012 ticket and how Jon Huntsman, Sr. was the source for Senate Majority Leader Harry Reid's claim that Mitt Romney hadn't paid taxes for 10 years. The Huffington Post independently obtained a copy of the book before its release.
Biden, whom the authors describe as someone with a "nonfunctional" gaydar who didn't know how many gay staffers he had, experienced an epiphany at the end of April, after appearing at an LGBT fundraising event at the home of a gay couple with two kids in Los Angeles.
Biden was a veteran of "Meet The Press." Still, the book reports that Obama advisers were worried that he would speak out of turn, and over several days, they spent "upwards of twelve hours" drilling him on a slate campaign issues.
But there was one they left out -- gay marriage.
On Friday, May 4, 2012, Biden sat down to tape the interview, and said, "I am the vice president of the United States of America; the president sets the policy." He added, "I am absolutely comfortable with the fact that men marrying men, women marrying women, and heterosexual men and women marrying one another are entitled to the same exact rights, all the civil rights, all the civil liberties."
Biden didn't think he had made news. But Plouffe was mad.
"WHAT THE FUCK? was his reaction when he took a look at the transcript. We were going to do this! In the next two weeks! As a fucking surprise! HOW CAN THIS HAVE HAPPENED?!" the authors write.
Obama had wanted to "evolve" on gay marriage before Election Day, the book reports, and he was planning to come out in favor the next time he was asked.
Plouffe and White House Communications Director Dan Pfeiffer had urged him to state his position in a better venue than a simple press conference.
"Find the time and moment soon rather than later," Obama told them.
Ken Mehlman, the former Republican National Committee chairman who came out as gay after stepping down, told the president in a conversation about a year before Biden's remarks that the issue "can be a political winner for you."
Biden did not understand the furious reaction his comments had prompted from the Obama campaign. "I don't understand why everyone's so mad at me," he told a confidant, according to the book. But he eventually apologized to Obama right before he sat down for the ABC interview where he made the announcement.
The reaction from the Romney campaign was muted, according to the book. "The trouble was that this left the candidate betwixt and between: holding positions on paper that the Obamans could use to rile up their supporters, but failing to capitalize on their appeal to social conservatives with a full-throated articulation."
The authors also write in an earlier section of the book that many believed that Obama was in favor of gay marriage all along, and former press secretary Robert Gibbs had heard him say so in 2004.
Before You Go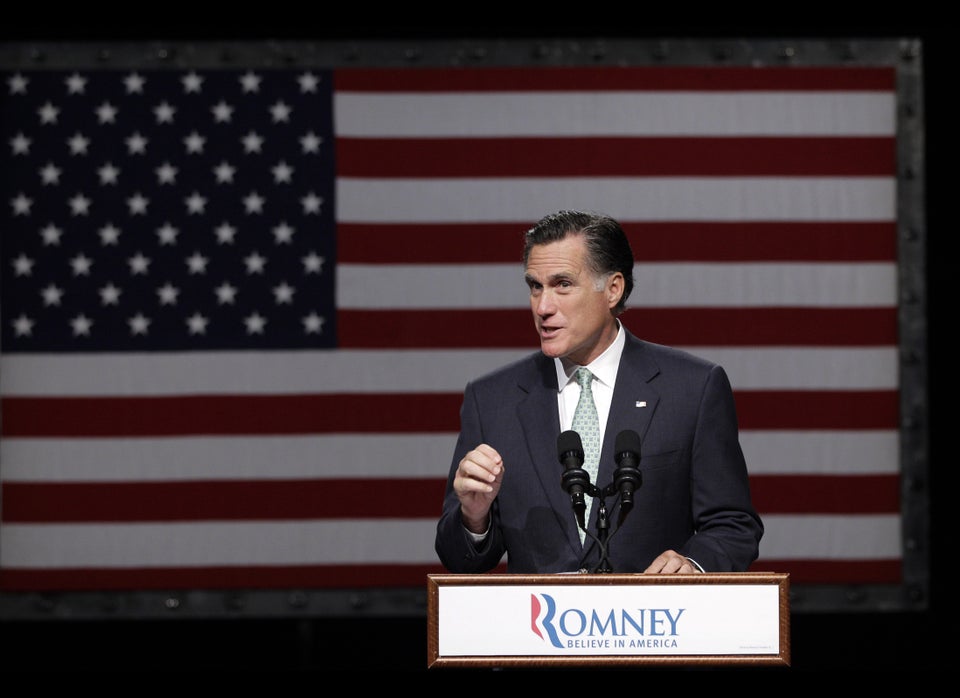 Politicians React To Obama On Same-Sex Marriage
Popular in the Community