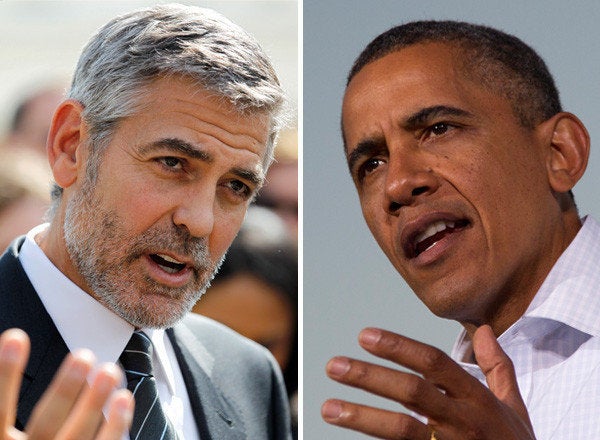 In an interview with Entertainment Tonight that will air Monday, President Obama discussed his friendship with George Clooney, calling the actor a "wonderful guy."
"The truth is we got to know each other because of a substantive issue," Obama said. "He is a terrific advocate on behalf of the people of Darfur, and to the people of Sudan who've been brutalized for a long time. And so when I was a senator -- this was well before I was president -- that was an issue that I was working together on a bipartisan basis, and George, who had traveled there, done documentaries there, and was very well-informed, came to testify in Congress. And so we got to know each other, and he is a good man, and a good friend."
While the president praised the actor's humanitarian efforts, he also noted the effect Clooney's star power has on members of his White House staff.
"I will say that the couple of times he's come to the White House, I notice that the staff suddenly is circling around my office," he said. "They've got memos they need to make sure I see right away."
Michelle Obama also weighed in on her husband's celebrity pal, joking that she thinks it's a "conspiracy" that she's never around when Clooney comes to town.
"Michelle is always frustrated because a lot of the events that George has been involved in, for some reason, she has something else going on," the president added.
Clooney has been one of Obama's most prominent fundraisers throughout the 2012 election cycle. In May, he hosted an event at his Los Angeles home that raked in $15 million for the president's reelection campaign. The star is also slated to headline an Obama fundraiser in Geneva, Switzerland later this month. Tickets for the event start at $1,000 a person.