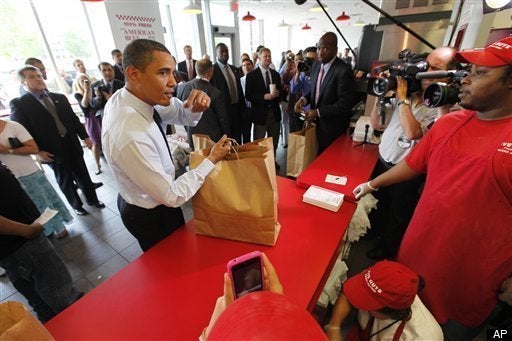 President Barack Obama was greeted with cheers last week when he stopped by Capitol Hill burger joint Five Guys.
The president was joined by NBC anchor Brian Williams and a crew that was filming a behind-the-scenes "Inside The White House" special.
The NBC footage shows Obama and Williams en route to the eatery, Obama with his feet up on the opposite-facing limo seat. When Williams asks whether Obama watches debates about his presidency on cable TV, Obama says, "I have to say, I generally don't... It feels like WWF."
When they arrive at the eatery, Obama -- impatiently knocking on the locked door of the car -- is told that he must wait for the press. He responds by saying, "Why do we have to wait for the press?" Personal aide Reggie Love then opens the car door and says, "Hold on one second, Mr. President," to which Obama responds "I don't want to hold on." And out the door he walks to a crowd of cheering customers.
The clip offers a glimpse of one of the most frustrating elements of the president's job: the demanding group of handlers and security officials who constantly surround him.
Once inside, President Obama orders "one cheeseburger and one fries for me" and pays for the food with money from his own pocket.
Calling all HuffPost superfans!
Sign up for membership to become a founding member and help shape HuffPost's next chapter