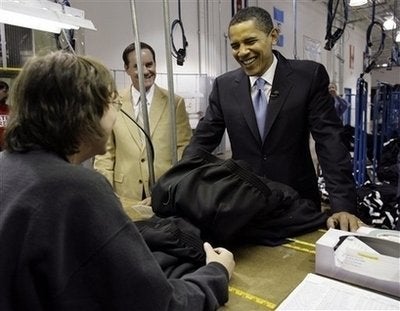 Via Mark Halperin, the pool report from Obama's campaign stop in Allentown, Pennsylvania:
It may be April Fools Day, but Sen. Barack Obama was acting like it was Valentine's Day. He was in full charm mode while touring the Tama Manufacturing plant, a JC Penny supplier of made-in-the-USA clothing in Allentown.

Obama was especially flirtatious today, winking and grinning at the female workers who were swooning behind their cell phone cameras. Tama President Mark Fogelman told quality inspector Carol Davis not to be nervous when she talked to Obama, even though he was "only the next
president" greeting her. Obama smiled ear to ear as he looked at her work, saying: "These look pretty comfortable, this is all pretty leisure wear."

After the presidential hopeful walked away, Davis let out a "Whoo!" and fanned herself.

"It got hot in here. He ain't bad looking either," she told your pooler.

"I hope he wins," Davis said, adding she was not registered to vote. "I wish all of them good luck, just bring the troops home is all." During the 25-minute tour, Obama called a woman "sweetie," and thanked her in spanish, then told another woman who let him know she is from Thailand, "I love Thai food."

But Obama lavished compliments on dancewear manufacturer Marisa Cerveris, who gave him a black and pink leotard for Malia and Sasha, explaining she was once in the New York City ballet. "You look like you might be a dancer," Obama told her, later adding: "You're big time."

"You're gorgeous," he told Cerveris after glancing at one of her old ballet photos.

"I was," she replied.

"You still are," he countered, asking the crowd, "Isn't she beautiful?" and answering his own question: "Absolutely."

Holding the leotards, Obama thanked her, saying, "This is such a nice gift," and telling her that his daughters attend a Chicago dance theater.

"They have been going there since they were three," he said, back when the dance moves were little more than "just spinning around." He punctuated his joke with a full twirl. "I don't miss a recital," he said.

But, "Sometimes they'll be like the tenth performance ... everybody's else's kid is cute but let's face it, you probably wouldn't sit there for an hour and a half," he said, laughing. Later, Cerveris, who also danced on Broadway, told your pooler "He is the best."

She complimented his art policy and said she believes he will fix NAFTA.

The nitty gritty of the business (picked up only by the lavalier mic Obama wore because plant was so loud) was interesting. The whistle blew at 9:35 right as the senator arrived and the workers promptly went on break, barely glancing at Obama inspecting their work stations. At 9:45 it blew again and they were back to work.

While on the tour, Obama asked how Tama is capable of remaining in the United States when so many companies are moving overseas. Fogelman said it is tough, and said his application for an H2B Visa to get workers from Mexico was denied because there were plenty of United
States workers.

"But it really is hard to find workers," he told Obama. "Nobody is coming into the business." Fogelman said the fabric comes from Greensboro, adding: "If the mills close up we'll probably be finished." Obama asked about their hourly wage (minimum is $8, and the average
worker at Tama earns $10.50 per hour.) "I'm glad to see we still have a good company here with a good owner looking after his workers," Obama said as he toured the pressing department, where some of the workers sported Unite Here t-shirts.

The workers, mostly women, worked with a contraption Fogelman explained to Obama was called an "eton system" that cost him $600,000 and was financed in part by a state grant of $200,000. It looked like a steam iron suspended by a bungee cord, and Fogelman said it "brings the work right to the worker ... so they don't have to waste time and twist." Perhaps a sign of their repetitive work, one woman sported two wristbands suggesting she had a wrist injury. It took one worker an average of 22 seconds to steam the seams of what looked like a pair of black track pants with a big white elastic waistband. (Think grandma, not J-Lo.)

Speaking of which, Fogelman told the senator his grandma might wear their brand of clothing, "for the progressive lady who wants some comfort," labeled Alfred Dunner.

"What size is she?" Fogelman asked. "I don't know," Obama said, laughing.

Nearly everything on the manufacturing line was black (prompting Salon's Walter Shapiro to speculate they were making nun habits) something Obama noted when he walked in. Fogelman, whose grandpa started the company 54 years ago, told Obama they use one fabric in one color each day to "keep it efficient."

Tama also makes military uniforms. Fogelman showed Obama some kind of clothing your pooler couldn't see that included a silk-screened picture used for the White House's "Office of Remembrance."

Obama called that a "very nice idea."

While on the tour, Obama met Gulf War veteran Josh Williams, a Tama supervisor who asked the senator to sign his beret. Obama wrote "Thanks for your service."

Obama chatted with a local pastor before leaving the plant, asking him to: "Pray for me."

Perhaps of interest from before the tour: While your poolers waited for their sweep in the gray drizzle, Obama arrived in the SUV with a little wave wearing a baseball hat as if he'd been working out. Our bus left without Obama (but somehow didn't get "dirty" - ask Jen Psaki to explain that one, it's about as logical as the credentials committee) so we can't confirm exactly how long it takes the senator to get ready in the morning. But the full transformation from Basketball Obama to Suit-and-Tie Obama, with a 15 minute drive in between, took 82 minutes.

Christina Bellantoni
National political reporter
The Washington Times
Calling all HuffPost superfans!
Sign up for membership to become a founding member and help shape HuffPost's next chapter