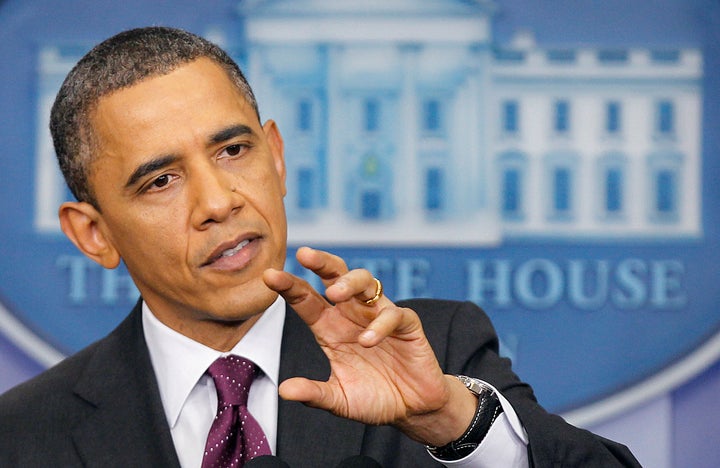 WASHINGTON -- At a time when Congressional Republicans are scrambling to find ways to blame him for rising gas prices, President Barack Obama on Monday plans to spotlight the progress his administration has made in saving people money at the pump and reducing U.S. reliance on foreign oil.
The White House unveiled a new report early Monday that boasts of successes by the administration in making America more energy independent over the past three years.
"During the last year alone, we established new incentives to increase safe and responsible domestic oil and gas production; proposed the toughest fuel economy standards for cars and trucks in history; provided millions of Americans with efficient and affordable transportation choices; launched new programs to improve energy efficiency in our homes, buildings, public transit, aviation and roadway systems; and took unprecedented steps to make the United States a leader in the clean energy race," reads the cover letter to the report, titled "A Secure Energy Future: A Progress Report." The letter is signed by Energy Secretary Steven Chu, Transportation Secretary Ray LaHood and Interior Secretary Ken Salazar, among other Cabinet officials.
The report calls attention to Obama's first-ever fuel economy standards for heavy-duty vehicles, announced in August 2011, and highlights how they will save truck operators $50 billion in fuel costs over the life of the vehicles. Along with that, the report says Obama's July 2011 requirement that passenger vehicles achieve 54.5 miles per gallon by 2025 puts consumers on track to save more than $8,000 in lower fuel costs.
A White House official on Sunday emphasized that Obama is also on his way to achieving his goal of reducing U.S. oil imports by a third by 2025. The administration has already cut net imports by 10 percent, or a million barrels a day, the report says, thanks to "booming U.S. oil and gas production, more efficient cars and trucks and a world-class refining sector that last year was a net exporter for the first time in sixty years."
Other notable stats in the report include the administration doubling U.S. renewable energy generation from wind, solar and geothermal sources; the Energy Department funding more than 120 projects focused on energy breakthroughs; and the Department of Energy and the Department of Housing and Urban Development completing energy upgrades in more than 1 million homes, which translates to more than $400 in savings on each family's heating and cooling bills.
The president's effort to tout his energy policy comes as Republicans are trying to come up with ways, even if they're not true, to blame Obama for rising gas prices. His move also comes as a new Washington Post-ABC News poll shows growing disapproval of Obama's handling of the economy, something people are tying to rising gas prices. The poll found that nearly two-thirds of Americans say they disapprove of the way the president is responding to increasing gas costs.
Obama isn't wasting any time selling his energy successes to the media. He plans to spend Monday morning giving interviews to local TV anchors from Los Angeles, Denver, Austin, Des Moines, Orlando, Cincinnati, Las Vegas and Pittsburgh to tout the accomplishments outlined in the new report.
Popular in the Community