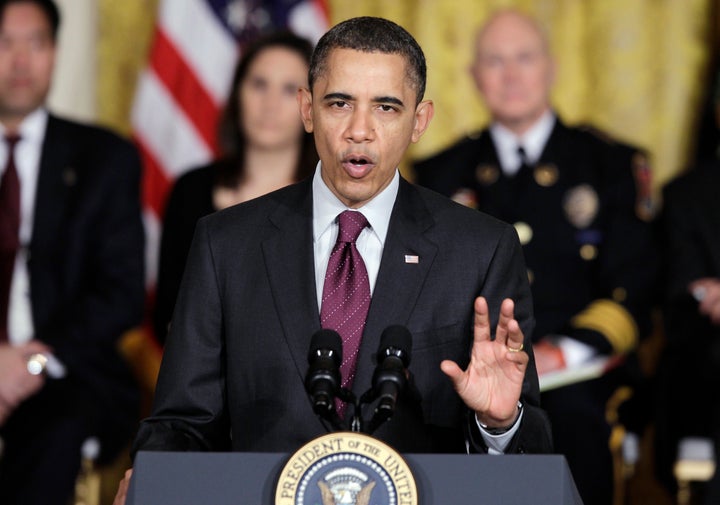 WASHINGTON -- House Republicans announced plans on Friday for another short-term government funding resolution, putting off concerns about a federal shutdown and giving the House and Senate an additional three weeks to reach agreement on a longer-term bill that would fund the government through the end of the fiscal year in September.
Speaking at a midday press conference, President Barack Obama voiced his support for the latest budget stopgap, adding that resolving the differences between the two parties over funding levels for the rest of the fiscal year "shouldn't be that complicated."
"Our expectation is we should be able to get this completed," Obama said. "Now, because I think neither Democrats nor Republicans were in the mood to compromise until their 100 percent maximal position was voted down in the Senate, we have probably lost some time. And we may not be able to fully resolve this and meet next week's deadline for the continuing resolution, which means that there may be potentially one more short-term extension."
That support marked a reversal for the president, whose administration has opposed the idea of a string of stopgap spending bills. But Congress may need even more time for resolution, and all signs point to the next short-term resolution passing.
On the Hill, that extension is already in the works. After votes on the Senate Democrats' and House Republicans' continuing resolution proposals both failed on Wednesday, lawmakers began looking for $6 billion in spending cuts. [On Friday afternoon, the House Appropriations Committee released a full list of cuts: here] House Republican leadership claimed they were effectively forced to push for another stopgap resolution after the Senate failed to pass a funding bill.
"We can't come to any agreement when the other side doesn't come forward with any offer," House Majority Leader Eric Cantor (R-Va.) said on the House floor Friday. "That's why we are once again in this position where we must once again present a continuing resolution so the government can keep running."
The cuts in the new package, according to aides, would largely comprise unused earmarks and would keep the government funded for three more weeks. The proposed $2 billion in cuts per week is equal to the rate of budget reduction in the Republicans' longer-term continuing resolution.
While Obama appeared willing to compromise in support of another short-term measure, he drew a few lines in the sand on the longer-term funding bill. He called some of the proposed Republican cuts -- such as those to Pell grants and Head Start -- non-starters. And he warned, once again, that House Speaker John Boehner (R-Ohio) should remove controversial policy riders, some of which would defund Planned Parenthood and the president's signature health care law, from the legislative language.
"These aren't really budget items," Obama said. "These are political statements, and I have said directly to Speaker Boehner, we are happy to discuss any of these riders, but my general view is, let's not try and sneak political agendas into a budget debate."
The administration has settled on a rough budget-cut number that it is willing to concede to Republicans in order to fund the government and stave off deeper cuts, a senior Treasury official said in a briefing Thursday with bloggers and reporters that included Treasury Secretary Tim Geithner.
House Republicans and Democrats in the Senate and White House find themselves with little common ground beyond a chunk of cuts that the Obama administration has already conceded. House Republicans have set themselves what seems to be a goal that is either mathematically impossible or political suicide, as Democrats see it: They must cut the budget deficit in the near term without taking significant amounts from defense or entitlements and without increasing government revenue through higher taxes.
The way out of that jam for House Republicans may be to agree to a firm deficit reduction target without committing to a specific path to that goal, the top Treasury official said, emphasizing that such negotiations would take months and are not a solution to the looming March 18 deadline.
House passage of a three-week budget stopgap seems likely, even though the measure would not include any of the policy riders that conservatives hold dear. The Senate presents even less complicated political terrain.
But House members warned they may not be willing to support short-term solutions for much longer, setting the stage for another panic about government shutdown in a few weeks.
Speaking on the House floor, Minority Whip Steny Hoyer (D-Md.) said his conference would support the three-week funding measure, but would not support additional stopgap bills.
"For me, it's the last time," Hoyer said. "We need to have a plan to fund the government for the rest of the fiscal year, and us sticking to our number and you sticking to your number will not serve our country or our people."
Hoyer admonished House Republicans for what he called a lack of willingness to compromise on their longer-term funding bill, which would cut $57 billion from current funding levels, even after it was voted down in the Senate. The bill received only 44 votes in the upper chamber, with three Republicans voting against it on the grounds that the bill did not reduce the deficit enough.
Democratic leaders in the Senate said the test-vote failure should motivate House Republicans to propose a lower figure for budget cuts, but lower-chamber leaders face pressure from conservatives who may defect over a weakened budget bill. The original proposal by the GOP leaders -- to cut the budget by $32 billion by the end of the year -- was met with a revolt by freshmen, who successfully rallied to nearly double the scope of the cuts.
Six House Republicans voted against the last short-term continuing resolution, either because it contained too few cuts or because House leaders did not include the riders to defund Planned Parenthood and health care reform.
Asked Friday whether his conference would support another short-term bill without the Planned Parenthood provision, staunch abortion-rights opponent Rep. Jim Jordan (R-Ohio) said he and other members are "very concerned," but stopped short of saying he would vote down the three-week bill.
But Jordan hinted that supporters of the measure to defund Planned Parenthood might reach a breaking point if stopgap funding continues.
"There's nothing wrong with first downs, but I think eventually we need to get to the end zone," he told reporters off the House floor. "But I'm very concerned that the pro-life things are not in there."
Support HuffPost
The Stakes Have Never Been Higher
Popular in the Community