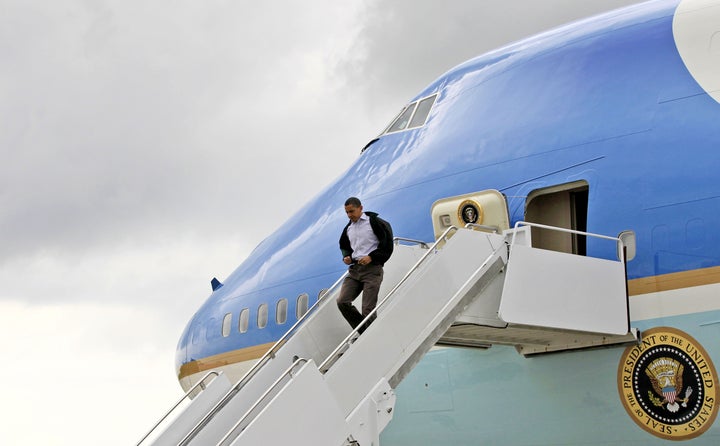 KENNER, La. (AP) -- Stormy skies greeted President Barack Obama as he arrived at the Gulf of Mexico Friday to encourage residents and get a fresh look at the horrifying oil spill that is testing his presidency.
Obama immediately huddled in a small airport building with Coast Guard Adm. Thad Allen, the top federal official on the spill, along with the governors of Louisiana, Florida and Alabama and other officials.
Stressing his personal leadership of the federal response, Obama was heading to Grand Isle, La., a barrier island that's been affected by the spill and where nearby beaches are being lapped by oil.
The president's third visit to the Gulf came as engineers with British oil company BP worked to settle a funnel-like cap over the deep-sea leak to try to collect some of the crude now fouling four states. Oil continued to spew, generating frightening photos of seabirds clogged in the muck.
Underscoring the mounting political implications, Obama abruptly canceled plans for his trip to Indonesia and Australia later this month. Ahead of the Gulf visit, he declared himself furious at a situation that "is imperiling an entire way of life and an entire region for potentially years." He criticized BP for not responding more quickly.
But polls show the public growing more negative toward the president's own handling of the spill, and he was aiming to demonstrate he was staying on top of the situation Friday - without getting in the way. Obama visited the Gulf region twice in May, and this tour surely will not be his last.
"You never want to take resources away from the response and recovery efforts, so we're certainly mindful of that," said spokesman Robert Gibbs. "At the same time ... I think he'll go as often as he thinks that is productive in aiding those response efforts."
Somewhere between 22 million and 47 million gallons of crude oil have been disgorged into the Gulf since the Deepwater Horizon oil rig exploded on April 20, according to government estimates. Eleven workers were killed in the blast.
Obama told CNN's Larry King on Thursday he was furious that "someone didn't think through the consequences of their actions," and he tried to deflect criticism that he hasn't shown enough emotion about the epic dimensions of the problem.
"I would love to just spend a lot of my time venting and yelling at people," the president said, "but that's not the job I was hired to do. My job is to solve this problem."
His administration on Thursday handed BP a $69 million bill for recovery costs to date - a figure sure to grow in the weeks and months ahead.
Popular in the Community