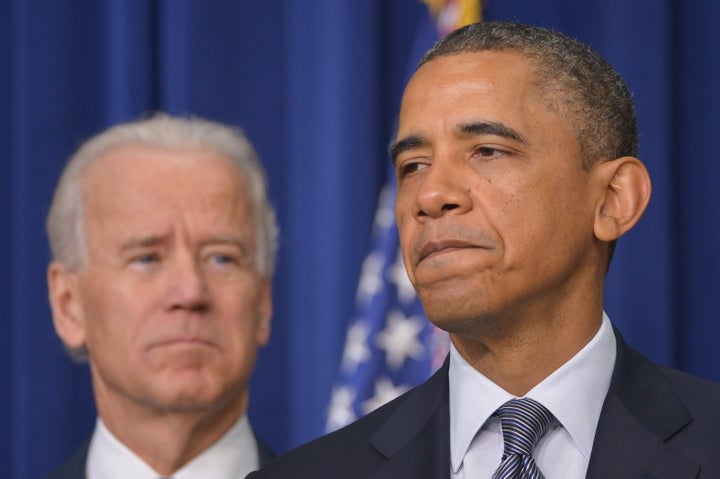 Now comes the tough part.
Selling his policies to Congress will be harder than coming up with them in the first place. Senior administration officials acknowledge as much. The president, in his Wednesday morning press statement, pledged to put "the weight this office holds" toward making the proposals a reality. That includes drumming up public support in districts that are home to more gun-friendly lawmakers.
But the legislative process can often be immune to such measures, especially in the Republican-run House of Representatives. And so, the administration and gun control advocates are devising ways to apply enough pressure to that body that its leadership eventually cracks.
"This isn't like the fiscal cliff where something has to get done," said Jim Kessler, senior vice president for policy at centrist think tank Third Way. "The House can make the choice of not bringing up anything. Essentially there needs to be pressure to bear to get them to act. And on top of that, you will likely have to bring up something that probably won't get the majority of House Republicans. So it will be tough."
The goal, at least initially, is to see the Democratic-run Senate act first, passing as comprehensive a proposal as possible. A senior administration official told reporters on Wednesday that the president's recommendations -- which include universal background checks, funding for cops, resources for mental health screenings and school security, a cap on high-capacity magazines and an assault weapons ban -- were merely suggestions for such a legislative package, and the White House would work with Congress on specific language.
Any gun-related bill in the Senate will have to pass the Senate Judiciary Committee. Sen. Patrick Leahy (D-Vt.), who chairs the committee, announced Wednesday that he'll hold his first gun violence hearing on Jan. 30. Until then, he said, he won't speculate on what proposals can or can't pass Congress.
"Everybody's talking about 'We'll do this, we'll do that.' Nobody's held hearings," Leahy said during remarks at Georgetown University Law Center. "I'm going to hold the first hearings; that should be an example that I'm committed to getting something done."
The big question facing the Senate is whether or not it can pass an assault weapons ban. Senate Majority Leader Harry Reid (D-Nev.) suggested last week that such a ban could not pass and is therefore not worth pursuing. But in a statement after the president's remarks, Reid, who has sought the National Rifle Association's support in the past, appeared to leave the door open.
"I am committed to ensuring that the Senate will consider legislation that addresses gun violence and other aspects of violence in our society early this year," Reid said. "All options should be on the table moving forward."
On cue, Sen. Dianne Feinstein (D-Calif.) said Wednesday that she will be moving forward with legislation to reinstate the assault weapons ban that expired in 2004. Leahy, likewise, said it was worth pursuing the ban and pushed back on a Washington Post article that characterized him as too cautious on the issue.
"I would point out that I have a track record of getting legislation passed. There are some who say nothing will pass. I disagree with that," Leahy said. "What I'm interested in is what we can get."
For all the challenges ahead for Obama, there were some signs of encouragement. Sen. Chuck Grassley (R-Iowa) said last week that he could be open to restricting high-capacity gun magazines, and Rep. Phil Gingrey (R-Ga.) signaled that he, too, could support such restrictions, in addition to stronger background checks.
On Wednesday, shortly after Obama laid out his proposals, Sen. James Inhofe (R-Okla.) told NBC that he will "probably support a lot" of Obama's executive actions relating to gun violence, and that he sees "some merit" to the idea of restricting high-capacity magazines. Rep. Steve King (R-Iowa) didn't exactly endorse Obama's vision, but issued a statement saying any effort to stem the kind of violence that occurred in Newtown, Conn. is "a noble cause" that Congress should be a part of, as long as lawmakers abide by the Constitution.
Even some interest groups that would seem bent on opposing Obama's proposals showed some signs of willingness to enter conversations.
The National Shooting Sports Foundation, which lobbies for the gun industry, issued a statement saying it was keeping an "open mind" and lending support to strengthened background checks. "We believe it is critical to first focus on the unauthorized access to firearms by irresponsible persons and those not legally qualified to possess them," it reads.
In contrast, the NRA, which donates millions of dollars in campaign contributions to members of Congress and has tremendous sway on Capitol Hill, responded to Obama's speech by vowing to oppose any efforts to tighten the nation's gun control laws.
"Attacking firearms and ignoring children is not a solution to the crisis we face as a nation," reads the NRA statement. "Only honest, law-abiding gun owners will be affected and our children will remain vulnerable to the inevitability of more tragedy."
For now, all eyes are on what the Senate can do. Even if it were to pass something comprehensive to put pressure on the House to act, passing a bill in that chamber will prove exceedingly difficult. House Speaker John Boehner (R-Ohio) initially tried to steer clear of the issue; his spokesman Michael Steel on Wednesday said only that House committees will review Obama's proposals and, "if the Senate passes a bill, we will also take a look at that."
Regardless, any legislation that makes it to the House would need to clear the House Judiciary Committee, whose chairman Rep. Bob Goodlatte (R-Va.) is a staunch gun rights supporter with an 'A' rating from the NRA. In the immediate aftermath of the Newtown shooting, Goodlatte vowed to oppose any bills that tighten gun control. On Wednesday, he said he welcomed Obama's recommendations but warned of proposals that "trample on the rights of law-abiding citizens."
"Good intentions do not necessarily make good laws," Goodlatte said.
One option being floated by some gun control advocates is to break up Obama's proposal into individual pieces and have Congress move each one separately. But the initial reaction to that idea among some Democrats on the Hill was generally skeptical.
"I think if you did that, then you would never pass the, quote, hard stuff," said Rep. Diana Degette (D-Colo.). "I think that some of the Republican leadership in Congress and the NRA would like nothing more than for Congress to pass some laws on mental health issues and some other issues, law enforcement training, and then they would say, 'Okay, problem solved.' So I think it really needs to be a package. It has to be a package."
Before You Go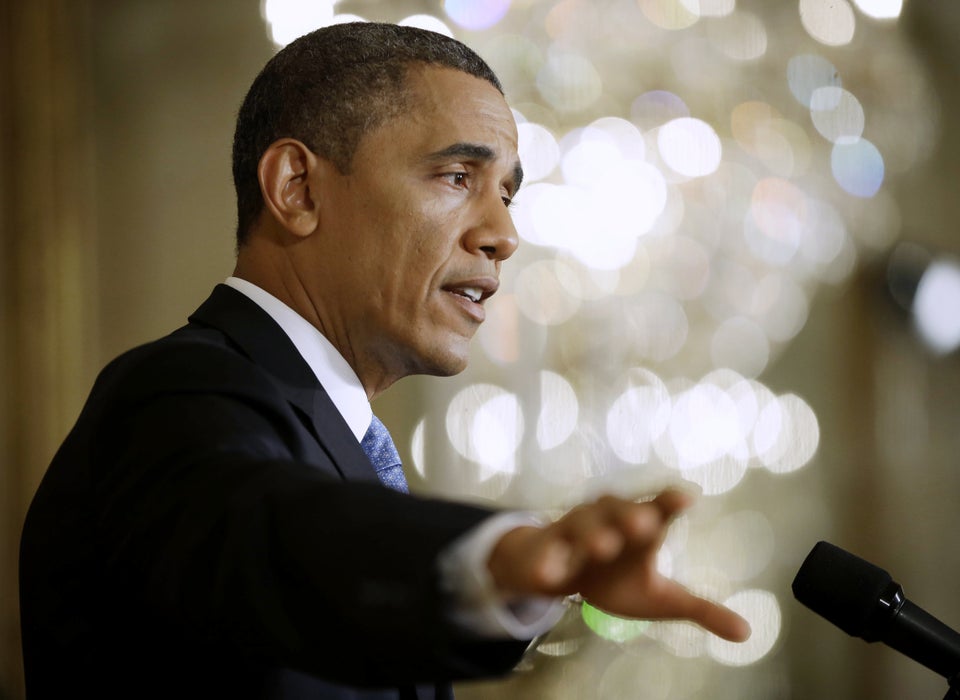 Obama's Executive Actions On Gun Violence
Popular in the Community