WASHINGTON -- Senate Majority Leader Harry Reid (D-Nev.) grew defensive Tuesday when pressed on his efforts to craft a gun control package, having decided this week not to include a ban on assault weapons in the legislation.
A ban on nearly 160 specific types of semiautomatic weapons and rifles was one of the four major parts of President Barack Obama's plan to curtail gun violence in the wake of the Newtown, Conn., shooting. But the fact that it won't be included in the baseline bill is hardly unexpected. The ban's chief sponsor, Sen. Dianne Feinstein (D-Calif.), could only guarantee roughly 40 votes for the measure, Reid said. So while it will still get consideration as an amendment to the broader gun legislation, unless an additional 20 votes materialize it won't become law.
Left unsaid on Tuesday was that another major element of the president's gun policy proposal could be joining the assault weapons ban in the scrap heap.
Legislation to limit the size of ammunition feeders was part of Feinstein's bill as well. And as of now, lawmakers are expected to separate that measure from the assault weapons ban so that it can be considered individually.
But that hardly ensures that a ban on high-capacity magazines will make it through the Senate. One top Democratic aide said leadership was leaning against putting the magazine ban in the baseline bill, while another said that they would consider it as an amendment instead. Whip counts weren't clear as of Tuesday afternoon, but the expectation is that it will be difficult to muster up 60 votes for the measure.
"It makes sense for my high-capacity magazine ban to be included in the base bill, but I promise you this, if it doesn't end up in the package, I will be offering it as an amendment," said Sen. Frank Lautenberg (D-N.J.), who has led the legislative charge to limit the size of magazines to 10 rounds.
Reid now faces several dicey choices, placing him between him the pro-gun contingent in his own party, a GOP caucus that can filibuster most bills, and the president and powerful Democrats like Feinstein.
The majority leader had to take a long breath before explaining why he had decided to exclude Feinstein's measure.
"I have said time and time again that I want people to have the ability to vote on assault weapons, mental health, safety in schools, federal trafficking, clips, everything. But I cannot do that until I get a bill on the floor," Reid said. "My job is to find one of those that I can bring to the floor, or two of them, [that] at least have been through the committee, and that I can get 60 votes to proceed to that. We cannot have votes on everything unless I get something on the floor. It's a legislative impossibility."
"Dianne has worked so hard on this," Reid said. "[I] understand, going back to the day she found the mayor dead in his office having been killed, how strongly she feels about that. I know that. But right now, her amendment, using the most optimistic numbers, has less than 40 votes. That's not 60. I have to get something on the floor."
"I'm not going to try to put something on the floor that won't succeed," Reid added. "I think the worst of all worlds would be to bring something to the floor and it dies there."
Reid's announcement confirms a long-standing belief by leaders of the National Rifle Association and its legislative arm, the NRA-ILA, that the Assault Weapons Ban stood little chance of passing the Senate, let alone the House of Representatives.
While the gun lobby has successfully used Feinstein's bill as a rallying cry to gin up donations and increase member participation, the bulk of the NRA's communications with members of Congress concerns a proposal for universal background checks, which the NRA opposes.
Indeed, the fate of that proposal will now determine whether the president's attempt to reform gun laws will be deemed successful. It will certainly be easier to pass universal background checks than an assault weapons ban or a limit on the size of magazines, but the measure's success is far from guaranteed.
Sen. Chuck Schumer (D-N.Y.) tried to secure Sen. Tom Coburn (R-Okla.) as a cosponsor for his legislation, but those talks between the hard-charging Schumer and touchy Coburn hit an ultimately unresolvable snag over whether and how to keep records on gun purchases. Schumer has since begun searching for other Republican co-sponsors -- Sen. Mark Kirk (R-Ill.) is a likely co-sponsor -- in hopes of finding the elusive 60 votes.
But as of Tuesday, Senate Democrats had not yet decided if a universal background check provision will be in their baseline bill -- alongside a federal trafficking statute and provisions to enhance school security -- or considered as an amendment.
"We're still talking about what the base bill will be," said Reid spokesman Adam Jentleson. "Those discussions are still happening. Sen. Reid is absolutely still not decided on what is going to be the base bill ... he wants the base legislation to be something that we can actually get out, so it has to be able to get 60 votes."
UPDATE: 7:00 p.m. -- Feinstein indicated later Tuesday the prospects for including the high capacity magazine ban in a baseline gun control bill looked bleak.
She told reporters she had been promised two votes -- one on an assault weapons ban, including a ban on high capacity magazines, and another on just the magazine ban. Feinstein said it was her understanding that both of these votes would be on amendments, rather than on any gun control package introduced by the Senate.
Feinstein also said she was not included in the decision-making process, though she tried to fight Reid on the matter when he informed her of his legislative strategy.
"I made my argument, but that's the way [Reid] feels," Feinstein said, unable to mask her disappointment. "He just said, 'I've decided.'"
"That's the problem with this place, that, you know, the gun lobby is inordinately powerful," she said.
"We've come here to vote. This is something I've been at for 40 years of my life. I'm not a newcomer to guns," Feinstein added. "I've watched what's happened over these past four decades, and America's not a better place for it."
Christina Wilkie contributed reporting.
Support HuffPost
The Stakes Have Never Been Higher
Before You Go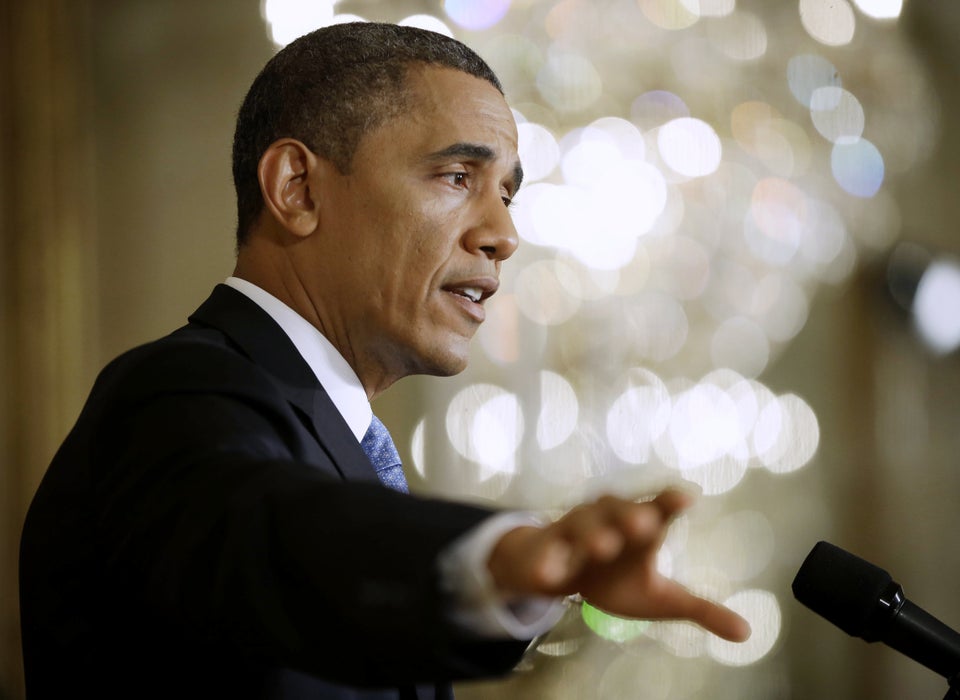 Obama's Executive Actions On Gun Violence
Popular in the Community