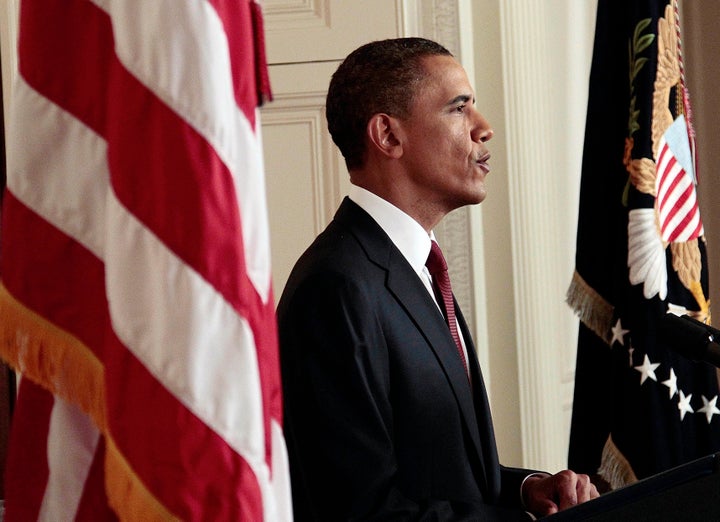 President Obama had several options for assassinating Osama bin Laden, but did not let preference for one or the other delay an attack, an administration official told The Huffington Post.
The morning after covert U.S. forces killed bin Laden in a compound Abbottabad, Pakistan, ABC News reported that Obama had passed on a chance to bomb that same compound back in March. According to the report, the president was wary of attacking the location with two B-2 stealth bombers out of concern that it would reduce the building (and all evidence inside) to rubble. The potential for collateral damage -- 22 people were inside the compound, including women and children -- was also a deterrent, ABC reported.

An administration source did not refute that such an operation was conceived and scrapped. Politico's Mike Allen also reported on Monday that the "original plan for the raid was to bomb the house, but President Obama ultimately decided against that."

The official did, however, push back against the notion (which could be inferred from either piece) that the president had a chance to kill bin Laden and didn't pull the trigger.

"It's wrong to say it was delayed because of a decision by Obama," the official said. "They were constantly revising the intelligence and military planning until it was finally ready."

In addition to being potentially destructive of both evidence and civilian life, attacking the compound with B-2 stealth bombers was also determined to be operationally risky. The president and his team, instead, asked that the plan be revised to allow for a Navy SEALs unit to be transported in via helicopter. Training for that took time. The Navy SEALs unit "replicated the one-acre compound at Camp Alpha, a segregated section of Bagram Air Base. Trial runs were held in early April," Marc Ambinder of the National Journal reported.
Popular in the Community