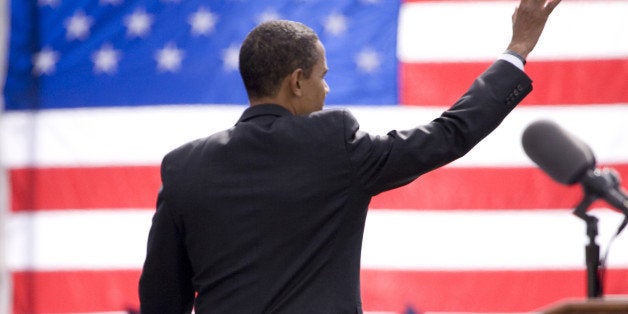 Don't look now, but President Barack Obama has been inching up in the polls, tying Reagan for this juncture in his presidency. Several polls have him inching up to nearly 50 percent approval rating after a rough 2014. Is it just a bit of holiday cheer, or is the trend real? And how does Obama compare to Reagan and other presidents in their sixth Christmas?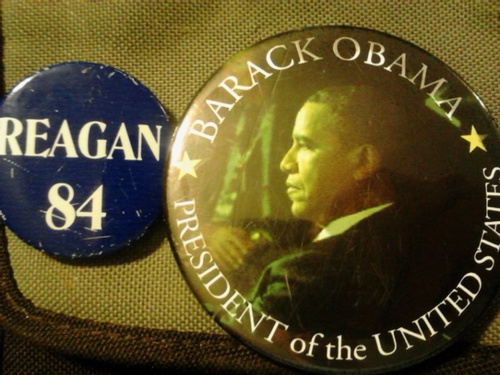 "For Obama, it's the latest in a number of recent polls that have been favorable for the president. Earlier this week, a CNN/ORC poll gave Obama a 48 percent approval rating -- his highest since May 2013. And the president's high approval ratings come amidst a growing confidence among Americans in the expanding economy, with growing jobs numbers to match."
Boston's National Public Radio affiliate (WBUR) reported that Obama's approval rating is up to 48 percent. And they cited Rasmussen Reports, a polling firm often accused of leaning conservative in its surveys. WBUR speculated that the trend was driven by a positive view of the economy (51 percent concur in a CNN/ORC poll) and the stock market breaking the 18,000 point barrier.
WBUR neglected to mention that Rasmussen also found 51 percent disapprove of Obama in their poll, but it's a far cry from Labor Day, when Gallup polling found Obama with only a 38 percent approval rating. Even by Election Day, the President could do no better than 40 percent, a reason why Republicans ran against him. So closing in on 50-50 numbers is an improvement. It's close to his average for his presidency: 48 percent.
But how does Obama compare to other presidents who spent their sixth Christmas in the White House? Gallup polls showed President George W. Bush at 37 percent at this time in his presidency. Only Harry Truman (33 percent) was lower (for December 1950). Fellow Texan Lyndon B. Johnson was at 44 percent after his party suffered setbacks in the 1966 election. Ronald Reagan polled at 48 percent in December of 1986. The best in the survey include Gen. Dwight D. Eisenhower (57 percent), despite his own party's struggle in the 1958 election, and Bill Clinton, who had a whopping 67 percent despite impeachment woes.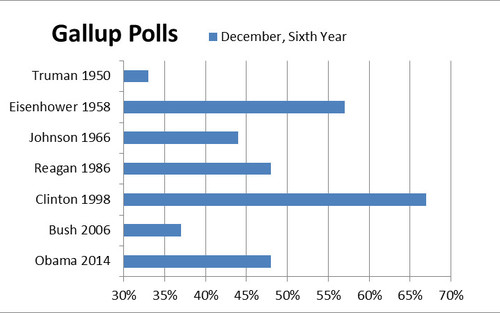 Clinton benefited from the economy, but Eisenhower did not, which cost his party votes the previous month (thanks to the 1957-1958 recession). The economy showed signs of growth in 2006, 1986, 1966 and 1950, according to NBER data.
The economy and the Christmas holidays do not seem to provide the explanation. Most likely, such approval ratings are based upon the policies presidents were undertaking. Bush was struggling in Iraq. Eisenhower was more popular than his party in 1958 as the result of strategic political choices and personal charm. Johnson was beset by Vietnam and domestic strife. Truman had Korean and indications it would not be a short war. Reagan was dealing with the Iran-Contra Scandal.
And Obama? He may be the beneficiary of lower gas prices, but also of a thaw in Cuban relations which has the support of most people. His bold stands on immigration, against torture and appeals for racial calm may be winning back liberals who had soured on him in 2014. One wonders if his party would still be in charge of the U.S. Senate if he had offered these initiatives earlier this year.
John A. Tures is a professor of political science at LaGrange College in LaGrange, Ga. He can be reached at jtures@lagrange.edu.
Popular in the Community