 WASHINGTON -- As President Barack Obama took to the podium on April 17 to announce that eight million people had signed up for private health coverage through the Affordable Care Act, a sense of finality hit the White House briefing room.
Six and a half months had passed since the start of Obamacare's implementation. A technological crisis had produced a political one. And the experience that followed had been both emotionally draining and professionally vexing. That it ended with the administration exceeding expectations made it seem like the ideal time to stop and take a breath -- and perhaps even celebrate. A few days later, the White House's health care team did just that over drinks and snacks.
But for others inside the administration, the end of the open enrollment period in mid-April provided no break at all. If anything, the race to get Americans health care coverage had just begun.

"Outreach is never over," said Marlon Marshall, the deputy director of the White House office of Public Engagement. "We've always continued."

In practical terms, Marshall, 34, is the White House official most responsible for convincing people without health insurance that coverage under Obamacare is right for them. And between now and mid-November, when open enrollment is set to begin again, there are many more people he is hoping to reach.
Special enrollment remains ongoing and, as with other elements of the health care law, many of those eligible for coverage don't understand all the details. Medicaid and the Children's Health Insurance Program (CHIP) remain available to everyone eligible throughout the year. But people can also enroll if they've had a "qualifying life event" -- meaning they've gotten married or divorced, had a baby, adopted a child, placed a child up for adoption, moved residences, gained citizenship, left incarceration, graduated from college or lost their health coverage. In most cases, once such an event occurs, a person has a 60-day window to get coverage.
Targeting these individuals is critical for Obamacare's success. And so, as the political world's interest in the law begins to fade from its obsessive-compulsive heights, Marshall remains unflinchingly attentive.
"This is an educational process," he said. "This is a big decision. People want a chance to research their options, have a conversation, talk to their families about it. Why would we just start that process in November, and say, 'Now we're open again, check everything out?' We have all summer to actually get out there and reach out to people and let them know about their options."
The Congressional Budget Office originally estimated that 7 million people would sign up for private insurance plans via the exchanges during the calendar year of 2014, a goal the administration has already hit. But if you want a formal accounting of how many people sign up for insurance during the special enrollment period alone, good luck. Monthly enrollment numbers won't be made available between now and November. Asked why, Marshall would only say that there isn't enough incoming information about who is signing up for plans -- an odd explanation for a self-professed data-driven White House.
But it's widely acknowledged that many people will see their insurance needs change during the special enrollment period, especially given the still-soft economy.
"People's connection to health insurance changes throughout the year, always has, always will," said Karen Pollitz, a senior fellow at the Kaiser Family Foundation. "People are constantly getting detached from or reconnected to health insurance throughout the year."
An analysis in Health Affairs magazine that ran at the end of November noted that "as many people will become newly eligible for Marketplace coverage over the course of 2014 as are currently eligible." In Minnesota, for example, officials say that they have averaged 1,100 new enrollees every day during the special enrollment period -- the same numbers the state saw during open enrollment.
The White House and allied outside groups haven't taken their foot off the gas. The Centers for Medicare and Medicaid Services has launched Connecting Kids to Coverage, a national campaign that aims to boost enrollment in Medicaid and CHIP. A CMS official told The Huffington Post that "a spring wave of targeted outreach" began in May and will continue through August. Currently, CMS is spending $375,000 on digital outreach efforts for the campaign.
That's a small amount of the roughly $14 million outreach budget CMS has. And it doesn't even touch enrollment in private coverage. And so administration officials are using other means to sell Obamacare more broadly. At commencement addresses, for example, they have been keen to mention that graduation counts as a qualifying life event. They've also worked closely with student body presidents to spread the word to graduating students.
New rules have also been instituted to make people in the workforce aware of health care options. One of the changes that will do the most to facilitate coverage, Marshall argued, is that companies will soon have to mention the availability of Obamacare on notices given to workers about COBRA eligibility. Reports already indicate that this change is having an effect.
On the communications front, various efforts have been made to emphasize the availability of financial assistance for people whose income puts them less than 400 percent above the poverty line. This remains one of the least understood elements of the law, Marshall explained, and consequently, the perception that health care is unaffordable is one of the biggest impediments to convincing people to enroll.
The White House has also become convinced that an increase in radio appearances will help sell Obamacare. During open enrollment, administration officials would do interviews with local programs or syndicated shows, often hitting a market 10 to 12 times and advertising enrollment forums. Going forward, Marshall stressed, the medium would continue to be used heavily.
But old tricks need to be updated if you want to reach new audiences. And with a limited ad budget, the White House is looking for "earned media" opportunities too, like the president's appearance on "Between Two Ferns," an online comedy series hosted by Zach Galifianakis. Obama promoted the health care law during the interview, which sparked a wave of press coverage.
"We've got to think of new, creative ways to help get the word out," Marshall added. "From here, we can help do what we can to create earned media. The more we can do up here to help raise awareness, it helps their work on the ground, and vice versa."
To coordinate the on-the-ground component, the administration has been participating in biweekly meetings with health care reform groups. One of them, Enroll America, currently has more than 230 staffers across the country, which is just slightly below the 250 it employed at the end of open enrollment. The group has maintained a robust volunteer presence as well. For a Weekend of Action planned for the end of June, the group has registered more than 1,000 volunteer shifts and scheduled just under 400 events. They had averaged the same number of events during weekends in March with about twice as many volunteers.
There are two reasons Enroll America hasn't wound down more during the special enrollment period, said the group's president, Anne Filipic: to avoid having to train new officials when the next open enrollment period starts, and because it sees ample opportunity to run up the number of insured people in the meantime.
The group is currently operating programs across the country targeting people going through qualifying life events. In Maricopa, Arizona, it is working with probation officers to reach those being released from prison. In western North Carolina, representatives are going to maternity wards in local hospitals, handing out fliers to new mothers. In southern Texas, they are a presence at naturalization ceremonies. And at community colleges nationwide, they have been hosting enrollment fairs.
"We recognized the important role of trusted messengers. People start the process really skeptical… and the way to overcome that is to get someone they trust to talk to them about it," Filipic said. "Probably the most important thing we did is to not sit in D.C. and tell local organizers what was best in their communities."
Perhaps the best reason for continuing outreach efforts during special enrollment period, Filipic argued, is that doing so lays the groundwork for when open enrollment starts again. The predominant lesson learned over this past half-year was that selling insurance is a slog. If you want to close the deal, often it requires a profound amount of education and multiple conversations. So why not start months in advance?
"It's not like we can just have someone do one event and leave, and that's the thing," Marshall said. "We just have to be repetitive."
CORRECTION: A previous version of this story stated incorrectly that the CBO estimated 8 million people would sign up for insurance plans via the exchanges in 2014. The estimate was 7 million people.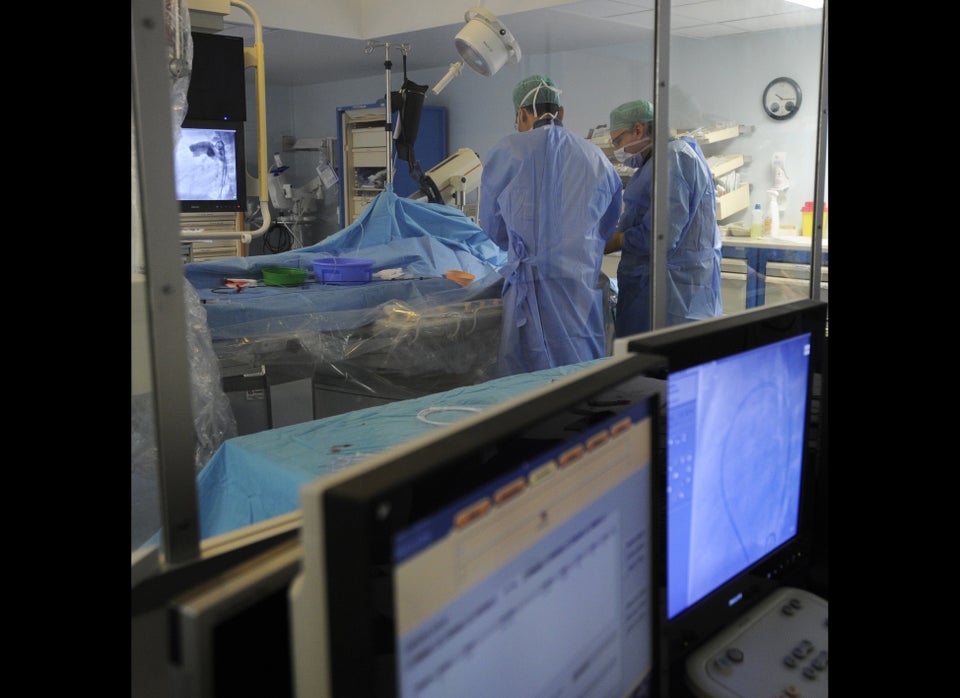 Lies And Distortions Of The Health Care Debate