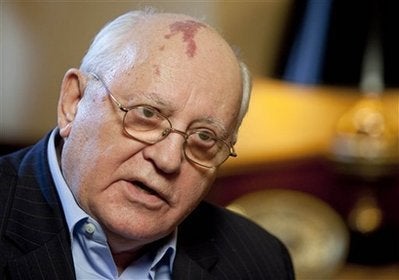 President Obama has held talks with former Soviet President Mikhail Gorbachev, Reuters reports, "the latest sign of Washington's efforts to 'press the reset button' on ties with Russia."
Spokesman Konstantin Petrenko said Gorbachev met Obama and Vice President Joe Biden -- who coined the 'reset' phrase last month -- in Washington last Friday. He did not give any details of the discussion.
"I hope this remarkable term 'reset,' which began to run through analytical commentary on Russian-American relations after the meeting between Mr. Lavrov and Ms. Clinton, will be able to reflect the substantial transformation we hope to achieve," Mr. Medvedev said in a meeting with Henry A. Kissinger and George P. Shultz, both former secretaries of state, former Senator Sam Nunn, and former Defense Secretary William J. Perry. "We are counting on this kind of 'reset.' "
Obama and Medvedev are to meet in April 1st.
In a recent interview with the AP, Gorbachev criticized Vladmir Putin's United Russia party as representing "the worst version" of the communists. "Regarding our parliament, I cannot say that it is independent [and] also our judiciary does not fully comply with the provisions of the constitution."
Popular in the Community