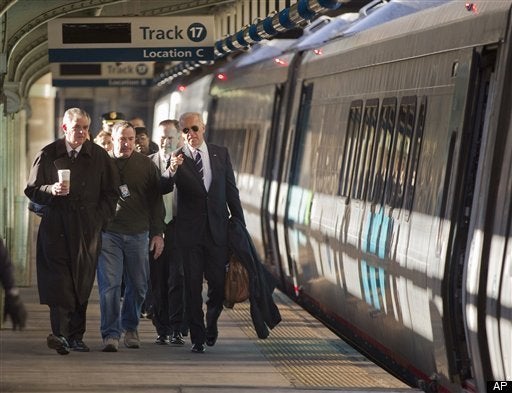 WASHINGTON -- The Obama administration called on Tuesday for Congress to authorize a significant new investment in high-speed passenger rail systems, at a cost of $53 billion over six years.
Appearing at Philadelphia's 30th Street Station, Vice President Joe Biden pitched the proposed infrastructure program as a needed dose of stimulus at a time when states are looking for cheap sources of jobs. The proposal would spend $8 billion in its first year, the first step in what the White House projects would be a 25-year shift to modern, speedy railways able to reach 80 percent of the United States and offering thousands of jobs.
That first round of money would be a drop in the bucket relative to the price tag needed to complete a national system, even on top of the approximately $11 billion that the administration has already spent.
The request for more funds is hardly shocking. Both Biden and President Barack Obama have made high-speed rail a priority -- on Tuesday, Transportation Secretary Ray LaHood referred to them as "visionaries." But unlike some other multibillion-dollar proposals for new government spending, this one has a growing coalition to help it get past the appropriations committee.
Of course, infrastructure investments tend to engender bipartisan support in Congress. Even in the world of advocacy, it's an issue that brings longtime foes together, with the AFL-CIO and Chamber of Commerce jointly supporting broad new development projects.
The real pressure, though, is coming from the states, which would only have to provide a small portion of the funds for the rail projects themselves. Republican governors have tried to flex their fiscally-conservative muscles by declining federal funds for high-speed rail projects, but in several instances, the backlash has been severe. The money already out the door won't go toward reducing federal budget deficits -- other states have tried to swoop in and take the rejected funds instead, such as when New York Gov. Andrew Cuomo asked for the money turned down by Wisconsin Gov. Scott Walker.
The prospect of further investment is alluring, too, in part because of the job creation it promises. Dozens of foreign rail manufactures have decided to expand or relocate into the United States to get in on high-speed rail production. And states recognize the long-term benefits of being a transportation hub.
The strong support of state lawmakers means that the White House has less of a need to lobby Congress directly on the program, especially since its long-term national design means that plenty of states have an interest in the budgeting. As one official familiar with the plans said, in the Midwest alone, plans are for a line that would connect Chicago, Detroit, parts of Iowa, St. Louis and down to Kansas City.
Popular in the Community