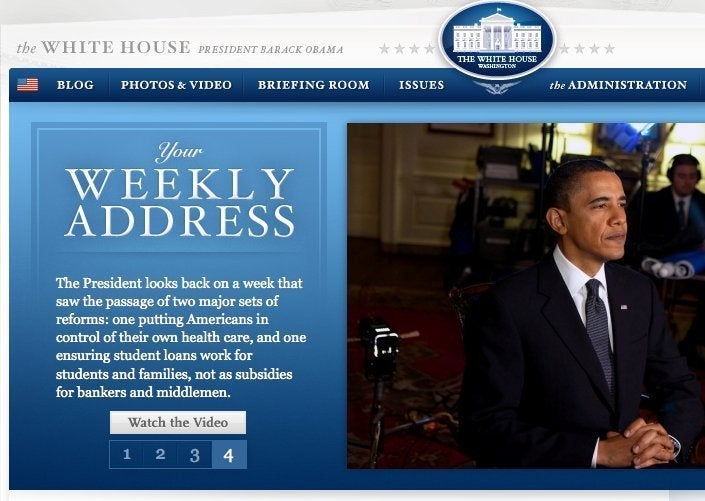 If the signing of the historic health care bill rang a very loud bell across the country, then the passing of the Student Aid and Financial Relief Act (SAFRA) landed with a relative whisper. Overshadowed, it certainly was. But the bill, folded in at the last minute with the health care act to give it a better chance of survival, is a landmark victory for higher education in America: It puts an end to private student loans, increases Pell Grant funding and widens the breadth of community college programs. It changes how students pay for college, giving them more freedom to pursue what they want to do -- without being weighed down by massive loan debt.
To give current college students the opportunity to explore what SAFRA really means for them, their families and their futures -- and ask any questions relating to the Obama administration's higher education policies and strategies -- HuffPost College is teaming up with the White House for an "Open For Questions" live chat. The 30-minute video chat will be streamed live on WhiteHouse.Gov and HuffPost next week. We'll update this post with the exact date and time of the video chat, as soon as we have it.
This is how it will work: Through our extensive network of college papers, students will submit questions to HuffPost College by Friday, April 2nd, 12 noon EST. HuffPost editors will then choose the best suggestions from which the HuffPost community will vote, on Monday, April 4th, to select the final questions. Voting ends Monday at 6pm EST. The final questions will be asked during the live chat -- and the editor of the school paper with the highest-rated question will be flown to the White House to interview top Obama officials.
Many of our college partners are gearing up to participate in this landmark event by soliciting questions from their readers.
Do you watch CNN angry? Do you curse at the TV and wonder why the government is messing with your financial aid, why Republicans oppose cutting out the middle-man in the student loan business, why tax money funds abstinence-only education? Do you want to ask the Obama Administration the questions you reserve for yelling at the TV?
The Tufts Daily highlights the rare chance for students to connect with White House officials:

This is a unique opportunity for students not just to engage in dialogue with some of the nation's leaders and have their voices heard but to steer this dialogue and influence the direction that it takes. Instead of merely discussing the Obama administration's higher education agenda, you have the chance to shape that agenda and direct the administration's attention to policy issues that matter to you and to Tufts. We hope to hear from you.
The Health Care and Education Reconciliation Act of 2010 ... aims to make higher education more affordable and help more American citizens earn degrees. The Act invests in the Pell Grant program, supports community colleges, increases funding for Historically Black Colleges and Universities (HBCUs) and Minority-Serving Institutions (MSIs), expands the income-based student loan repayment program and replaces subsidized private loans with direct federal loans.
The University of Pennsylvania, Cornell University, University of Texas, Savannah College of Art and Design and SUNY-Stony Brook are among others competing for chance to make a guest appearance at the White House.
No doubt about it, this is an exciting time for students. HuffPost College wants to make sure their voices are heard. Stay tuned for more updates.

Popular in the Community