WASHINGTON -- President Barack Obama ventured to Capitol Hill on Friday to make a last-minute plea to House Democrats to support legislation designed to allow him to expedite major trade deals through Congress. It fell on deaf ears.
Obama met privately with Democrats for about 20 minutes in a caucus meeting at the Capitol, just ahead of a vote on a package of bills that will shape U.S. negotiations with countries on major trade deals. One of the trade deals in the queue, the 12-nation Trans-Pacific Partnership, would encompass over half of the world's economy.
But the president's 11th-hour pitch may have backfired. Some of the Democrats leaving the meeting said Obama promptly insulted their integrity, took no questions and left.
"Basically, the president tried to both guilt people and then impugn their integrity," said Rep. Peter DeFazio (D-Ore.). "There were a number of us who were insulted by the approach."
The final battle has come down to whether supporters of so-called "fast track" will have enough votes to pass Trade Adjustment Assistance, legislation that helps workers displaced by trade deals.
A vote on TAA is scheduled for early afternoon. The House must pass it in order for a vote on the next step in the trade agenda to come up, but many Republicans oppose it, so Obama and House Republican leaders had been counting on Democrats' votes. Then they had planned to rely mostly on Republicans to pass fast track, or trade promotion authority, which would give Obama expedited powers to speed trade deals through Congress without threat of filibuster or amendments.
Shortly before the vote, House Minority Leader Nancy Pelosi (D-Calif.), who tread the middle road throughout the debate, dealt a blow to Obama.
"If TAA slows down the fast track, I am prepared to vote against TAA," Pelosi said on the House floor.
If TAA fails, House rules specify that the vote on TPA would be pulled, and House leadership would have to scrap the entire plan. The blow would be huge to Obama, and it would be very difficult for the House to muster the votes for a second attempt to pass the two bills.
But progressive Democrats who are enraged by Obama's trade agenda, namely the TPP, are attempting to derail TAA, knowing that in doing so fast-track authority will go down with it.
Lawmakers leaving Friday's caucus meeting took issue with Obama repeatedly used the phrase "play it straight" in making his pitch: If you oppose fast-track authority, vote against it. If you support it, vote for it. But if you've supported TAA in the past, don't oppose it now just to sink the entire trade deal.
For Rep. Charlie Rangel (D-N.Y.) and others there's nothing crooked about opposing TAA, if it accomplishes the goal of killing fast track.
"If you're against TPA and you believe that TAA is going to allow it a better chance to pass, from a legislative point of view, that's playing it straight. So in a sense, he was saying he didn't mind people opposed to him, but play it straight," Rangel said. "And some people were offended that he was challenging their integrity as it relates to TAA. But if a piece of chocolate is going to make you feel good, but it's got a poison pill in it, I don't see why you can say that the chocolate is good by itself."
"He was eloquent in terms of saying that he respected our opinion," Rangel continued. "Where he kind of went off is in believing that anyone voting against TAA was not playing it straight."
"He said you're not 'playing it straight' if you vote against TAA but you supported it in the past. … That's questioning someone's integrity," DeFazio said. "We're legislators. It's the only legislative tool we have to stop something that is otherwise inevitable."
"I don't fault him for trying to get what he wants, but I do reserve the right to disagree with him when he says 'play it straight,'" said Rep. Keith Ellison (D-Minn.). "He cares about trade adjustment assistance, but he is using adjustment assistance as a bargaining chip to get what he really wants, which is TPA. Is that playing it straight?"
"I mean, come on. He reserves the right to play politics to himself? Come on," Ellison added. "And you can't take politics out of politics. That's just the way it is."
Obama's unexpected trip to visit Democrats may be too little, too late, and reflects the vast schism his trade agenda has caused among the party.
Rep. Jan Schakowsky (D-Ill.), an early supporter of Obama when he first ran for president, went so far as to call Obama's decision to bring his fast-track request to Congress a "mistake."
"What really needs adjusting here today is the no-compromise, no-amendment attitude on trade," said Rep. Lloyd Doggett (D-Texas). "This vote wouldn't be so close if this process hadn't been so closed."
House Majority Whip Steve Scalise (R-La.) had summoned his whip crew to a 10 a.m. meeting to go over final strategy in the wake of the unexpected revolt, a GOP source said.
"Everything's in play at this point," another House Democratic aide told The Huffington Post.

Some Democrats said Obama did the best he could with his last-minute plea, but his message just didn't get at the problem people have with the trade policy itself.
"The president is emotional, moving, dedicated, inspirational and wrong on trade," said Rep. Brad Sherman (D-Calif.). "A lot of us view this as one vote. It was one vote in the Senate and it's one vote here. ... I'll be pushing my red button twice to cast my vote against fast track."
Rep. Henry Cuellar (D-Texas) said Republicans have told him they need at least 100 Democrats to vote for TAA for it to pass. He was skeptical that there were that many Democrats on board, and said Republicans need to step up their vote count.
"I think they can do better," Cuellar said.
On Thursday night, House Speaker John Boehner (R-Ohio) and Pelosi spoke on the House floor to go over vote counts. Pelosi, according to House sources, asked how many Republican votes they could deliver for TAA. The answer came back: roughly 100.
"How about 150?" Pelosi asked, a strong hint that the wheels were starting to come off.
Michael McAuliff contributed reporting. This article has been updated throughout.

Before You Go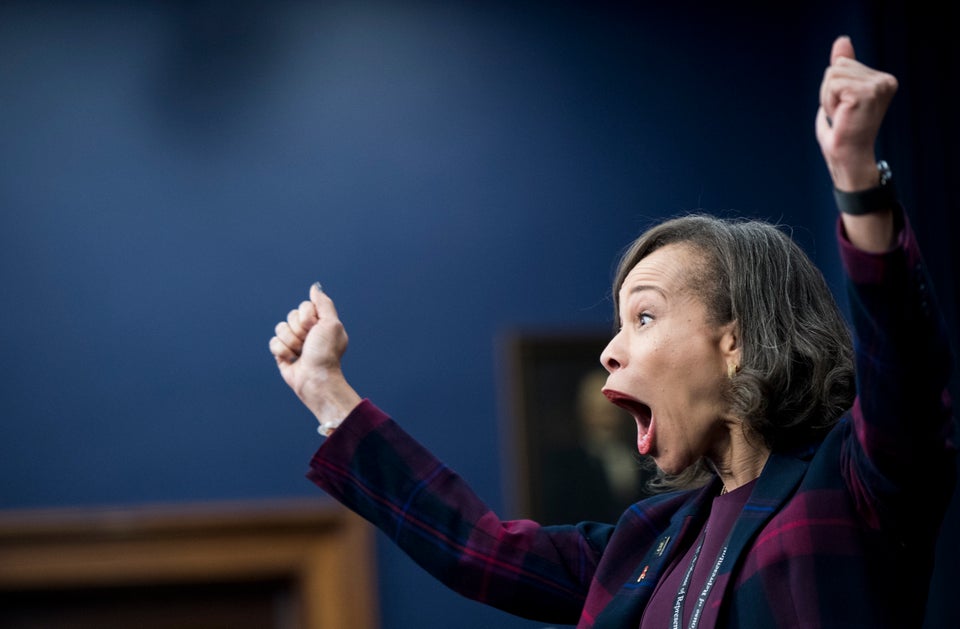 Scenes From 114th Congress And Capitol Hill
Popular in the Community