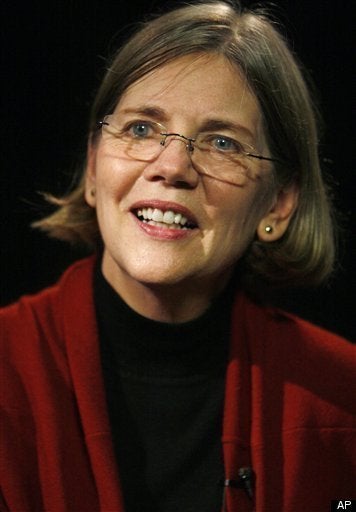 President Obama hailed his long friendship with Harvard Professor Elizabeth Warren on Friday, crediting her at his new conference with the idea for what has since become the Consumer Financial Protection Bureau, when asked whether she was still the leading candidate to run it. After calling her a "dear friend" and adding that he's known her since he was in law school, he strongly hinted that she would be the eventual nominee by qualifying that he was "not going to make an official announcement until it's ready."
Obama's clear emphasis on "official" left little room for doubt that the matter is all but decided. Speculation has swirled that Obama would name Warren to head the agency during the summer recess to avoid a confirmation battle. His opportunity to do so expires early next week, when Congress returns. But he could also recess appoint Warren in October, after Congress recesses to campaign for reelection.
"The idea for this agency was Elizabeth Warren's. She's a dear friend of mine. She's somebody I've known since I was in law school. And I have been in conversations with her. She is a tremendous advocate for this idea," he said. "I'll have an announcement soon about how we're going to move forward. I have had conversations with Elizabeth over these last couple of months. But I'm not going to make an official announcement until it's ready."
Obama's confidence in Warren comes as the Wall Street Journal continues its assault on her, questioning whether she could handle the job in an editorial Friday. "We hate to pick on Harvard law professor Elizabeth Warren, the front-runner for the consumer post, because the other candidates floated so far may know even less about banking than she does. The White House should step back and review a new list of prospects with an eye toward a healthy banking market, not merely a positive reaction from the Huffington Post," offered the Journal.
The GOP's campaign against Warren has been going on since 2009, when House Republicans attempted to amend the financial reform bill to include language preventing Warren from becoming the CFPB's chief.
Warren met on Tuesday with Obama.
Asked by Bloomberg News if he was concerned that Warren would have trouble being confirmed by the Senate, Obama said that even an appointment for dogcatcher would have trouble getting through the divided Senate under such partisan conditions.
"I'm concerned about all Senate confirmations these days. I mean, if I nominate somebody for dogcatcher," he said. "I wasn't trying to be funny. I am concerned about all Senate nominations these days. I've got people who've been waiting for six months to get confirmed who nobody has an official objection to and who were voted out of committee unanimously, and I can't get a vote on them."

Popular in the Community