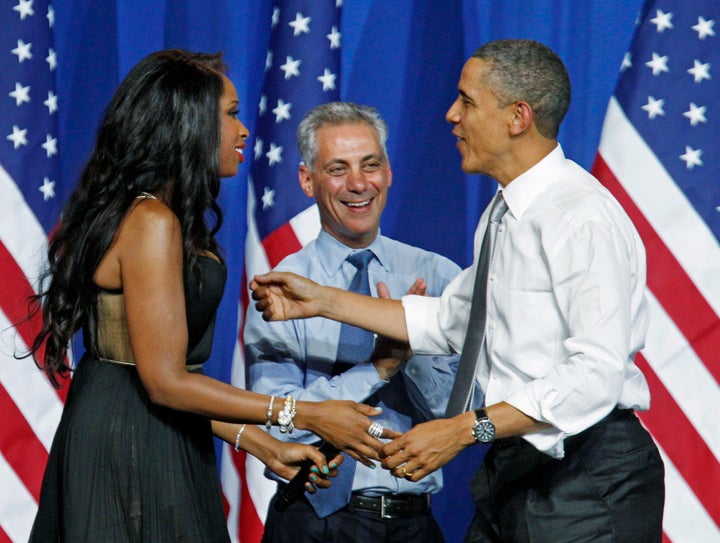 Feeling the heat from a disenchanted Hollywood, President Obama is sending in his personal troops to rally Tinseltown support.
According to The Hollywood Reporter, former Bahamas Ambassador Nicole Avant is being sent to LA to help set up a number of fundraisers and meet and greet opportunities for the President, First Lady and other members of the administration. Avant, daughter of music executive and prominent Democrat Clarence Avant, will try to mend fences between Hollywood and the President.
In screenwriting parlance, this would the Long Road Back; Obama was once the toast of the entertainment industry, a hero behind whom actors, directors, producers and writers rallied. He raised scores of cash from industry bigwigs, and benefitted from campaign appearances and videos made by stars such as Matt Damon, Will.i.am and Scarlett Johansson.
Obama's vocal supporters have splintered between those now angry with his policies and those happy with his time in office. Matt Damon, one of his earliest celebrity backers, has been particularly loud with his disapproval, speaking out a number of times against his economic and educational policies. In the most recent issue of Elle, he said, "I've talked to a lot of people who worked for Obama at the grassroots level. One of them said to me, 'Never again. I will never be fooled again by a politician.' You know, a one-term president with some balls who actually got stuff done would have been, in the long run of the country, much better."
On the other hand, Damon's friend George Clooney has professed continued support for the President.
"I'm disillusioned by the people who are disillusioned by Obama, quite honestly, I am," the "Ides of March" director told Peter Travers in October. "Democrats eat their own. Democrats find singular issues and go, 'Well, I didn't get everything I wanted.' I'm a firm believer in sticking by and sticking up for the people whom you've elected. If he was a Republican running, because Republicans are better at this. They'd be selling him as the guy who stopped 400,000 jobs a month from leaving the country. They'd be selling him as the guy who saved the auto-industry. If they had the beliefs, they'd be selling him as the guy who got rid of 'Don't Ask, Don't Tell,' who got Osama bin Laden. You could be selling this as a very successful three years."
Popular in the Community