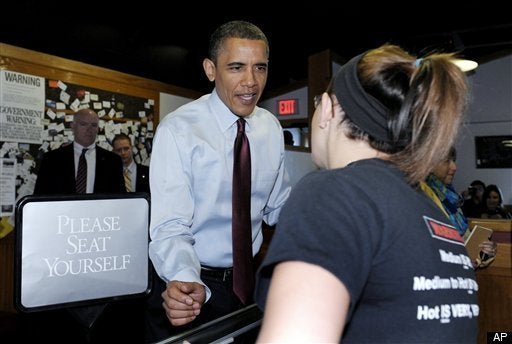 The New York Times' Sheryl Stolberg provided one of the better White House pool reports in recent memory Thursday while covering President Obama's jobs-and-the-economy tour of upstate New York. Here's how Stolberg opens the recap of their lunch stop at Duff's Famous Wings in the Buffalo-adjacent town of Cheektowaga:
QUOTE OF THE DAY: "You're a hottie with a smokin' little body."

Yes indeed, some people will say just about anything to get a hug from Barack Obama. Those words were spoken by Luann Haley, 45, to the president, during his unannounced visit to this local landmark. He replied by giving her a big hug. ("He gave me a squeeze,"' she said afterward.) She swooned and he said Michelle would be watching on television. "That's all right,"' Ms. Haley said as the cameras rolled. "Hi Michelle, eat your heart out."
Ironically, given the nature of the tour, Haley was part of a large crowd of Department of Education contractors who work one door down from Duff's as collection agents on defaulted student loans. The collection agents saw Secret Service pull up at the wings joint and decided to take their lunch break, Stolberg reports.
The President ordered wings, declaring to Stolberg, "This is the wing capital." He initially requested medium, she reports, but upon conferring further with some of the other 100 or so patrons and employees asked for half regular, half extra-spicy. In a possible breaking scandal, Stolberg notes that Obama vocally insisted on paying the $10.82, but she did not witness him pay.
Popular in the Community