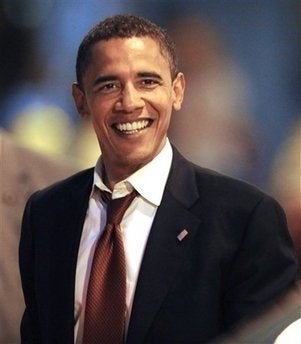 The AP has more details on Obama's economic meeting today:
Democratic presidential candidate Barack Obama on Monday blamed "irresponsible decisions" by the Bush administration and Wall Street for the country's economic woes as government officials said the budget deficit would soar to record heights next year.

Turning to domestic problems after a week's tour of the Middle East and Europe, Obama met with more than a dozen economic advisers, appearing with them briefly before retreating for a two-hour closed meeting. The new deficit numbers were the latest sign of an economy in decline, with foreclosures rising, home prices falling, soaring energy prices and nearly a half-million job losses since January.

Obama said the economy needs both short- and long-term fixes, including another round of "stimulus" measures from Congress to revive the economy and a longer-term focus on renewable energy to curb high gas prices and on universal health care to trim costs. He said he would move "rapidly and vigorously" to respond.

"We are also going to have to provide some short-term relief," Obama said. "People are hurting right now. We need to respond rapidly and vigorously to problems, and to anticipate the problems that may be on the horizon."
Hotline reports that Obama is calling for bipartisan solutions to the economic crisis that he says Wall St. is partially responsible for:
"It was not an accident or history nor a normal part of the business cycle that led us to this situation," he said. "There were some irresponsible decisions that were made on Wall Street and in Washington. In the past few years, I think we learned an essential truth that in the long run we can't have a thriving Wall Street if we don't have a thriving Main Street."

He said the economic stimulus package enacted earlier this year has provided some relief, but said more action is necessary.

"I'm glad to see we have a broad representation of people here," Obama said of the group joining him, which included former Republican and Democratic administration officials and business and labor leaders. "It's a group that I will be convening periodically over the next few months because of the dynamic situation and one that the next president will need to be prepared to deal with the moment he takes office."
Barack Obama is meeting with key economic advisers today as part of his shift from foreign to domestic policy. He plans to discuss an economic stimulus package and high gas prices.
"I expect some further fine-tuning of short-term policies based on what's happened over the last several months,'' Obama said Sunday night.
ABC News reports that two former Bush Administration officials will be in attendance:
ABC News has learned that two former administration officials for President George W. Bush will appear with Sen. Barack Obama, D-Illinois, at an economic meeting today, having signed up to be Obama economic advisers.

Bush administration veterans former Treasury Secretary Paul O'Neill and former Securities and Exchange Commissioner William Donaldson will join former Federal Reserve Chairman Paul Volcker, and more traditionally Democratic economic advisers such as former Clinton Treasury Secretary Robert Rubin, billionaire liberal Warren Buffett, AFL-CIO President John Sweeney, and SEIU Secretary-Treasurer Anna Burger.
William Donaldson endorsed Obama in May. O'Neill was the focus of a book critical of the Bush Administration. In March, when asked about McCain he said, "I don't want a straight talker. I want a leader."
Calling all HuffPost superfans!
Sign up for membership to become a founding member and help shape HuffPost's next chapter