In the aftermath of Hurricane Sandy, President Barack Obama headed to the Red Cross on Tuesday.
"This storm is not yet over," the president said in remarks at the Red Cross national headquarters. In responding to damage left by the storm, Obama added that his message to government officials is "No bureaucracy. No red tape."
Obama described the impact of superstorm Sandy as "heartbreaking for the nation."
The news comes on the heels of the White House issuing a statement that the president canceled campaign appearances in Ohio scheduled for Wednesday, and instead would remain in the nation's capital to monitor the aftermath of the storm.
HuffPost's Jennifer Bendery and Lynne Peeples reported on Monday night:
On the campaign side, Obama halted his flood of fundraising emails on Sunday, and the campaign is now using its Twitter, Facebook and campaign pages to instead urge donations to the Red Cross storm relief. He also sent out a campaign email on Monday urging supporters to heed advice from local authorities and extending an early thank you to first responders.

"Michelle and I are keeping everyone in the affected areas in our thoughts and prayers. Be safe," reads the email, signed by Obama.

Politics hasn't completely vanished as the storm approaches, however. Four critical swing states are expected to be hit by the storm -- North Carolina, Virginia, Ohio and New Hampshire -- and these are the same four states in which Romney staffers are collecting storm relief supplies.
Vice President Joe Biden traveled to Ohio on Tuesday in place of the president, who was scheduled to be in the Buckeye State for a campaign event. While in the critical battleground, he said of Obama's decision to remain in Washington, D.C., "He's doing the job a president should be doing."
The White House issued a statement on Tuesday afternoon that the president will travel to New Jersey on Wednesday to assess the damage left by the storm alongside the state's Republican governor, Chris Christie.
Before You Go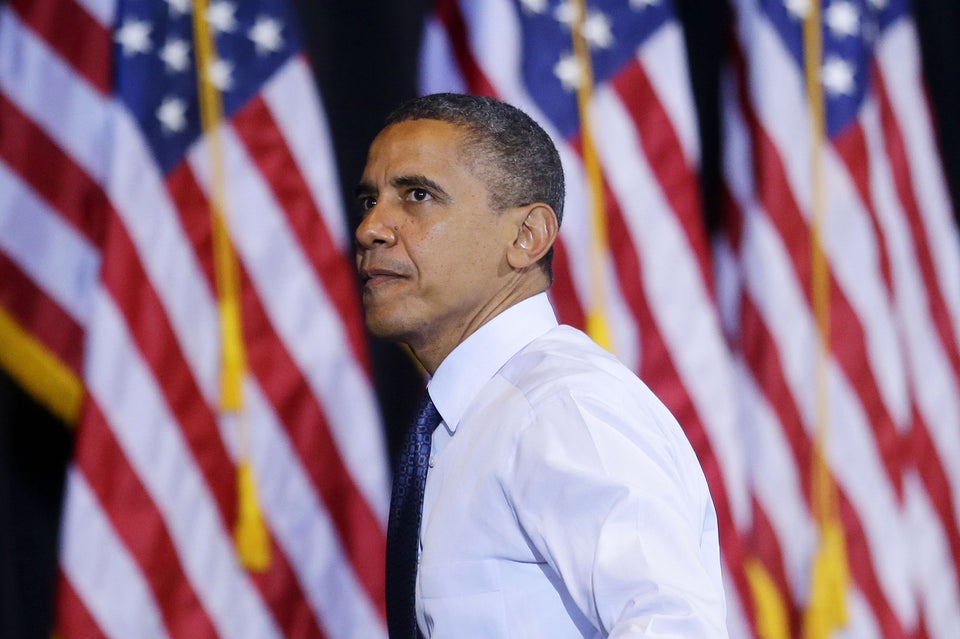 Politicians React To Sandy
Popular in the Community